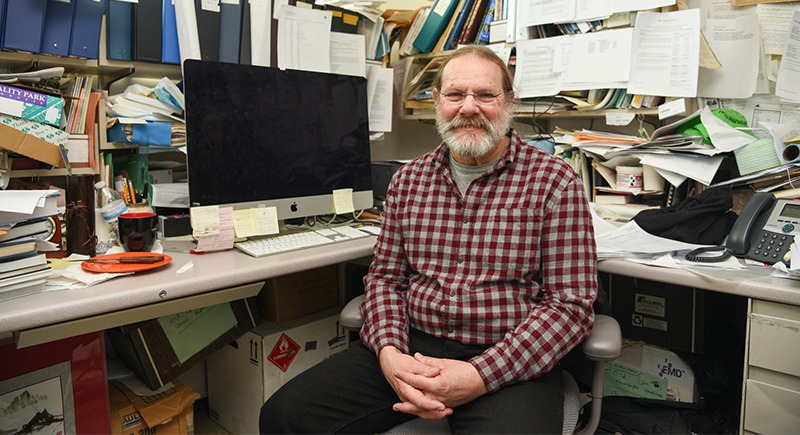 March 22, 2019

Professor honored with excellence in teaching award by Entomological Society of America

By Maegan Murray, WSU Tri-Cities

RICHLAND, Wash. – A curiosity for the world and the yearning to know how it works.

It is what brought Allan Felsot to the world of science and it is what inspired in him an interest and passion for teaching and academia at the college level. He brings this passion to his students, which is what has led to Felsot earning a regional teaching award.

Felsot, the academic director for the math and science sector of the College of Arts and Sciences at Washington State University Tri-Cities and professor of entomology, was recently announced as the recipient of the pacific branch of the Entomological Society of America's award for excellence in teaching.

The award honors educators at the university or community college level who have excelled through innovations in developing new courses, programs and teaching methods in the field of entomology and the sciences. The regional award covers the region of 11 western states, seven U.S. territories, five Canadian provinces and four states in Mexico. After winning the regional award, Felsot is now up for the national award, of which will be announced at the society's annual meeting in St. Louis this November.

Skeptical inquiry teaching philosophy

In his classes, Felsot approaches every lecture with an approach he regards as skeptical inquiry. He said the approach comes from the Greek noun "skepsis," which means consideration, inquiry and examination.

"It is about asking questions, questioning authority, but seeking answers or the truth," he said. "To doubt, but then to find out what the truth is. I want students to be skeptical in that sense. Part of being skeptical is developing a sense of curiosity. My idea is that if they develop a sense of curiosity, they will develop something they are passionate about, which will lead to other areas of interest."

In his courses, he brings recent news articles and headlines into the discussion, providing relevance to what the students are learning about.

"The principles they are learning about do relate to something in the real world," he said. "What they are doing does matter in society. I hope it also brings about a sense of civic responsibility."

Mentorship and a passion for learning

Over his 26 years at WSU, Felsot has mentored more than 50 master's and doctoral students. He has also been instrumental in developing new courses at WSU Tri-Cities, as well as several for the WSU Global campus. His research throughout his career at WSU has focused on environmental toxicology and risk assessment of pesticides. Prior to coming to WSU, he worked as a project leader for pesticide chemistry and toxicology research at the University of Illinois.

At WSU, he teaches courses across WSU's College of Arts and Sciences and College of Agricultural, Human, and Natural Resource Sciences, ranging from general entomology, to integrated pest management, to pesticide toxicology, to insect and plant physiology. Teaching a range of diverse courses, he said, encourages his own love for learning. His own love for the learning process inspires his students, as well as fellow faculty members.

"If you were to ask me to name an instructor that has had one of the greatest impacts in my entire academic a career, I would answer Dr. Allan S. Felsot," said alumna Yessica Carnley. "The dedication and commitment that he has to his students and to the proliferation of knowledge is one that is rarely encountered. One of the greatest lessons I learned in his courses was to question everything and to answer your own questions through proper research and testing, if possible."

Kate McAteer, WSU Tri-Cities interim vice chancellor of academic affairs, said having a dynamic and engaging instructor like Allan in the lab gives students the opportunity to explore and understand concepts and develop a love of science.

"As students have often remarked, 'How could you not think science is fascinating when Dr. Felsot teaches it?'" she said.

Academic contributions outside the classroom

Outside of his teaching, Felsot provides dozens of lectures for WSU extension workshops and programs each year. He also develops insect biology youth workshops for middle school students through WSU's GEAR UP programs, which helps prepare students for college, and WSU Tri-Cities' STEM summer camps, in addition to formerly through the Mathematics, Engineering, and Science Achievement program (MESA).

"Professor Felsot is a well-recognized member of the Tri-Cities community," McAteer said. "His talk on insects and bugs is undoubtedly the highlight of the campus tour for many middle school children every year and for those students that attend the STEM summer camps."

Felsot will accept his regional award from the Entomology Society of America during an awards luncheon in San Diego, California, on April 2.