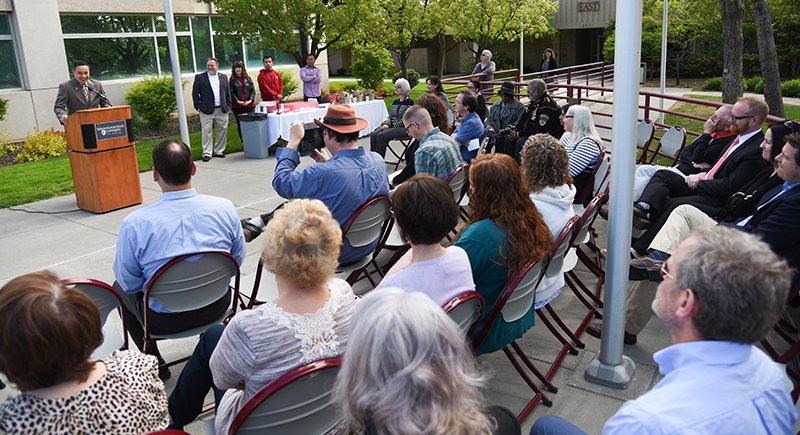 RICHLAND, Wash. – Today, on a fitting sunny morning, Washington State University Tri-Cities dedicated its West Building to an individual known to have a matching luminous disposition whose leadership radiated across the state and nation: late WSU President Elson S. Floyd.
WSU Tri-Cities leadership, faculty, staff and community members gathered to say a few words about Floyd as a curtain was lowered to unveil the new building designation as the "Elson S. Floyd building."
Floyd passed away in June 2015, but many individuals at the ceremony stated that his legacy will live on for years to come through the tremendous initiatives and values that he instilled across the WSU system.
"Elson Floyd established a great legacy for WSU," Chancellor Keith Moo-Young said at the ceremony. "Elson was a great friend and mentor."
Floyd, who was also affectionately referred to as E-Flo to the campus community, was known across the state and nation for his passion for increasing access and affordability for higher education and wholly embodying the Cougar spirit. He successfully established the WSU medical school, which now bears his name, research grants tripled, WSU accomplished a $1 billion fundraising campaign and the university completed a variety of major construction projects including WSU Tri-Cities' Wine Science Center. He also strongly advocated funding support for higher education institutions and at one-time contributed a portion of his salary toward scholarships during a time of recession.
"It has been almost two years since his passing, but the fact that we're doing this makes a tremendous impact," Moo-Young said. "We're always going to be able to shed light on the great things that Floyd has done for this university and for higher education."
Jana Kay, a coordinator for academic affairs who worked with Floyd throughout the years when he would come to WSU Tri-Cities, grew to know Floyd as a friend. She said the three tenants that he regarded as essential for the WSU system, which included accountability, affordability and access, weren't just words to Floyd.
"He believed that all students should be able to go to college and afford it, and he truly expected the campuses to serve their communities," she said. "When he came to the Tri-Cities, he always made time to meet with students and you could see that is where he got his energy … I can't think of a more fitting tribute to President Floyd than having his name at the main entrance to campus."
The idea for renaming the West Building as the Elson S. Floyd building came from Mark Mansperger, clinical associate professor of anthropology, who recommended it to campus leadership after Floyd's passing.
"One of the things that I remember most about President Floyd was the professionalism that he always showed," he said. "I'm really glad to see this name change in his honor."
Although Floyd's family could not be in attendance at the ceremony, Floyd's wife, Carmento, wrote a letter to the WSU and overall Tri-Cities community to be shared.
"While I am unable to be with you this morning, please know that the Floyd family and I are grateful that you have chosen to honor and memorialize Elson in this extremely special manner," she said. "He saw greatness here at Washington State University Tri-Cities and he wanted the entire WSU family, this community, the state and the world to realize the impact you are having in the world and the lives you are changing daily through your work."
"He was proud of Chancellor Moo-Young and the leadership he, his faculty and staff were providing," she said. "This endeavor to rename and dedicate the West Building to the Elson S. Floyd Building is the highest honor you can bestow in memory of Elson. It fills my heart with pride and enormous gratitude. I know that his spirit and huge smile are with you today, as is mine."