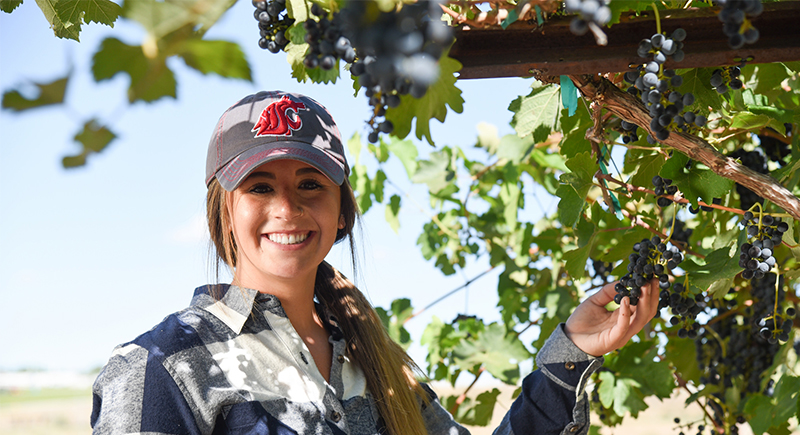 October 30, 2018

Transfer student finds career passion in wine science at WSU Tri-Cities

By Maegan Murray, WSU Tri-Cities
RICHLAND, Wash. – Bernadette Gagnier hadn't found her ideal career path post life in the U.S. Marine Corps until she discovered that Washington State University Tri-Cities had a wine science program.
Gagnier served in the Marine Corps for five years, where she traveled the world, made life-long friends and overall enjoyed her experience.
"But when I got out, I hit a wall and I didn't know what I wanted to do after that," she said.
She enrolled in a community college in western Washington, intending to major in nursing, but realized that the path wasn't for her. After searching the internet for what else would be a good fit, she found WSU Tri-Cities' Viticulture and Enology program, where students can study the science of wine, winemaking and how to grow wine grapes and manage grapevines.
"I have a hippie heart and my friends call me a plant mama," she said. "Wine science seemed like a perfect fit."
So on the last day to drop classes, she left. A week later, she found herself touring the WSU Tri-Cities campus and decided to transfer.
"Most of the students were serious about their classes, had already declared their major and the average age was 25, and I really liked that," she said.
She said transferring to WSU Tri-Cities was one of the best decisions she's made to date.
Learning to grow grapes and make wine
Through her viticulture and enology courses, Gagnier is gaining hands-on exposure in the
vineyards and the winery. Learning from professors who are passionate about what they do, she said she is receiving a world-class education.
Pair that with the WSU Tri-Cities residing in Washington wine country and being able to study at the university's Ste. Michelle Wine Estates WSU Wine Science Center, which features state-of-the-art equipment, she said she couldn't imagine picking a better place to attend college.
"We live in one of the best places in the country to grow wine grapes," she said. "WSU has a nationally-acclaimed wine science program. It's been a fantastic experience."
Career experiences while still in school
Since coming to WSU Tri-Cities and declaring her major in wine science, Gagnier has already had the opportunity to work in multiple local vineyards and in a tasting room, learning more about the industry through hands-on experiences, even alongside fellow WSU Cougs.
She said her career experience in the vineyard and in the tasting room pair perfectly with her classes.
With her goal of becoming a viticulturist and specializing in the program for vineyard management, she said there are really few other places that would be able to accommodate her goals with the same hands-on experiences.
"I really found my place and my people here," she said. "We're one big family. And then I can go out into the world and work with my other family – my other fellow Cougs in the industry."
Premier Washington Wine
Washington is currently the second largest producer of wine grapes in the nation and the Tri-Cities was recently highlighted as "The new West Coast wine country" by CNN.
With its 300 sunny days per year, its dry growing season, its soil type and ideal daytime air and soil temperatures, it makes it perfect for grape growing.
Combine that with the Northwest's passion for wine and wine terroir, or tourism pertaining to the climate and growing factors that make for premier wine products, Gagnier said it's the perfect place to study wine science.
For those who would like to go into the business side of wine and wine-related tourism, WSU Tri-Cities also offers a wine and beverage business management degree program and hospitality business management program – one of the top programs in the country, in addition to a degree in business administration.
"It's rare that a university offers all of these degree programs in one place," she said.
Future in wine
After graduating from WSU Tri-Cities, Gagnier said she hopes to land a position as a vineyard manager locally in the Tri-Cities region.
"It's my dream to be well-respected in the field and to have a successful career with in the wine industry," she said. "WSU Tri-Cities is helping me get there. I'd say if you're serious about continuing your education, you have to check this place out. You're not going to be disappointed."
For more information on WSU Tri-Cities' wine science degree program, visit tricities.wsu.edu/viticulture-enology-wine-science.