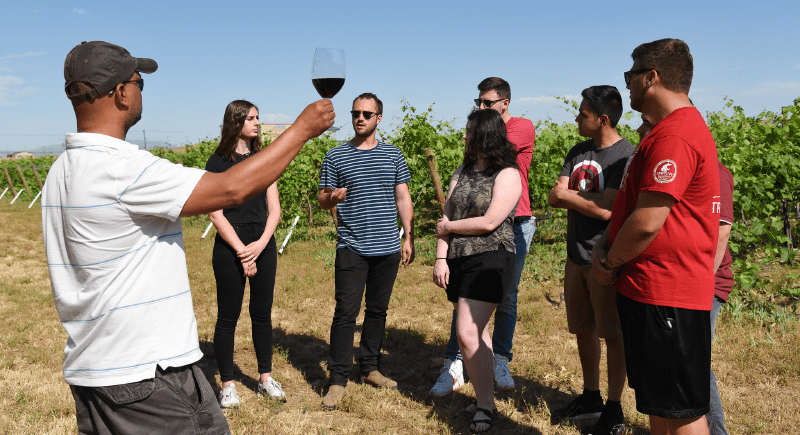 June 25, 2020

New degree in place for wine students

RICHLAND – Students can now earn a bachelor's degree in Viticulture and Enology (V&E) from Washington State University.

"We're very happy about completing this final step for adding the Viticulture and Enology degree for students at WSU and in our college," said André-Denis Wright, dean of the College of Agricultural, Human, and Natural Resource Sciences. "We've been working closely with the wine industry, and having this new degree will help our students stand out in this competitive and growing industry."After the WSU Board of Regents approved the new Bachelor of Science degree in May, the Northwest Commission on Colleges and Universities has given the final approval to make the degree official.

Students will see the new degree on their diplomas starting with the Fall 2020 class of graduates. The degree will be based on the WSU Tri-Cities campus, where the Ste. Michelle Wine Estates WSU Wine Science Center is located.

Previously, students wanting to work in the wine industry earned a degree in Integrated Plant Sciences and majored in V&E. Their diploma did not say viticulture or enology. Also, students could choose to pursue the major on the Pullman or the Tri-Cities campus. Going forward, all students must finish at least the last two years of the degree at Tri-Cities.

"We are excited to officially add the viticulture and enology degree program to our campus," said Sandra Haynes, WSU Tri-Cities chancellor. "Given our proximity to the wine industry in the mid-Columbia region in Washington, as well as the location of the Ste. Michelle Wine Estates WSU Wine Science Center on our campus, this is the perfect location for the home of the V&E program and degree. Students will have direct access to a variety of industry experiences and research opportunities in the heart of Washington wine country."

The proximity will give students many opportunities to work closely with winemakers and vineyards as part of their education. A portion of all wine sales in Washington state goes directly to support wine research at WSU.

"This degree is an important step for our entire industry," said Steve Warner, president of the Washington State Wine Commission. "The world-class Wine Science Center is an amazing place for students to learn right in the middle of Washington wine country, giving them the opportunity to work hands-on with our wineries and vineyards. WSU's program is fantastic, and it continues to grow and get even better."

V&E students will have many opportunities to have internships with and learn from wineries and vineyards from around the Tri-Cities area. They will also have access to research tools, including specialized labs and vineyards at the Wine Science Center and at the WSU Extension facility in Prosser.

Current Pullman students who have previously declared V&E as their major will be grandfathered in and can finish in either Pullman or Tri-Cities.

New V&E students have two options for starting their academic path: spend their entire time at WSU Tri-Cities or start in Pullman, then finish the degree in Tri-Cities.

Students who want to stay in Pullman will have other options in related fields, like fermentation science, or can earn a minor in V&E.