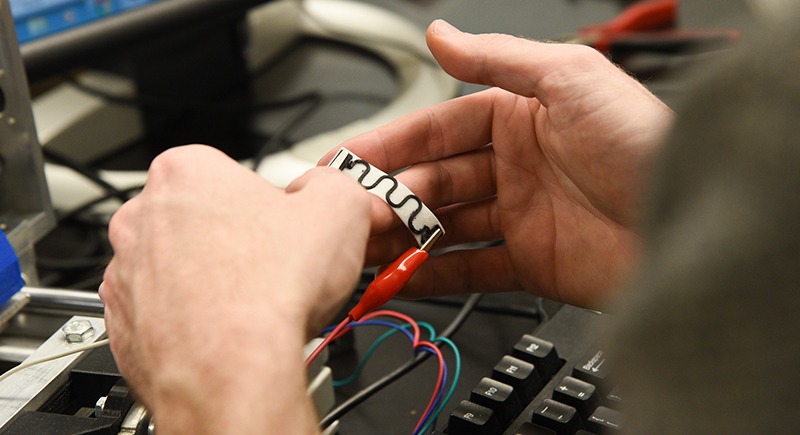 March 5, 2019

3D-printed sensor technology developed by WSU researchers has applications in prosthetics, robotics, more

By Maegan Murray, WSU Tri-Cities

RICHLAND, Wash. – Engineering researchers at Washington State University Tri-Cities, in partnership with those at the Leibniz Institute for Polymer Research Dresden in Germany, have developed a way to 3D print flexible sensors using nanomaterials and a type of plastic in tandem, which has shown to advance capabilities for what is possible with flexible sensors.

Flexible sensors have applications in soft robotics, prosthetics, physical therapy and structural health monitoring, which requires a degree of movement, compression or flex to fulfill the function of a device and/or the use. The sensors may be used to measure the degree of stretching or compression in the movement of an object, the amount of times something is used, flexed or compressed, or to track how something moves.

Until now, manufacturers have found it challenging to create a sensor that would integrate seamlessly with material within a larger system. Using their 3D printing method to create the sensors, however, several materials are printed in tandem. This would allow manufacturers to better create complex and conductive pattern designs, in addition to specifically tailor the general manipulation needed with each type of sensor. This method uses extrusion to make feedstock material and thus following a 3D printing method would also allow the sensors to be mass-produced on a commercial scale.

The team of WSU and Leibniz Institute researchers, made up of Josef Christ, Nahal Aliheidari, Petra Pötschke and Amir Ameli, recently published their findings in Polymers, an MDPI research journal.

Varied potential and recyclable

Ameli, WSU Tri-Cities assistant professor of mechanical engineering, said they started with nanomaterials called carbon nanotubes and a flexible polymer called

thermoplastic polyurethane, which can be combined in different amounts and in different ways depending on the type of use.

"We can design sensors with different sensitivity and different range of flexibility," he said. "We can go as high as 100 percent deformation, which has wide use for applications including soft robotics. It is conformable, it is soft, it is flexible, and at the same time, it has a good sensitivity to sense the change in dimensions."

Ameli said using 3D printing, they have designed bi-directional sensors, which allow the sense of deformation in two different directions.

"By monitoring the change in the electrical resistance, we can probe how much deformation is applied to the sensors, which is called piezoresistivity," he said. "We can print these with conductive traces of nanomaterial with different patterns and in different directions. That gives us the ability to design sensors with tuned sensitivity and in any direction we are interested in."

Ameli said the material is also recyclable.

"We can melt it and then re-melt it, and through the melting process, we can recycle the material," he said.

Applications in robotics, physical therapy

So far, they have done initial tests with the sensors in a glove prototype, with a robot that is being developed at WSU to pick apples, as well as with a few other applications. They also have plans for printing nanomaterials that can be used in supercapacitors, or those that can hold and store large amounts of energy, in addition to a number of other areas.

With the glove prototype, they used the sensors in the fingers of the glove, measuring how much the sensor contracted and expanded with the movement of the fingers. The sensors could also be used to sense the strain in the movement, which could simulate the strain that a person's hand endures with a particular movement. It could also monitor the amount of times a person moves particular parts of their hands for studies in physical therapy and ways to improve movement.

In the robot being developed for picking apples, the sensor would be applied on the device that would grip the apples to trace the amount of pressure needed in order to not bruise apples.

"For example, if we want a robotic hand to touch and grab sensitive objects, like in apple-picking, the apple is sensitive and we don't want to use a hard gripper to grip it because it will bruise the apple," Ameli said. "We can sense where the touch is made and send the feedback to the computer controlling the device."

For more information on the technology, contact Ameli at 509-372-7442 or a.ameli@wsu.edu.