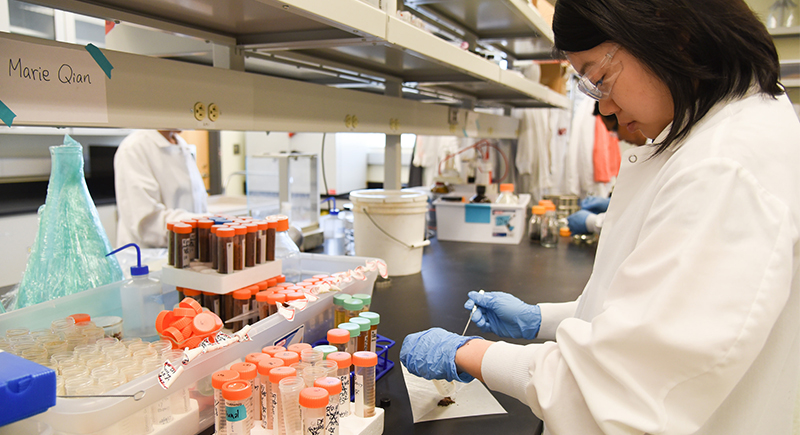 April 6, 2018

WSU's Biological Systems Engineering earns top ranking

They're piloting drones over Washington vineyards, turning wood waste into jet fuel, and deploying thermal cameras to breed crops that resist drought. Their ideas launch businesses, transform agriculture and help feed a growing planet.

That's why U.S. News and World Report recognized the WSU Biological Systems Engineering (BSE) program, ranking it 14th in the nation for graduate student programs in biological and agricultural engineering.

"This ranking reflects the outstanding quality of our faculty and graduate students," said Juming Tang, department chair and regent's professor in BSE. "They're using technology to solve local and global problems in agriculture, food, fuel and the environment."

Students develop new technology for crop sensors and precision irrigation; advanced robotics to grow, manage and harvest fresh produce; safer food processing technologies; bio-jet fuels; and many other innovations, all supported by state commodity groups, the Washington state and U.S. Departments of Agriculture, Departments of Defense and Energy, and the National Science Foundation, among others.

"While our students are doing cutting-edge research, they're also building success skills like management and teamwork," said Shyam Sablani, associate professor and graduate program leader for BSE, who advises dozens of students in the WSU Food Engineering Club. "Taking part in professional societies, industrial internships and student clubs, our graduates gain skills that power their careers."

"My degree is helping me become a better teacher, advance in my field, and help Northwest apple growers, our environment, and the economy," said Rajeev Sinha, a doctoral student in ag automation and former university educator from Bihar, India.

At WSU Prosser, Sinha works with apple growers to test new high-efficiency spraying technology, keeping orchard employees and the environment safe from harmful pesticides. Outside of the lab and classroom, he is an officer in several student clubs and a top player on the WSU Prosser cricket team. Every activity enriches his student experience.

"Students are our partners and our champions," Tang said. "I'm proud of the work that BSE students and faculty have done to earn us a top national program. We'll continue to transform agricultural and food systems for the benefit of the environment and consumer."

Washington State University Tri-Cities is home to the Bioproducts, Sciences and Engineering Laboratory and to world-class faculty that complete research both at WSU Tri-Cities and the Irrigated Agriculture Research and Extension Center (WSU Prosser IAREC).
Contact: Juming Tang, Department Chair, Regents Professor, Biological Systems Engineering, (509) 335-2140, jtang@wsu.edu