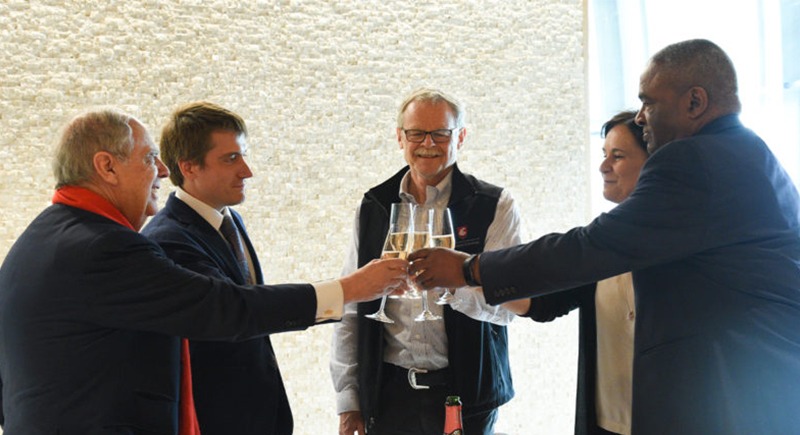 June 5, 2019

WSU Tri-Cities partners with Spanish winery

By Maegan Murray, WSU Tri-Cities

RICHLAND, Wash. – Washington State University Tri-Cities recently signed an agreement with Valdemar Family Wine Estates to explore educational opportunities for international collaboration in the field of wine science.

Valdemar Family Wine Estates has locations in both Walla Walla, Washington, and Rioja, Spain. It is the first non-American winery to establish a location in Walla Walla.

"We are delighted to forge an agreement with Valdemar Family Wine Estates, as it will provide extensive learning opportunities for students," WSU Tri-Cities Chancellor Sandra Haynes said. "These opportunities include internships, research and hands-on experiences that provide an in-depth look at the wine industry here and in Spain."

The agreement specifically encourages the exploration of:
Ways that international students could participate in experiential learning such as internships at Valdemar Family Wine Estates in Walla Walla, Washington, and in Rioja, Spain
Ways to recruit Spanish students to the Tri-Cities and vice-versa
Joint research efforts including grape and wine production
Opportunities for collaborative programs relating to wine business professional development and related research programs
"There are two things that excite us the most about this partnership, and those are the possibility of giving local students an international experience in Rioja, which is something that will enhance their career, as well as the project bringing Rioja grapes, such as Maturana or White Tempranillo, something that would enrich the grape diversity of Washington state," said Jesús Martínez Bujanda Mora, CEO of Valdemar.
André-Denis Girard Wright, dean of WSU's College of Agriculture, Human and Natural Resource Sciences, said Washington is the new epicenter of wine, and WSU's Viticulture and Enology Program fosters the state's $4.8 billion wine industry with research, education and outreach.
"Partnering with Valdemar Estates, who pioneered the first internationally-owned winery in Walla Walla, brings global connections that are truly exciting for our students, scientists and wine industry partners," he said.
Washington State University is a leader in wine science research and education, featuring the state-of-the art and all-encompassing Ste. Michelle Wine Estates WSU Wine Science Center – one of only a handful of full-fledged wine science centers in the United States.
For more information about the wine science program at WSU, visit wine.wsu.edu. For more information about Valdemar Family Wine Estates, visit www.valdemarestates.com.