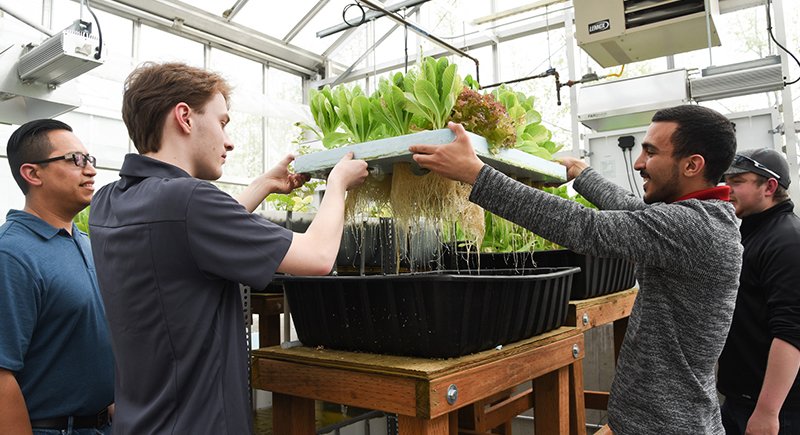 May 10, 2017

WSU Tri-Cities students design technology to address challenges in Africa

Technologies to be implemented in Uganda this June

RICHLAND, Wash. – Three teams of engineering students at Washington State University Tri-Cities designed technological advancements that will address challenges pertaining to farming, education and agricultural business in rural communities in Uganda.

The projects were part of the students' capstone engineering courses at WSU Tri-Cities where students are tasked with completing a year-long project that integrates many of the components of the students' foundational engineering and related courses to solve either a real-world or simulated problem.

The projects for the Ugandan communities include:
An aquaponic system that incorporates minimal water, fish and a growing medium to produce a recyclable and sustainable agriculture system
A solar-powered lighting system that will allow for additional educational instruction time in the evening and during other minimal daylight hours
A solar-powered mushroom dryer that preserves a local mushroom crop that will increase economic opportunity for the local community
Scott Hudson, WSU Tri-Cities professor of electrical engineering, and Messiha Saad, clinical assistant professor of mechanical engineering, serve as faculty mentors and advisors for the three projects, which were funded by Hudson on behalf of The Giving Circle. The Giving Circle is an all-volunteer, nonprofit organization based in Saratoga Springs, N.Y., which provides services and builds schools, sanitary facilities and more, to help disadvantaged communities around the world.
Hudson will also accompany a Giving Circle team to Uganda this June to help implement the new technologies to ensure their longevity and success.
The students spent their first semester predominantly coming up with a design for their projects and their second semester physically building the structures.
"What is great about these projects is that they will be directly implemented into communities that have a dire need for these technologies," Hudson said. "Students are using their skill in engineering to design products that will serve an immediate need for a deserving community across the world. They're solving real-world problems that will have a lasting impact."
Aquaponic system for food sustainability
The Kagoma Gate Village in Uganda is located far from urban areas and utilities and is considered largely "off the grid," Hudson said. Many people in the community don't have access to their own farmland or can't afford it, and water is in limited supply. An aquaponic system, which recycles water and fish waste to fertilize growing plants in the system, while allowing the fish to breed and then act as an additional food source, is a crucial technology that will do a lot of good, Hudson said.
The WSU Tri-Cities student electrical engineering team, composed of students Amjad Al-Shakarji, Gabriel Fuentes, Trevin Schafer and Daniel Cain, had a lot of obstacles to overcome with their design, as many of the materials had to be inexpensive and either available in Uganda or easily shippable to the site. The team also had to conduct a tremendous amount of research, considering their backgrounds were limited in botany, hydrology, etc.
"It was an incredible learning process," Schafer said. "We're obviously not hydrologists or mechanical engineers, but we made it all work. A ton of our decisions in the design and construction were based off of research and collaborative ideas. It also helped that we worked really well together."
The team's design required the use of solar panels and battery storage, which is where the students' skills in electrical engineering came to play. The students also developed an electronic system that allows them to monitor the effectiveness of the system remotely and track their data.
The way the team's design works is as follows:
Plants are planted in clay pellets atop the apparatus, where water is circulated to the plants via a solar-powered pump
Tilapia fish live in a water tank and their waste is distributed to fertilize the plants growing at the top of the apparatus
The fish then double as a food supply source, as they are native to Uganda and are easy to breed
Schafer said overall, the system uses far less water than that of traditional farming methods.
"The main reason we chose this project as our final engineering capstone project is that it truly provides one of the best resources for the people of Uganda," he said. "It may not be as heavy in electrical engineering as some of the other student projects, but this project will certainly do a lot of good."
Al-Shakarji said the project has presented the team with significant challenges, but great rewards.
"It's been challenging to add the component of having to keep something alive, but it's something that the people in Uganda will find of real value," he said. "It's also something that can be easily expanded. Using a manual that is provided by our team and components that may be easily shipped to the country or purchased locally, anyone can recreate this system. The sky is the limit for expansion."
Solar lighting for additional educational hours
The Kagoma Gate Village has no access to electricity, which limits the number of hours that are available to provide educational instruction, activities and more. That is why a WSU Tri-Cities student electrical engineering team has partnered to create a solar lighting system that will provide more educational hours to the villagers' days.
The team, composed of students Pierce Jones, Daniel Deaton, Steven Goulet and Richard Dempsey, are creating a lighting system that will provide the same level of light as a standard U.S. office building and has the capability to store enough energy for at least two hours of light per night.
"Right now, the villagers are using kerosene lanterns, which are not only very dangerous, but also very expensive," Hudson said. "When you think about the fact that these people are making an average of $1 a day, that can eat significantly into the family's budget."
Deaton said one of their main challenges was finding components that met their design requirements, allowing the lights to shine bright enough, while not making the system too expensive for the village. The batteries and
the solar panels, specifically, can be very expensive, he said. The system also had to be simple enough so that it could be recreated by other people in the region.
"Ideally, when this is all done, we want to have it where other villages can reproduce it at a low cost," Dempsey said. "These are very hard working people that deserve to have a few hours of additional light that doesn't cost an arm and a leg."
Dempsey said their design, including the solar power components, can be reproduced for about $500.
"Our system is all very scalable and very linear," Deaton said. "When it does get reproduced, we hope that the village won't have to learn anything beyond that initial installation. We are creating a manual that provides all of the instructions for the installation."
Mushroom dyer for economic growth
While Uganda has made great strides toward reducing the level of extreme poverty within the country, economic development remains a significant challenge due to lack of infrastructure and access to larger markets.
The Panache Cooperative in the Wakiso District of Uganda has been successfully growing oyster mushrooms, which are considered a delicacy in Africa. Preserving the mushroom's shelf life, however, has posed a problem. Without extended preservation, exporting the crop to larger markets is impossible. That is why a WSU Tri-Cities student mechanical engineering team is constructing a mushroom drying device that uses minimal power.
The team, composed of students Sam Sparks, Rachel Estes, Keenan Moll, Ian Pierce, Lorraine Seymour and Joel Larson, was tasked with reinventing traditional commercially available dehydrators. Even the modest-sized versions, Pierce said, require significant electrical power, which is not available in the Wakiso District.
"The biggest challenge we've had to deal with is getting a mushroom, which consists of 90 percent water, down to 20 percent while dealing with the Ugandan climate that consists of about 70 percent humidity year-round," Pierce said.
To combat that issue, the team created a device that utilizes a Lexan polycarbonate top that allows for the air to absorb solar energy and be superheated within the system. The system then uses solar components to promote air flow to help regulate the temperature, which ensures that the mushrooms don't cook, and in turn, lose nutrients.
"The design has to be simple so that they can build it there," Seymour said. "It all has to be simple parts with simple assembly, which we were able to accomplish."
Moll said their design should increase the standard shelf life of the mushrooms from 24 hours, which is standard for unrefrigerated fresh mushrooms, to several weeks or more for the dried product. The team's goal was to be able to dry approximately 25 kilograms of mushrooms per day. The team's modular design is scalable to accomplish that feat.
"The people in the Wakiso District will be able to use the dryers to dry their mushrooms and sell them as a local product to restaurants and other businesses, which will help them earn a greater living," Seymour said. "I feel very rewarded to have participated on this project, because we're creating something that will have a lasting value."
Saad said the projects provided his students a tremendous opportunity to utilize their skills in engineering to provide solutions to issues across the world.
"These humanitarian projects provided unique opportunities for my students and gave them greater confidence and the skills to work in unfamiliar environments and across cultural differences," he said.
Beyond implementation
In addition to installing the different devices within their respective communities this June, Hudson said his goal will be to meet with representatives of the Ugandan government, representatives from the universities, as well as other influential figures to see how they can spread their work to other regions and villages.
"These villages are at a zero level for technology," he said. "Anything we can do to help is a big improvement, and by empowering Ugandans with technology that they can fix, adapt and implement themselves, it will have a lasting impact that will benefit individuals for generations to come."
Hudson said The Giving Circle has been a tremendous partner. He said he plans to continue the partnership for future student engineering projects.
"The Giving Circle is in it for the long-term and it makes a lot of sense for us to make this an ongoing development project from WSU Tri-Cities," he said. "This is hopefully just the beginning of a larger effort and partnership."