February 22, 2019

WSU Tri‑Cities welcomes professionals in career mentoring program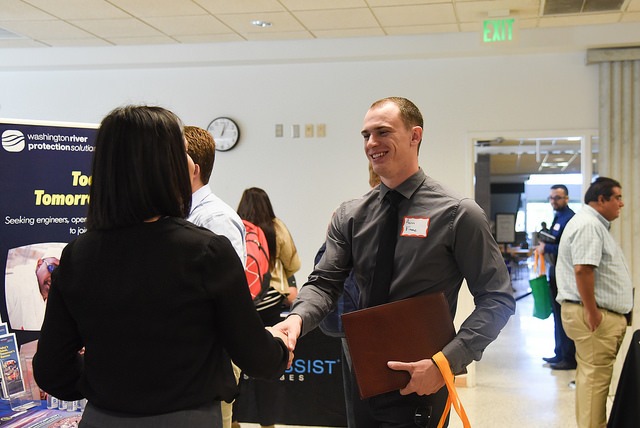 By Maegan Murray, WSU Tri‑Cities
RICHLAND, Wash. – Washington State University Tri‑Cities welcomes employers and professionals from around the region to participate in a new program geared toward supporting students in their future careers.
Through the program, Partners in Career Development, professionals will be connected with students in their industry where they will have the opportunity to discuss topics, including:
Real‑world career skills.
Experiences and credentials students should be seeking to be an ideal candidate.
Future opportunities at their company and in the industry.
Partners also will be able to help students with resumes and cover letters, or help with interview prep.
Employers and professionals will be able to dictate the time commitment they are willing to contribute and the type of mentorship opportunities they would like to offer. Volunteer commitments can range from a one‑time commitment, to once a week, to a few times a month or more.
"Here at WSU Tri‑Cities, we pride ourselves in how we support students in their educational and professional goals," said Jordyn Creighton, WSU Tri‑Cities director of campus student support services. "Our industry professionals are the experts in their field. Our goal is to connect students directly with industry professionals so they may get first‑hand advice, guidance and experience from those who could potentially be a future employer."
Creighton said they want to leave the options open for what is possible through the program as different industries require different scopes of experiences, and partners may be limited in their time available to dedicate with students.
She said both professionals and students benefit from the partnership.
"The benefit to our students is that they have access to a professional in their field, and also a connection to a particular company in our area," she said. "The benefit to the professional and/or company is that they have the chance to use it as a recruitment tool. They are able to expose students to their industry, provide them with a glimpse into their organization and perhaps, find a valuable future employee."
The program officially will launch March 18. In the meantime, employers and professionals are encouraged to contact Creighton directly if they are interested in the program at 509‑372‑7433 or jordyn.creighton@wsu.edu. There are also options for matching employers up with students now if they are interested in starting right away.
"We are excited to connect students with industry leaders," Creighton said. "For example, having a pre‑law student get guidance from a local attorney, or mechanical engineering students speaking with engineers for the Hanford site, will provide valuable career preparation. We are definitely thankful for anyone who wants to volunteer with students, whether that be a one‑time meet and greet, or a couple times a month or more. We hope for this to be a valuable experience for both employers and students."
For more information see the Partners in Career Development website.
Media Contacts: