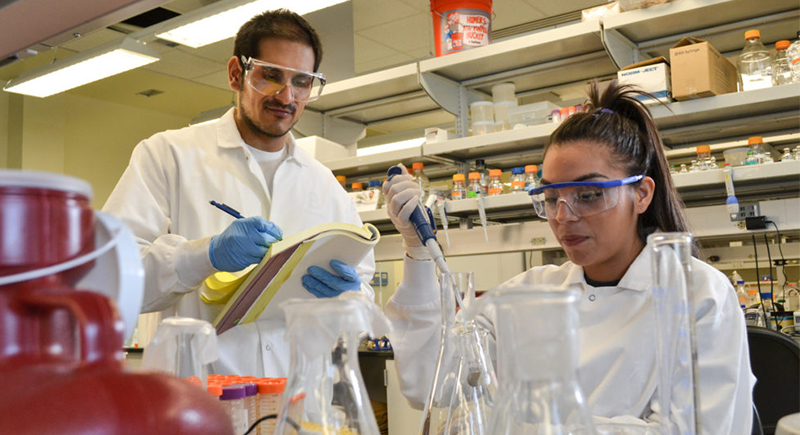 April 3, 2018

WSU, PNNL strengthen research ties to shape the future – together

RICHLAND, Wash. – Embracing the 'power of partnerships,' the Department of Energy's Pacific Northwest National Laboratory and Washington State University today announced the formation of the WSU-PNNL Institutes — a collection of three joint institutes that will advance science and technology in nuclear science and technology, advanced grid and bioproducts.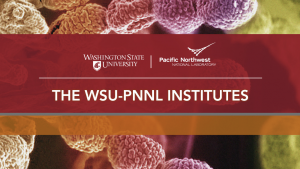 In a ceremony at WSU Tri-Cities, located in Richland near PNNL's research campus, that included U.S. Sen. Maria Cantwell, institute leaders noted that these areas are critical for the nation and Northwest and solutions to major challenges are possible with these two institutions coming together.
"These are areas where we know we can make a difference," said PNNL Director Steven Ashby. "We have unique, yet complementary, expertise and resources that are now united under one vision to develop solutions to significant issues of our time and into the future. The institutes will also provide innovative opportunities for students, serving to engage and inspire our future scientists and engineers and equip them with the skills required to tackle tomorrow's greatest challenges."
"We're delighted to strengthen our partnership with PNNL," said WSU President Kirk Schulz. "Combining the expertise of our two organizations multiplies STEM-based learning and research opportunities in areas like technology, sustainability, and energy security. In the big picture, the residents of the region and state win — this partnership will lead to new discoveries, enhance quality of life, and bolster the regional and state economy. For WSU, this agreement is also another milestone in our ongoing efforts to create new innovative, entrepreneurial collaborations. Doing so is vital to the success of our initiative to become one of the nation's top 25 public research universities."WSU and PNNL have a long history of collaborating on individual research projects, as well as providing hands-on educational experiences that lead to career opportunities. In addition, there are joint appointments where WSU faculty perform research at the lab and PNNL researchers teach and research at WSU. The formation of the institutes expands this collaboration and sets the stage for long term impact.
Nuclear Science and Technology Institute
Understand and control how materials evolve in radiation environments — to prevent the use of illicit nuclear materials, resolve issues in nuclear waste management, and advance next-generation nuclear energy.
Advanced Grid Institute
Create and implement a national-scale simulation platform and data framework to enable advanced grid controls and operations for complex power systems of the future.
Bioproducts Institute
Leverage cutting edge science, engineering, and analysis to transform engineered plants and industrial, agricultural and municipal waste into valuable materials and chemicals.
The institute offers participants access to some of the world's most advanced analytical and characterization instrumentation. Researchers, faculty, and students will be able to access each other's unique expertise, specialized facilities, and state-of-the-art instrumentation to maximize scientific impact.