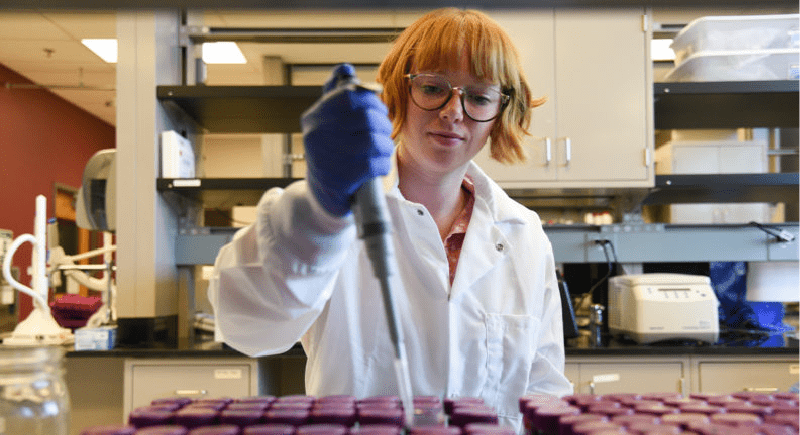 August 3, 2020

Wine Science Center receives gift to support new Life Sciences Teaching Lab

A significant gift from the Paul Lauzier Charitable Foundation is delivering much-needed space and equipment for hands-on student learning at Washington State University's Wine Science Center.

Named for the late Washington farmer and entrepreneur Paul Lauzier, the foundation supports a range of causes including community development, education, health, and agriculture, and has gifted more than $1.5 million for learning and discovery at WSU.
Future home for discovery
This summer, the foundation chose to support the new Life Sciences Teaching Laboratory, under development at the Ste. Michelle Wine Estates WSU Wine Science Center on the WSU Tri-Cities campus.
The center currently lacks a dedicated laboratory teaching space, which means undergraduate labs must be taught in research spaces, limiting class sizes, new lab courses, and hands-on student projects.
The Life Sciences Teaching Lab expands capacity, adding space and technology for future graduates to practice analytical techniques in chemistry, biochemistry, microbiology, and plant physiology. The foundation's $100,330 gift helps build out the lab and provides funds for scientific instruments and fixtures.
"The Life Sciences Teaching Lab is one of the most important places at the Wine Science Center," said Thomas Henick-Kling, professor and director of WSU's Viticulture and Enology Program. "It's a future home for discovery for our undergraduates that will also increase efficiency and reduce our expenses, by allowing laboratory teaching to happen in its own specially designed space."
Building on land-grant partnership
"Paul Lauzier cared deeply about education, agriculture, and the development of Washington communities," said André-Denis Wright, dean of WSU's College of Agricultural, Human, and Natural Resource Sciences. "His vision meshes beautifully with the hands-on, career-building experiences that the Life Sciences Teaching Lab will provide when it's complete. This gift helps our students and faculty develop knowledge in areas of great importance to the future of Washington's $8.4 billion wine industry."
"We are pleased to have this opportunity to support Washington State University's Viticulture and Enology Program," said Michael Rex Tabler, Paul Lauzier Foundation trustee. "Not only does this gift provide academic support for faculty and students, it also contributes to an increasingly important element of agriculture in our state."
"On behalf of our students and faculty, I thank the Paul Lauzier Foundation for its foresight and generosity in bringing the Teaching Lab, the Wine Science Center, and the Tri-Cities campus toward our full potential," said Sandra Haynes, chancellor of WSU Tri-Cities. "Together, we're building on our 80-year land-grant partnership with Washington agriculture, and developing graduates fully prepared to contribute to the communities around them. I believe Paul would be proud of that."
Fundraising is still underway to fully complete the Life Sciences Teaching Lab. To become involved in efforts to improve the WSU Wine Science Center, contact Carolyn Wika, development officer with WSU-CAHNRS, at c.wika@wsu.edu or by phone at 509-335-0505.