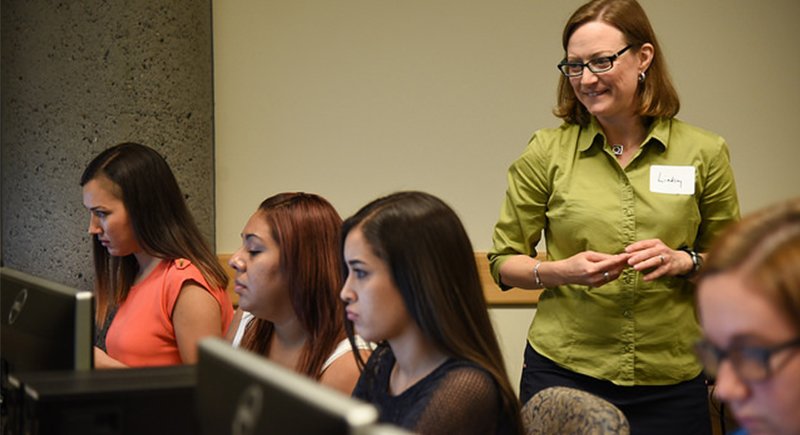 January 4, 2017

Student works to propel resources for educators through PhD in math & science ed

By Maegan Murray

Lindsay Lightner's teaching career and experience in education has taken her all over the country, and even across the Atlantic Ocean to the United Kingdom.
Her first teaching job right out of college was as a middle school science teacher in New York. From there, she taught writing at Penn State after receiving her master's degree in the subject. Her efforts then led her overseas to educate future teachers at Canterbury Christ Church University before she returned to the U.S. and took a position as an academic advisor at Washington State University Tri-Cities.
In all those years in education, what fascinated her most were the possibilities for exploring teaching styles and innovative strategies in education and helping students from all backgrounds succeed in the field she has dedicated her life to.
"The more I worked with students, the more I realized the different challenges they had, which led me to more questions," she said. "The kinds of questions I was having I could only answer through research. That is really what interested me in pursuing a PhD here at WSU Tri-Cities – that research capability. I started thinking about what I could bring to the table that could potentially have a large impact on the future of education."
Lightner is now pursuing a PhD through the mathematics and science education doctoral program at WSU Tri-Cities while she works full-time as the university's alternate route to teacher certification coordinator.
Washington currently ranks third in the nation for the concentration of STEM jobs by state, according to the U.S. Chamber of Commerce Foundation. With this distinction comes the responsibility for preparing students who will one day fill those roles. Through the College of Education at WSU Tri-Cities, students in the mathematics and science education doctoral program are researching ways to prepare both teachers and students to be successful in those fields. Both are crucial to growing the state's local talent, and in turn, the state economy.
Blending established educational experiences with innovative research
In her current role as the alternate route to teacher certification coordinator at WSU Tri-Cities, Lightner sees first-hand how the implementation of new and engaging strategies can improve the overall teaching experience, and in turn, students' knowledge retention.
Lightner works with paraeducators who are combining their established experience in the classroom with courses at WSU Tri-Cities to earn their bachelor's degree in elementary education. At the end of the program, the new teachers will hold endorsements in English language learning, bilingual education or special education, in addition to the elementary education endorsement.
Lightner said for new teachers, teaching science and math may be intimidating as they often don't have specific expertise in those subjects.
"The research on preservice elementary teachers indicates that many of them feel more anxious about teaching math and science than other subjects, such as reading," she said. "Some of this could be due to their own negative experiences as learners of science or mathematics, or due to social biases."
Lightner said through her doctoral research, she is exploring how people learn throughout their lives and how they integrate their past experiences with new learning opportunities to create new knowledge, practices or understandings for themselves.
"I'm interested in seeing how college students and new teachers make sense and learn in different environments, whether those are university classes, work situations or a free choice activity," she said.
Through the education doctoral program, Lightner is currently conducting a survey that measures what the alternate route students think about teaching in general and also what they think about teaching science.
"A lot of the work that math and science educators do at any grade level is to inspire learners with not only the content, but also a sense of wonder and possibility about science and mathematics," she said. "This is no different for teacher educators than for kindergarten teachers. But college students have more previous experience that we have to engage with as they learn."
A perfect fit
In her career in higher education, Lightner said the doctoral program in mathematics and science education at WSU Tri-Cities has been a perfect fit as both her coursework and her research area apply directly to her work with students who are learning to teach those subjects.
"I think they are very complimentary," she said. "It is very exciting to have something where I'm developing real-world skills that I can put toward my job."
Lightner said she appreciates that her course schedules are a mix of online programming and in-classroom experiences, as it allows her flexibility in her full-time work schedule. She also works with nationally-renowned education professionals whose research and academic contributions have changed the world of education for the better.
Lightner also shared from her experience as a teacher, both locally in the United States and internationally in the United Kingdom, as well as from her experience as an academic advisor, and compared these experiences with those of her fellow classmates.
"One of my classmates is a high school math teacher," she said. "Another is a middle school science teacher in a rural school. One is a community college math instructor and then there's me: a former teacher with experience both in the K-12 system and in higher education. It is neat to be able to draw from other people's insights and approaches."
Interested in the math and science education doctoral program? Visit https://tricities.wsu.edu/education/graduate/.