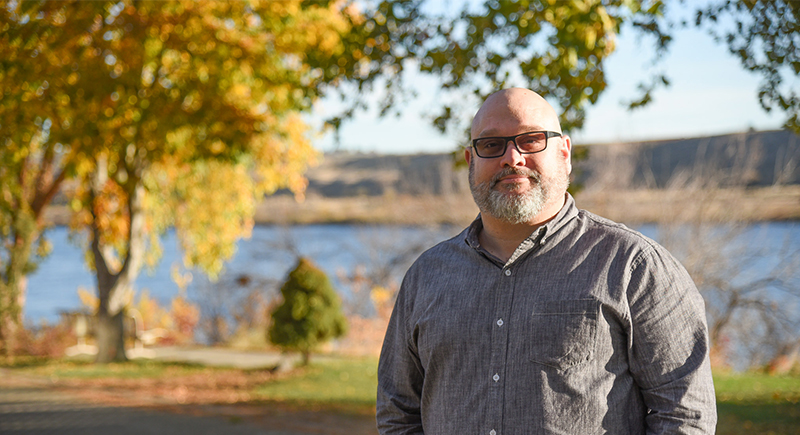 October 30, 2018

Non-traditional student uses WSU Tri-Cities education to achieve better life for family

Posted at 11:35h

in

Academic Affairs

,

Alumni

,

College of Arts and Sciences

,

Faculty

,

frontpage

,

profile

,

Research

,

Science

,

Staff

,

Student

,

student stories

,

Uncategorized

,

WSUTC News

By Maegan Murray, WSU Tri-Cities
RICHLAND, Wash. – Family is core to who Geoff Schramm is as a friend, a person, but especially as a father and husband.
It's the reason why he decided to go back to school at Washington State University Tri-Cities in his late 30s – a decision that led to many people asking him, "Why?"
"I had a lot of people questioning why I would put this on my family," he said. "It was a significant investment and time commitment not only for myself, but especially for my wife and my kids. But this is and was for them. In the long-term, I knew that this would put me on the right track so that I could make them proud and provide them with a life they deserved."
Finding his path
After graduating high school at 18, Schramm had started to attend college in Walla Walla, but as the story goes, he met a girl.
Both dropped out of school so that they could start and raise a family. Eventually, he worked his way into a job at an assisted living facility, which developed into successful career. But the stress of his industry started to take a toll on his physical and mental health.
"I was doing really well at my job, so I would get recruited to help these struggling facilities," he said. "My job took me from facility to facility. Often times, through these positions, I would have to get up in the middle of the night to help solve problems. The hours were really draining on me, and my wife and family started to notice."
Post recession, he realized that he was going to need a college degree to help secure a stable life for himself and his family. Upon examining schools to attend, WSU Tri-Cities made sense.
For one, the average age of student was slightly older than that of other universities. And for another, they had an environmental science program that Schramm knew would take him places in life.
In January 2011, with his wife's hand in his, he walked up the steps to the WSU Tri-Cities campus to start his first day of school.
"Attending WSU Tri-Cities is probably one of the best decisions I've ever made," he said. "The connections I've made here, the mentors I've had, the external family that I've now gained as part of the WSU Cougar community, is priceless. I couldn't be more grateful for the amazing opportunities I've had and people I've met through my experience at WSU Tri-Cities."
Developing as an individual and future scientist
Through his science courses, Schramm learned the fundamentals of science experimentation, procedures and more. He also developed a mentor relationship with Dick Pratt, the head of the environmental science program at the time.
"He really helped define a path for myself and what I wanted to achieve through my degree," he said.
While attending classes full-time, Schramm earned a job with the WSU Tri-Cities Career Development office as a career coach, which was followed by a position as a student mentor. He also got involved with several student clubs, and served as a member of TRIO, which provides support services for students who are first-generation, disabled or economically disadvantaged.
As a result of connections he made through school, he completed several internships. His first was with U.S. Fish and Wildlife, which was followed with an internship with Mission Support Alliance doing biological monitoring. He also completed a six-month internship with the U.S. Environmental Protection Agency.
And prior to the end of his senior year, he decided to pursue a master's program in environmental science because he knew it would be required for advancement in his career field. But while he said earning his undergraduate degree was for his family, his master's degree was for him.
"It was the hardest thing I've ever done in my life, bar none" he said. "But it was so worth it."
When he walked across the stage at graduation to get hooded as a master's graduate, which brought tears to his eyes, he knew he had made it.
"It's amazing to look back on this long road and the thought that I've accomplished this all for myself and my family is so incredible," he said. "Now, my kids are talking about how they want to go to college. I couldn't be more proud."
Living the dream
Now, Schramm works as an environmental quality engineer at Washington River Protection Solutions at the Hanford Site, developing procedures and monitoring data for the site.
And as an interesting turn of events, his wife, Trisha, is now pursing her bachelor's degree at WSU Tri-Cities.
"This university continues to change our lives," he said. "This school has challenged and validated me the whole way. I am so grateful to WSU Tri-Cities for what they have given to me and my family."
For more information on the WSU Tri-Cities environmental science program, visit tricities.wsu.edu/environmentalscience.