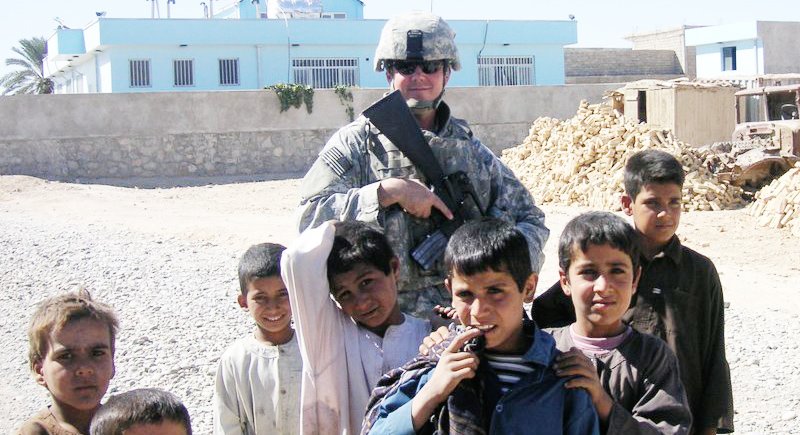 October 4, 2015

From the Military to Wine Making

For Nick French and Robb Zimmel, a career in wine science made sense following their military experiences.

For French, currently a junior majoring in viticulture, the decision to pursue a degree in the viticulture and enology field from WSU Tri-Cities came after serving five years with the United States Air Force. He spent three years on active duty stationed at McConnell Air Force Base in Kansas, where he served as a crew chief on KC-135 Stratotankers and the other two years with the Washington State Air National Guard.
"While I was stationed in Kansas, I noticed that most of my favorite wines and wine selections were from this area, and, of course, California," he said. "As a husband and father, I had to choose a degree that would be suitable to living near family in Washington."
From the Air Force to viticulture
French said after hearing stories of the emerging wine industry in Washington and witnessing the construction of the Ste. Michelle Estates WSU Wine Science Center on the WSU Tri-Cities campus, it was a "no brainer" deciding to pursue a degree in viticulture and enology.
French enrolled as a student at WSU Tri-Cities a few years ago while keeping up with his former military life through involvement with the Veterans Office on campus. Now a junior, he serves as the vet corps navigator for the Washington Department of Veterans Affairs on campus while completing his degree. His courses and connections at WSU have led to a variety of experiences in viticulture, his primary interest.
"Last summer, I interned with the viticulture department at Ste. Michelle Wine Estates and had a great experience," he said. "I really enjoy being outdoors and working with the grape vines. Combining modern technology with pest and disease management has been really intriguing to me."
"I had seen things that couldn't be unseen. I had to have a career change."
For Zimmel, who graduated from WSU Tri-Cities in 2014, the decision to pursue a career in winemaking came after he realized that, while he was grateful for his years in the U.S. Army Reserves, his job put too much stress and strain on him and his family.
For most of his career and through the present, Zimmel has served as a detachment sergeant for a small forward surgical team. Prior to this, he served as a line medic from 1991 to 1998, which gave him the foundation to serve as a paramedic as a civilian. He also served as a drill sergeant at Fort Jackson in South Carolina until he was called overseas to Afghanistan in 2006-2008, and then to Iraq in 2009-2010.
"It wasn't until I was in Iraq that I called my wife on a satellite phone in a wind-torn tent and explained to her that I had seen things that couldn't be unseen," he said. "I knew I had to have a career change. I didn't want to go back to the medical field."
Zimmel's wife suggested that he look into winemaking as a career, considering he has expressed an interest in doing before. Zimmel said he knew he didn't have the resources to attend University of California Davis, which offered a comprehensive degree in viticulture and enology.
"Later, it was my wife that made the discovery that WSU had a program and a plan soon began to be made," he said.
Zimmel began taking courses first at WSU Vancouver in viticulture and enology, before transferring to WSU Tri-Cities to complete his full degree in 2014. He was in one of the first "Blended Learning" classes, which made a complete batch of wine from vine to bottle.
"When I started, I had no background in viticulture and enology," he said. "I did, however, enjoy wine and always wanted to know more about it. I had the opportunity to travel a lot with the military and I fell in love with the Riesling in Germany, Sauv blancs in New Zealand. I've had horrible reds from the eastern block of Russia and incredible wines from the northern part of Italy."
Forever a veteran
Even though both Zimmel and French are pursuing new passions after military careers, they said they will always cherish their time in the military and they even use their experiences as they can be applied to careers in viticulture and enology.
Zimmel has since started his own wine label, "Cerebella" under his winery name "Zimmel Unruh Cellars," which released in summer 2015. In doing so, he said he's using many traits and lessons from his career in the military.
Those include the fact that he knows he's not the smartest person in the room, that burning bridges wastes time and energy, and that he can work with strangers to accomplish goals.
French said he respects and values his time in the military and continues using the skills he developed, such as leadership, work ethic and persistence, as he pursues his degree and moves into his future in viticulture.
Read more about Robb Zimmel here.