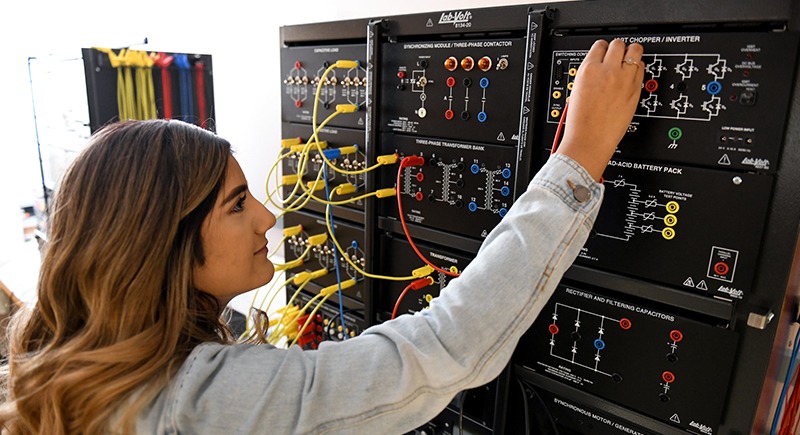 December 3, 2019

Female engineering student first in family to attend college

By Maegan Murray, WSU Tri-Cities

RICHLAND, Wash – Being a female going into a largely male-dominated field is daunting for most. Add into the mix that you are the first in your family to attend college, the level of daunting reaches all new heights.

Growing up, Cynthia Castillo's parents worked in the fields, where she would join them each summer. And while her parents and other family were really supportive in her education, she was unsure as to how to approach the college-going process, mainly because no one in her family had done it before.

The application process, while achievable, was intimidating. The financial aid application process, while possible, was unapproachable. But a high school counselor helped her along the way, making her college aspiration dreams not only seem possible, but conquerable.

When identifying what college was right for her, Washington State University Tri-Cities seemed like the perfect fit.

Not only would it allow her to live at home and stay close to her family, she could pursue a world-class education in engineering based on her love for math, practical application and logical thinking

She also enjoyed the idea of the small-school atmosphere, as it would allow her to easily connect with classmates and make friendships, and she could connect directly to internships at world-class internships just up the road.

Faculty and staff also helped her navigate the process that was new to her and her family.

"It was exactly what I was looking for," she said. "It feels like a small community where everyone gets along. Everyone is really helpful. It's also easy to get involved in different clubs and activities. It's a great fit."

Finding the right major

When researching what college majors were right for her, engineering seemed like the perfect fit because it would blend her love for math with a practical application of making the world a better place.

Initially, she pursued civil engineering as her degree emphasis, where she was excited about the prospect of designing and building structures like bridges, roads and more. But after taking a few courses in the subject, she realized that electrical engineering would be a better fit.

"I realized I liked the practical aspects of electrical engineering," she said. "I could apply the theories directly into the field, and I like how it all seamlessly works together."

Career connections while going to school

Like most of her classmates, Castillo said the ultimate goal of her college degree is to get a fulfilling job that will allow her to make a difference in the world and make her family proud. Her education at WSU Tri-Cities helped connect her with an internship at Mission Support Alliance out at the Hanford Site.

While studying as a civil engineering student, she works at the Hanford site on the water and sewer utilities, helping to refine designs that would improve operations.

"I like it a lot," she said. "It's great to be able to apply what I'm learning at school into a job in an area that has a huge impact on the Tri-Cities."

Throughout her internship, she said she has also enjoyed the opportunity to learn more about the Hanford Site, its impact on not only the Tri-Cities, but also to the rest of the world, and also about how her direct work is impacting her local community.

"Before, I didn't know really what they were doing out at Hanford," she said. "But they have taken us interns on tours, including to the B Reactor – the first large-scale nuclear reactor in the world. We've learned so much about the history of the site and I now know way more than I did a few months ago. It's all incredibly valuable."

Female in a male dominated field

While Castillo admits that she was a bit intimidated to venture into a largely male dominated field of engineering, she said she has enjoyed the challenges that come with that.

"There aren't very many females in this field, but it is great to be able to overcome those stereotypes of my ability to do the work, even if I didn't come from a long line of engineers out at the Hanford Site," she said. "I really like my classes and I love that I get to apply what I'm learning out in the field through my internship while I'm still going to school."

Future in engineering

After graduating in a few semesters, Castillo said she would like to stay local and give back to the Tri-Cities through a career in engineering.

"I would like to work where I design systems, possibly for an electrical company or private engineering firm," she said.

And after working for a few years, she hopes to pursue a master's electrical engineering – hopefully from WSU Tri-Cities.

"I have really enjoyed my experience here at WSU Tri-Cities, and I feel like it is truly preparing me for a future that will make my family proud," she said.

Interested in a career in engineering? Visit tricities.wsu.edu/engineering.