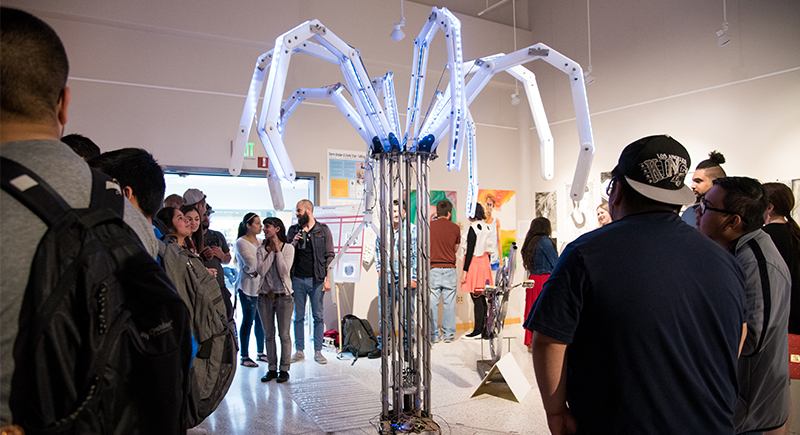 May 3, 2018

Engineering, arts create interactive tree sculpture that speaks to realities of plastic waste

Posted at 09:09h

in

Academic Affairs

,

Art

,

Design

,

Faculty

,

frontpage

,

profile

,

Research

,

School of Engineering & Applied Sciences

,

Student

,

Uncategorized

,

WSUTC News

By Maegan Murray, WSU Tri-Cities

RICHLAND, Wash. – Mechanical engineering students in a Washington State University Tri-Cities capstone course worked with a university arts professor to design and construct a moving tree sculpture that presents the unfortunate realities of the use and discarding of plastic in today's society.

Sena Clara Creston, clinical assistant professor of fine arts and digital technology and culture at WSU Tri-Cities, had the idea to create an installation of an artificial tree that, at first glance, welcomes the viewer in with its beauty and reverence, but then encapsulates the viewer and presents the realities of how plastic is used across the world.

For the project, titled "Willow of the Waste," Creston worked with undergraduate mechanical engineering students to come up with the mechanical design of the tree, which stands approximately eight feet tall and moves gently as though it is breathing. When the viewer approaches, the branches contract, encasing the viewer in a shell under the branches. Upon closer look, the viewer can identify that the "beautiful" leaves, trunk and branches are made of commonly used plastics such as containers for water, grocery bags and others, presenting the harshness of the fact that plastics will outlive most materials on earth.

"When it breaths and showcases natural movements, it is calming and intriguing – it causes people to want to look closer," Creston said. "When they get closer, they see the materials and the impact that these have on our environment."

Creston said while plastic has served a utilitarian purpose, and that even as it presents a beautiful material sometimes, it doesn't degrade, and will outlive many natural and even man-made structures.

"With the Willow of the Waste, it's art that is made out of this beautiful translucent material, but at the same time, it's trash. It's the cleanest garbage," she said. "And whereas artistic works that feature paint, buildings and even the natural world may decay, this tree is made of immortal plastic. For all intensive purposes, my tree will last longer than any painting. That's a devastating reality to reflect upon."

Interdisciplinary partnerships

Creston said working with the engineering students presented a unique opportunity to blend utilitarian skill through engineering with an artistic approach that allows the viewer to reflect on an important topic that concerns today's world.

The partnership resulted after she spoke with Changki Mo, associate professor of mechanical engineering, who presented the project as an option to his students for their capstone engineering senior design course. The students ran with the project, taking into consideration the artistic components of the tree that also served a functional purpose. The student team consists of Tyrell Turner, Elvin Munoz, Gabby Sanchez, David Garcia, Moises Pinon and Aljon Salalila.

"I'm so impressed with this team – with them thinking about the project conceptually, the necessity of the user experienced and with them thinking about the mood of the piece," Creston said. "They were truly able to think beyond the fact that is a machine, but that it is also an experience. They went above and beyond. I couldn't have done something like this without their help."

Getting creative with engineering

The engineering students said they enjoyed the fact that they were able to be creative with the project using their skill in engineering.

"With the artistic aspect of this project, it has been nice because it allows us to put our own creative spin on how to do things," said Tyrell Turner, a senior mechanical engineering student at WSU Tri-Cities. "We were able to do the mechanical part and now she has the materials that she will cover it with based on how she wants it to look. It has been fun blending the two together."

Engineering student David Garcia said they had to overcome a number of challenges to make the project a success, from making small changes to ensure that the movement of the tree was natural and believable, to having to recut and rearrange specific parts, to learning the electrical components of how to make it operate as a "breathing" figure. All served as learning opportunities about overcoming road blocks and challenges.

"It's been a journey, but it's all come together now," Turner said. "We're all excited to see it all come together and for it to get displayed."

To be featured at WSU Tri-Cities symposium

Creston said she is still working on the plastic ornamental aspects of the tree, including the leaves, bark and others, but that those will be completed shortly. The base structure of the tree, however, will be on display during the Undergraduate Research Symposium and Art Exhibition at WSU Tri-Cities from noon – 1 p.m. on Thursday, May 3, in the WSU Tri-Cities Art Gallery in the Consolidated Information Center.

The tree will eventually become part of an immersive environment known as "Machinescape" that features a range of mechanical and robotic figures that all feature the same types of translucent plastic. Creston recently completed another figure, which she calls the "Huminal" that will be incorporated into part of the scene.