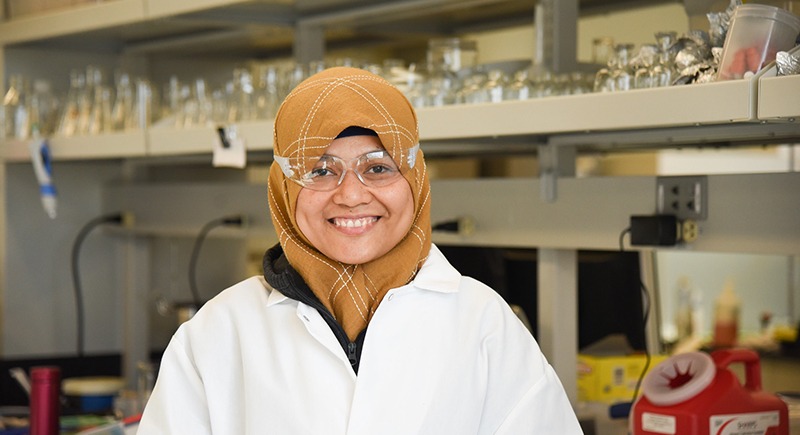 April 8, 2019

Indonesian Fulbright Scholar studying how to develop diverse, cost-effective biofuels technology at WSU Tri-Cities, PNNL

RICHLAND, Wash. – Fulbright scholar Fitria is using her educational experience at Washington State University Tri-Cities and the Pacific Northwest National Laboratory to find new and improved ways of creating successful biofuels and bioproducts.

In her home country of Indonesia, Fitria, who goes by one name, is a team member and former project leader in biomass process technology and bioremediation at the Indonesian Institute of Sciences Research Center for Biomaterials.

There, she works to convert lignocellulosic biomass—the cellulose and lignin-rich substances that give plants their rigidity—from agricultural residues to ethanol and other bioproducts such as wood adhesives, biocomposites, pulp, and paper.

In recent years, the Indonesian government has focused more heavily on the production of biofuels. And while ethanol, which in Indonesia is mostly made from cassava, a starchy root from a tropical crop, is readily available, they are exploring other options, especially lignocellulosic-based biomass from local vegetation. Cellulose from the remains of pressed, harvested oil palm fruit bunches could be a viable option, as Indonesia is the largest producer. Other potential products include rice straw and sugar cane bagasse.

In order to fulfill her career goals, Fitria joined a team led by Bin Yang, associate professor of biological systems engineering at WSU Tri-Cities, in August 2016. Over the past three years, she has worked in the Bioproducts, Sciences and Engineering Laboratory at WSU Tri-Cities to improve the understanding of fundamental mechanisms of pretreatment technologies for cellulosic-based fuels. Her work helps advance cutting–edge biomass conversion technologies and to facilitate the commercialization process.

At WSU Tri-Cities, she is studying several types of lignocellulose biomass, such as corn stover and wheat straw, which are among the most common agricultural waste products in the U.S.

"Wheat straw is abundant in eastern Washington," she said. "The remnant material in the harvesting process is usually left on the field, and about 60 percent is used for ground cover. But you can't remove all of the residue on the field. We want to use the remaining material to make biofuels."

Fitria is specifically examining how to improve the pretreatment process in turning remnant lignocellulosic materials into biofuels with Yang.

In the early stages, cellulose, which is the main component of cell walls in plants, must undergo a pretreatment process to separate it from other major components, hemicellulose and lignin, to help enzymes convert it to sugar. After that, it is fermented into ethanol. Other components in plants, such as mineral components, however, might hinder this process, which she is now investigating.

Fitria is also working with Jian Liu, a senior chemical engineer at the Pacific Northwest National Laboratory, to study the impact that mineral components have on the pretreatment process. She will also start as part of the WSU-PNNL Distinguished Graduate Research program this fall. This WSU-PNNL collaboration not only aids in her doctoral study, but also provides her with the opportunity to gain hands-on experience in a U.S. Department of Energy national laboratory.

"Working at the Pacific Northwest National Laboratory will be very important to her future research career," Yang said. "Fitria has displayed remarkable skill in science, engineering and leadership, and she will continue to grow and make significant contributions to the field of biomass to bioproducts."

Fitria's research at WSU Tri-Cities is in line with WSU's identified Grand Challenges of providing sustainable resources and in sustaining health. It is also in line with WSU's Drive to 25.