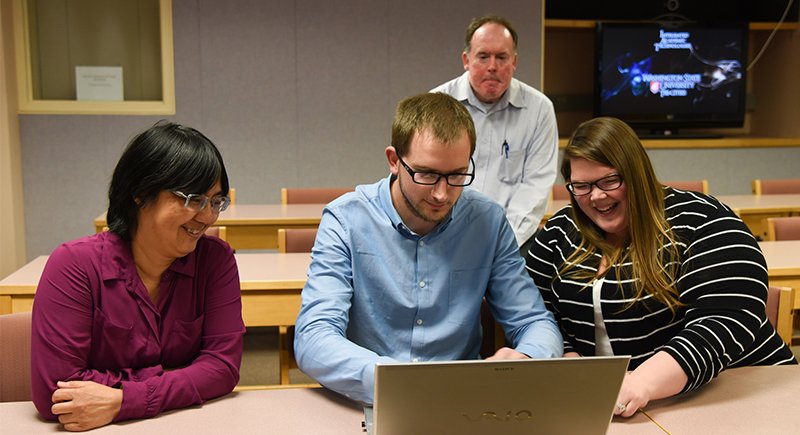 June 29, 2016

Tri-Cities business students help company improve

RICHLAND, Wash. – Four Washington State University Tri-Cities students are working with AREVA, a multinational group specializing in nuclear power and renewable energy, to identify real-world process and cost improvements for the company using the Six Sigma approach.

The effort is part of WSU Tri-Cities' master's in business administration capstone course, which is led by Tim Baker, associate professor of finance and management science.

"Through student-led projects, we either implement process improvements or new product designs and measure the benefits of each," Baker said of the Six Sigma process. "It's all about maintaining a continuous improvement in methodology."

MBA students John Kummer, Kevin Sykes, Hongfei Rassmussen and Sammy Ernst are currently examining the processes and organizational structure within AREVA to identify cost and process improvements for production supplies.

Baker, who holds the highest certification in the Six Sigma process – a master black belt, said WSU Tri-Cities has paired up with local organizations for the last eight years to complete similar projects, and that AREVA has been a primary customer since day one. The student projects, he said, has saved various local organizations significant time and money.

Baker said on one previous year's project, the students worked out a procedure to save the Sandvik Specialty Metals company approximately $750,000 due to a 25 percent reduction in throughput variability in the pilgering process for their titanium rods production. Another student project reduced the average patient flow time for the Grace Medical Clinic by 17 percent.

This year's student group hopes for similar results in their own project with AREVA.

What is Six Sigma?

 Baker said the purpose and goal with the Six Sigma process is to systematically assess the current state of a process, uncover and prioritize improvement and design goals and generate and prioritize ideas for improvements and designs.

Six Sigma professionals measure the benefits to the client for an implementation of an improved process or new design and set up a control plan for the client to ensure that performance does not regress once the Six Sigma project has been disbanded.

Paul Skilton, assistant professor of management, information systems and entrepreneurship, said one of the great aspects of the project and utilizing the Six Sigma approach in a real-world scenario is that the students actively see all the "worms" and the "mess" of systematic procedure within companies, which is also not unique to any one company.

"They're working through organizational messes that end up generating real results," he said. "They are able to work through what we call a wicked problem. It's a problem that doesn't appear to have nice answers, but they ultimately have to get to one."

Value to the company and the student

For AREVA, getting students involved in the company's process and procedures opens opportunities to evaluate both new and old strategies.

"Projects like these give us a fresh perspective on our own processes and identify previously unseen improvement opportunities," said Lance Stephens, AREVA manager of operations strategy and supply chain.

Ernst said part of her job outside of school is recognizing a problem within her company, examining the root of that problem and determining a solution. Utilizing the Six Sigma process through a real-world scenario in her MBA class, she said, is instrumental both in her academic and professional life.

"My employer is currently trying to ramp up in Six Sigma and improve its processes," she said. "There is a huge push towards Six Sigma in our career fields, so this is definitely a huge asset."

Sykes said it has been rewarding seeing the "mess" of the internal company structure because it is useful in his own career.

"It's real-world life experience and we get do dive into a project in a company and see the overall scope," Sykes said. "It's been a really good learning experience."

Skilton said WSU Tri-Cities also benefit from having Baker as their professor and mentor, as he is a world-class Six Sigma and operations research expert.

"As a result of his knowledge and experience in the field, our students here locally get to work on these exceptional projects," he said.