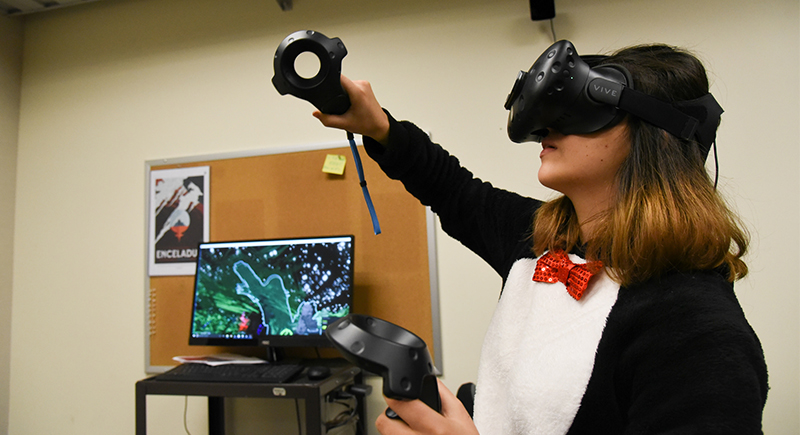 December 19, 2017

Students create 3-D virtual reality environments for fine arts course

By Maegan Murray

RICHLAND, Wash. – Neon rainbow pathways, smoldering ember-lit caves, eerie forests and bridges that lead to mystical lands, are just some of what individuals experience in virtual reality environments created by students as part of a fine arts sculpture course at Washington State University Tri-Cities this semester.

Jonah Firestone, assistant professor of education and director of the Simulation and Integrated Media for Instruction Assessment and Neurocognition (SIMIAN) Lab, first approached Sena Clara Creston, clinical assistant professor of fine arts and digital technology and culture, this semester about using the virtual reality technology in the lab as a means for student course work in the arts.

Creston decided to have her students explore the medium to create 3-D settings that can then be enjoyed and explored by others.

She said typically with art, students are limited in what they can create, as it has physical and monetary limitations. Using Google's Tilt Brush program in virtual reality, however, students can create 3-D masterful creations that extend beyond what is physically available in the traditional art sphere.

"It's an opportunity for students to create within the parameters of their imagination, rather than within their physical parameters," she said.

Using imagination to explore beyond physical limits

Students worked in three teams, each group intricately designing and planning for what they would include in their environments. Using basic tools, much similar in scope and style of the Paint program on the Microsoft operating system, the students created complex worlds, each with their own flare and style that encompassed 360-degree views of colorful landscapes.

Student Athena Marquez said even though the parameters of the program were simple in concept, it forced them to use their imaginations to bring scenes and objects to life.

"It's really freeing," she said. "You had to use your imagination to create a whole environment."

One of the teams created a world featuring neon and bright pulsating lights, rainbow paths, banana peels and monsters, inspired by that of Nintendo Mario Kart's rainbow road. Another group created an enigmatic world that featured a dark and mysterious cloud-like environment featuring archways of trees that led to a cave that showcased flickering golden embers. The last group created an extravagantly detailed dual environment that first welcomes the viewer into a cloud-like nebula that then encourages the viewer to enter into a fantastical forest featuring rich trees, waterfalls, pools and other features.

The students were required to spend a minimum of 20 hours in the lab, but many ended up spending more than 30 hours working on their environments.

A hands-on, enriching experience

"I didn't know what to think about it, at first," fine arts student Audrey Danielson said. "But as soon as you started doing it, you become crazy about it. It definitely gave me a great perspective on what is possible with art. There is so much space and you're free to create these large environments that other people can then explore."

Student Adriana Iturbe said what she enjoyed most about the project was the fact that it blends elements of art with elements of technology and engineering.

"I think this is something that many more students should experience," she said. "As an engineering major, what I like is seeing and exploring the connections between disciplines and using those different disciplines to bring a project to life. This project really does open your mind to other experiences."

Student Adam Whittier said he hopes the opportunity is extended to students from a variety of different backgrounds, as it provides a learning experience like no-other that is useful to the students' diverse academic tenure.

"There are so many capabilities," he said.

Creston is now partnering with Bob Lewis, associate professor of computer science, and his graduate student Antonio Ledesma, on an interactive virtual reality art environment. Lewis is planning on teaching a course to program interactive environments. Creston plans to partner with him and his students to conceptualize, design and program these interactive environments.

"We want to make these environments interactive, instead of just static," she said.

For more information on the SIMIAN Lab at WSU Tri-Cities, contact Firestone at jonah.firestone@wsu.edu. For more information on the digital technology and culture program at WSU Tri-Cities, visit https://tricities.wsu.edu/cas/undergraduate/fine-arts/.