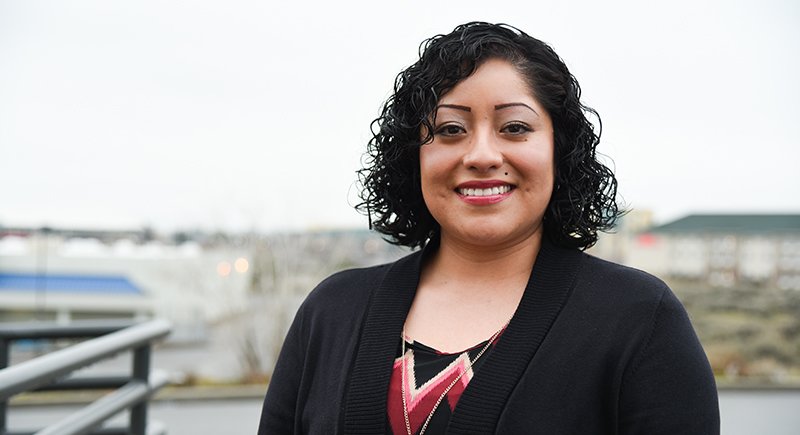 March 20, 2017

Alumna selected to attend national policy seminar in D.C.

Alejandra Cardoso, a recent graduate of Washington State University Tri-Cities, was chosen as one of three representatives from Washington state to participate in the Council for Opportunity in Education's National Policy Seminar March 19-22 in Washington, D.C.

The seminar affords the TRIO and GEAR UP communities the opportunity to help educate members of Congress, congressional staff and the president's administration officials about the history and success of the programs, while giving the participants a chance to represent the interests and desires of low-income and first-generation students, veterans, adult learners and students with disabilities in the policy arena.

"It is really an honor," Cardoso said. "What I'm looking forward to most about the conference is the opportunities to develop myself as a leader, as well as the opportunity to connect with other students with both similar and different backgrounds."

Cardoso said she hopes to use the experience to share her own story of how the TRIO program at WSU Tri-Cities helped her be successful in her academics, which led her to successfully obtaining a position as a crime victim advocate with the Support, Advocacy and Resource Center in Kennewick, Wash., immediately following graduation last spring.

Cardoso said she was raised in an environment where school wasn't considered valuable. She said she dropped out of school her junior year of high school, and that it wasn't until after she had her first child at 17 that she considered going back to school to complete her high school diploma. The TRIO program, both at the community college level, as well as at WSU Tri-Cities, helped ensure her success in obtaining a bachelor's in psychology.

"I never really saw myself as a college student," she said. "What really got me interested in going when when I first worked at my first job at WorkSource. Seeing the social workers there inspire me to drive for my own success in that field. The TRIO program at WSU Tri-Cities kept me on track toward obtaining that goal."

After transferring from Yakima Valley College to WSU Tri-Cities, Cardoso said she got really involved in the TRIO program, which provided her with support services ranging from tutoring, to counseling about academic and person-related issues and much more.

"The TRIO staff always try to help you as best as they can," she said. "Just knowing that there was someone out there looking out for me and willing to help me, as long as I was willing to help myself, was crucial."

In her current role as a crime victim advocate for SARC, Cardoso is fulfilling her dream of helping individuals get out of their despairing situations in order to live a better and more prosperous life. Specifically, she helps victims of harassment, assault, child abuse, identity theft and more.

"I'm the first person in my family to graduate from high school, let alone a university," she said. "Now, I'm working on my master's, which will allow me to further help individuals suffering with dangerous and undesirable situations. TRIO and WSU Tri-Cities helped me get to where I'm at now. I'm excited to share my story with others at the national policy seminar and I hope that I can help inspire positive change at the national level."

For more information on the national policy seminar, visit http://www.coenet.org/policy_seminar.shtml.