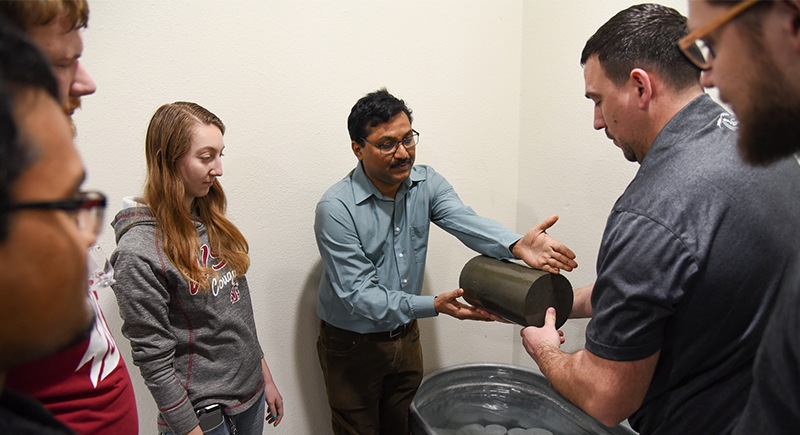 February 9, 2018

WSU Tri-Cities partners with WRPS to develop technologies for Hanford Site

By Maegan Murray, WSU Tri-Cities

RICHLAND, Wash. – Two teams at Washington State University Tri-Cities have partnered with Washington River Protection Solutions to procure and program an autonomous vehicle and develop a form of ultra high-performance concrete to help protect workers in radioactive areas at the Hanford Site and safely immobilize solid secondary wastes.

WRPS is the U.S. Department of Energy's Tank Operations contractor responsible for managing Hanford's 56 million gallons of highly radioactive waste and preparing it for delivery to the Waste Treatment Plant on the site. The partnership for the projects will provide WRPS with customized technology to fit their needs, in addition to further improving the safety capabilities of its employees and environmental impact stemming from the tank farms at the Hanford Site.

Robotics to analyze radioactive vapors

WRPS provided a WSU team with an initial contract to procure and program an autonomous vehicle that would be used for measuring vapors, or chemical gases, within the tank farms.

The WSU team consists of Akram Hossain, vice chancellor for research, graduate studies and external programs; Scott Hudson, professor of electrical engineering; John Miller, associate professor of computer science; and Changki Mo, associate professor of mechanical engineering.

The team plans to purchase a pre-fabricated, compact and programmable vehicle, which has the capacity to hold 40-50 pounds of equipment. The team will then eventually outfit, customize and program the vehicle for its desired purpose within the tank farms. The vehicle must be able to follow a defined path, dock itself to charge its battery, withstand long-term use, be able to run autonomously, as well as allow manual override operations.

"This vehicle will be going into areas, minimizing personnel entries, so we need to assure that it can operate reliably and it won't break down," Miller said "We have to make certain that the quality is of impeccable standards and that the system can demonstrate operational longevity in these areas."

The design of the autonomous vehicle marks the first phase of what will potentially turn into a multi-phase project. WRPS has also expressed interest in having the robot detect obstacles in a changing environment, change filters at the site and monitor radiation. Miller said those challenges will most-likely be addressed in future phases of the project.

"This is a great opportunity, both for WSU, as well as for our students," Miller said. "It creates opportunities for undergraduate research, as well as providing funding for graduate research. It is the perfect opportunity for us."

The team plans to have the first phase of the autonomous vehicle completed and demonstrated to WRPS in the next few months. The team will conduct demonstrations and additional phases of development over the course of the year. When fully developed, the autonomous vehicle would be deployed in tank farms to support construction and operations.

Ultra high-performance concrete to encapsulate nuclear waste

Srinivas Allena, WSU Tri-Cities associate professor of civil and environmental engineering, received a contract to develop an ultra-high performance cementitious

material to potentially be used as a grout to encapsulate solid secondary waste from the Hanford tank farms.

"WRPS is currently using a grout that they obtain from a local concrete supplier, which uses a regular cement mix with sand and some other chemical additives," Allena said. "But the goal with our research is to use locally available materials to create a composite with low permeability, superior durability and greater stability that would perform at the same level as the commercially available pre-packaged ultra high-performance concrete."

Allena said there is currently limited types of ultra high-performance concrete available on the market with high operational costs associated with use of the material. He said by using locally available materials and by optimizing mixture constituents with those that are more environmentally friendly with his team's composite, however, they would be able to keep the costs low, while maintaining the same quality in the concrete and reducing the impact to the environment.

"We will be able to compare our grout materials with properties that WRPS is currently using and show the improved properties," he said. "The goal is to provide a cheaper, more environmentally friendly option that will compete with the best product on the market."

The team plans to have initial mixtures ready with their mechanical and durability properties evaluated by September.

The projects are a part of solving some of the world's Grand Challenges. They pertain particularly to developing sustainable resources and smart systems by harnessing technology to improve quality of life. The projects are also in line with WSU's Drive to 25.