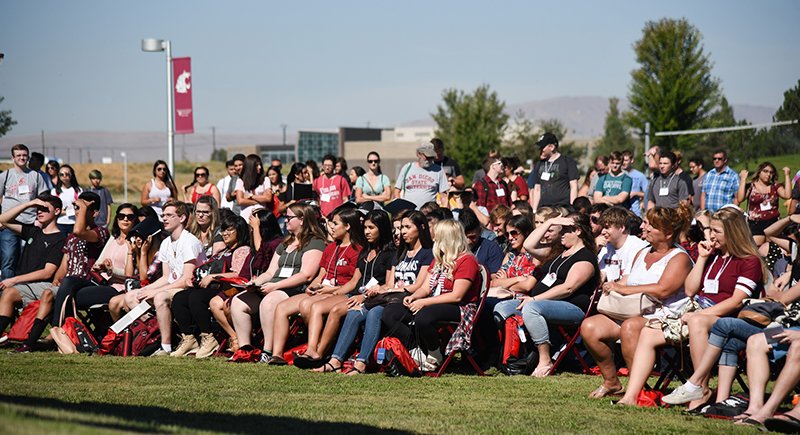 September 20, 2017

WSU Tri-Cities experiences another record enrollment fall start

By Maegan Murray, WSU Tri-Cities

RICHLAND, Wash. – Washington State University Tri-Cities experienced another record enrollment this fall, celebrating a 5.1 percent increase in undergraduate students, which brings the campus to a total of 1,937 students.

The overall enrollment increased by 3.7 percent and the growth this fall contributes to a 49 percent increase in enrollment since 2013 for the WSU Tri-Cities campus.

"We attribute this to so many factors," said Mika McAskill, WSU Tri-Cities director of admissions. "We are growing because our excellent academic programs and student-focused approach, being able to provide access to research opportunities and internships at both the undergraduate and graduate level, and of course, our enthusiasm for meeting the higher education needs of our region and state."

New freshman enrollment numbers reflect a 42.9 percent increase over last year. WSU Tri-Cities remains the most diverse campus in the WSU system, with 38.9 percent of students identifying as minority. Enrollment figures also indicate that 95.4 percent of students are Washington residents, highlighting WSU Tri-Cities' on-going commitment as a land-grant institution that prepares the state's future professionals to continue to grow Washington's economy.

McAskill said Tri-Cities Cougs are able to thrive in a small, private-school education setting, with low student-to-instructor ratios, all at a public school cost. She said WSU Tri-Cities students have the opportunity to graduate career-ready as a result of pairing their coursework with internships and other real-world experiences by leveraging resources and WSU partnerships locally, nationally and internationally.

"Our students understand the value of hands-on project opportunities, and so many of our new students come to us already knowing about the connections we have and the kind of support that comes with joining the Cougar family," she said.

In addition to the academic programming and overall support students experience at WSU Tri-Cities, the students also saw the opening of their new Student Union Building this month. The $5.73 million facility provides students with their own space to relax, study, grab a bite to eat and socialize between and after classes. The university also has campus housing coming to students in the near future.

"There are many great things happening at WSU Tri-Cities, and it is all out of a commitment to providing our students with the resources and infrastructure to be successful," McAskill said. "We aim to continue to grow these opportunities for our students because when they win, our state wins."

Learn more about WSU Tri-Cities and its commitment to dynamic student engagement, dynamic research experiences and dynamic community engagement at tricities.wsu.edu.