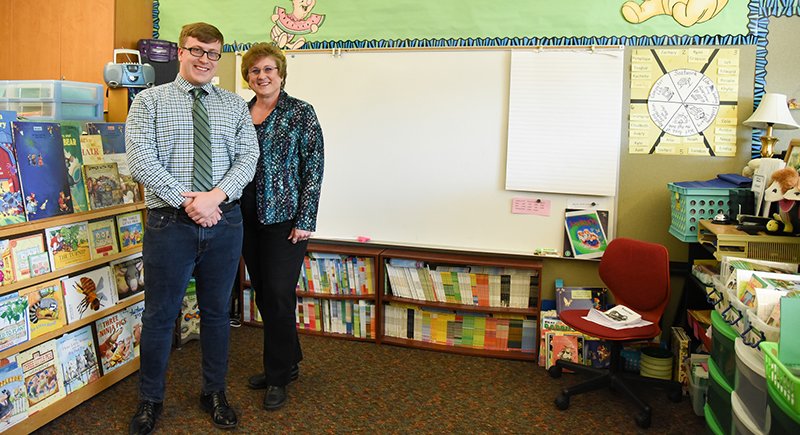 June 16, 2017

WSU Tri-Cities alumnus gets rare opportunity to teach with first-grade teacher

RICHLAND, Wash. – David Isley, a recent Washington State University Tri-Cities alumnus (education, '17), received a rare opportunity in his beginnings as a teacher this year — the opportunity to student teach with his own first-grade teacher.

At WSU Tri-Cities, students are required to complete a number of volunteer hours in a classroom setting before being admitted into the undergraduate education degree program. Isley decided to seek out his own first-grade teacher, Janelle Rehberg, to complete his volunteer work at Cottonwood Elementary School. After the experience, Rehberg invited Isley to complete his student teaching in her classroom during his senior year at WSU Tri-Cities.

"We hit it off right away, although it did take him a long time to get him to call me Janelle, instead of Mrs. Rehberg," she said with a laugh. "David is a natural in the classroom. He's great with the kids and it's obvious that he loves teaching."

Rehberg said she has never heard of another teacher and former student working together years later as a mentor and mentee in student teaching.

"It really is rare, but that made it all the more special," she said.
From student to teacher
As a first-grade student, Rehberg said she never imagined Isley would become a teacher. Isley was an outgoing, passionate young student who had a passion for science and dinosaurs, she said.
"I would have thought he'd go on to be a scientist," she said.
Isley said even to this day, he still thinks dinosaurs are the greatest, but instead of studying their history as a career, he plans on using them to educate a new generation of students.
"I'm excited to introduce them to my own students," he said. "I do plan to feature dinosaurs in some of my lessons."
Since his own days as first-grade student, Isley said the grade level has seen a lot of changes. For one, technology has advanced rapidly, and students use iPads, advanced computers and more to complete their work, innovate and create, he said. Rehberg said students are also expected to know a lot more.
"When I was in the first-grade, we learned the alphabet," Rehberg said. "Now, that is usually learned in Preschool before they get to kindergarten. From the public's point of view, I'm not sure people realize the amazing achievements of young little kids these days. Every generation seems to move along more rapidly than the previous one. The reading performance of today's first graders is impressive."
Isley said he's up to the challenge for educating the talented youngsters.
"I'm excited to jump in and work with these amazing kids," he said. "One of the best things I've learned from Janelle is that you have to know your kids and meet them where they are. That's something I plan to use in my own career as a teacher. That, and you have to make learning fun."
Foundational learning for use in the real-world
Isley said he appreciates that WSU Tri-Cities requires so much real-world work in the classroom, as that's the business that teachers are in – working with children and inspiring in them a passion for knowledge.
"Being able to apply what I've learned through my professors and textbooks at WSU to the real-world setting in the elementary school classrooms is invaluable," he said. Rehberg agreed.
"You don't learn nearly as much as when you are right here in the trenches," she said. "That first-hand experience is the best."
Looking toward the future, Isley said he plans to take what he learned through both his coursework and professors at WSU Tri-Cities, and what he learned from Rehberg, to educate a whole new generation of students.
Isley recently accepted a kindergarten teaching position at Washington Elementary School in the Kennewick School District. He'll also have a piece of Rehberg in his future classroom to remember his student teaching experience with his first-grade teacher, mentor and now colleague. Rehberg said she made a giant sculpted dinosaur for a class project and plans to give it to David to hang in his future classroom.
"It really has all come full-circle," Isley said.
Rehberg said she'll miss Isley teaching alongside in her classroom, but that she's excited for his future.
"Since I had David in my classroom, I've missed him terribly," she said. "I loved having David student teach in my class. But I know he'll be successful wherever he goes."