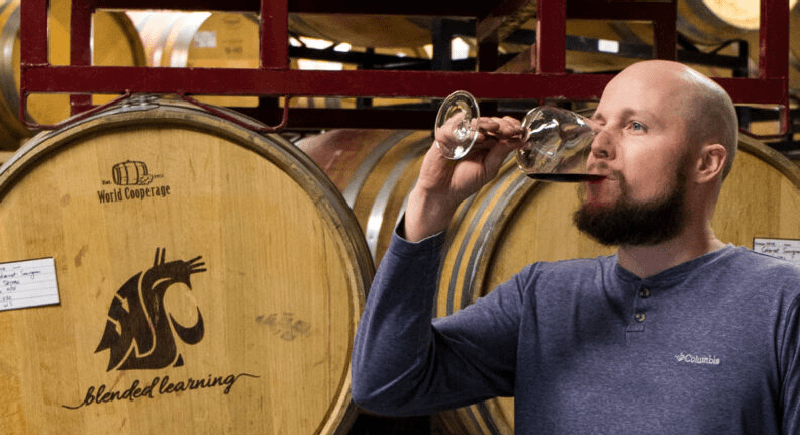 April 9, 2021

WSU students create new wine for auction

An exclusive wine created by seniors of the WSU wine science program will be available for purchase at this month's Auction of Washington Wines Private Barrel Auction for wine traders, April 19 and 20.

Currently aging in French oak barrels, the wine is a red blend featuring 60% Petit Verdot, 25% Cabernet Sauvignon, and 15% Merlot. All proceeds of the auction benefit the WSU Viticulture & Enology Program.

"This is an exciting blend with a big tannic structure but beautiful, dark fruit aromas," said Thomas Henick-Kling, V&E Program Director.

This is the sixth year of the Private Barrel Auction. The event began with eight wineries, raising $48,000 for the WSU program in its first year. This year, the auction features 29 of Washington's premier wineries, and the event will be virtual for the first time.

"The Private Barrel Auction works to solidify relationships with the trade buying audience while supporting Washington State University and the industry through research and education," said Executive Director Jamie Peha.

Zachary Green ('20) was a senior in the V&E program and an intern at J. Brookwalter Winery when owner and Auction of Washington Wines co-chair John Brookwalter offered to donate a barrel of wine to the auction.

"It was the perfect opportunity for the seniors to showcase their winemaking skills and create their own barrel," said Henick-Kling.

V&E students prepared the wine blend with the assistance of Brookwalter Wines head winemaker, Caleb Foster.

Using grapes donated from Dionysus Vineyard, the students helped prepare several fermentation lots, taking samples to their university winemaking course, titled "Blended Learning."

"We blended and sampled everything from Merlot to Cabernet Sauvignon and Pinot, to get everyone's opinion on what style they liked the most," said Green. With the assistance of assistant winemaker for Brookwalter Chance Cruisin, Green, fellow student Caleb Foster, and Henick-Kling created the final blend.

"It has heavy Petit Verdot characteristics, a deep rich fruity taste with a spice behind the palette," said Green.

Green's internship turned into a full-time job as a cellar master in mid 2020. After the auction, he will assist with bottling the V&E blend for whoever ends up making the private barrel purchase.

"The fact that we have a WSU student and alumni who were involved, and we have proceeds going back to V&E research at WSU really brings this collaborative event full circle," said Peha.

The event attracts local and national wine buyers from retail, online, and hospitality establishments who bid for exclusive ownership of these one-time only wines to present to their top clientele.

Due to COVID-19 restrictions, this year's event will be virtual. Wine samples were sent by mail to representatives from wineries to taste during the virtual auction bidding on April 19 and 20. The virtual auction will be livestreamed and bids are placed by mobile phone.

"Research secures the future of the Washington wine industry," said Peha. "Whether it's focusing on growing healthy vines or working to adapt amid climate change, it is paramount to the success of our wine and grape industry."

For additional information about the Private Barrel Auction, visit the Auction of Washington Wines website.