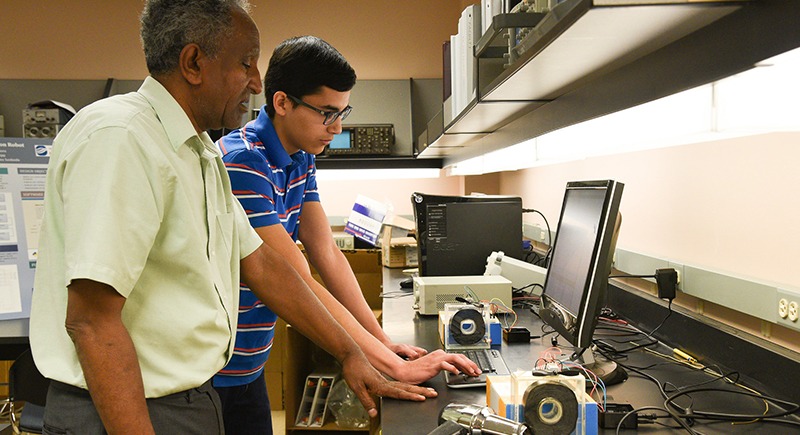 September 16, 2019

Students experience real-world impacts of research through summer scholars program

Posted at 16:44h

in

Academic Affairs

,

admissions

,

Art

,

Biological Sciences – General Studies

,

Biology

,

BSEL

,

College of Arts and Sciences

,

Computer science

,

Digital Technology and Culture

,

Earth & Environmental Science

,

Faculty

,

frontpage

,

Research

,

School of Engineering & Applied Sciences

,

Science

,

Student

,

WSUTC News

By Maegan Murray, WSU Tri-Cities

RICHLAND, Wash. – Several Washington State University Tri-Cities students got to see first-hand how top-tier university research can impact their local community through the WSU Tri-Cities Chancellor's Summer Scholar Program supported by Washington River Protection Solutions.

Throughout the summer, selected students worked one-on-one with a university professor and graduate students to perform research pertaining to their degree interest. Each student receives funds to support their summer research projects from WRPS.

"Through the Chancellor's Summer Scholar program, students pursuing a bachelor's degree get the opportunity to be a part of intensive research that could positively influence the Tri-Cities community," said Kate McAteer, vice chancellor for academic affairs at WSU Tri-Cities. "Ranging from engineering, to the arts, to the sciences, there are a variety of opportunities for students to apply their skills in a real-world setting, which only further sets them up for success in their future career."

This year, 10 students were selected for the program in the areas of computer science, the arts, materials engineering, bioengineering, environmental science, electrical engineering, and biological sciences.

Students were provided with $2,250 in funding to support their summer project, with the exception of one student group, who received $2,000 as a team. Many students also continue to work with their faculty mentors during the regular school year.

Willow of the Waste – Jared Johnson and Aaron Van Morris

Students Jared Johnson and Aaron Van Morris worked with Sena Clara Creston, clinical assistant professor of fine arts, to refine and re-engineer a robotic sculpture known as "The Willow of the Waste."

The project is an designed to look like a tree, incorporating mechanical and electrical components. The tree is animated and interactive, with the branches slowly opening, closing and pulsating light to give the appearance of a living, breathing plant. Once the viewer approaches the tree, the branches open, inviting the viewer inside. The students are applying skills in circuit design, power distribution and coding from different inputs and outputs to improve upon an existing design. The interdisciplinary project combines engineering, computer science and the arts to create an interactive sculpture that also speaks to plastic waste, as it is made from discarded plastics like water bottles and shopping bags.

Flexible sensors for robotics – Mikaela Matkowski

Student Mikaela Matkowski worked with Amir Ameli, former assistant professor of engineering, to investigate the sensing behavior of 3d-printed sensors that can be used in a range of robotics.

She used a material called thermoplastic polyurethane with various weights of multiwalled carbon nanotubes to produce a material that has excellent conductive properties and reacts well to compression and stretching. She analyzed the pressure and touch sensing abilities, as well as the electrical resistance behaviors of the printed sensors. The sensors have potential application in robotics hands that, when used to touch a surface, have the ability to appropriately register contact of the hand to the object.

Refining a waste material for commercial bioproducts production – Yesenia Che

Student Yesenia Che worked with Bin Yang, associate professor of biological systems engineering and doctoral student Xiaolu Li to find a seamless and cheaper way to refine a high-value product in the biofuels creation process that is used for many commercial products.

Lignin, a primary material comprised in the cell wall of plants, is a large waste product in the biofuels creation process. Vallinin is a valuable product derived from lignin that can be used for a range of bioproducts. It is currently used in various fields, including food, cosmetics and pharmaceutical industries. The price for the material, however, tends to be unstable due to cost and complicated procedures required for producing the material from lignin. Che worked with Yang to use a bacteria that degrades lignin and allows for the easier refinement and production of vallinin that doesn't require the use of the whole plant cell for extraction – a process known as a cell free system. This process may lead to an effective technique for the production of natural vanillin at low cost.

Identifying nutrient limitations in Cascade Mountain Range for understanding nitrogen fixation – Jeannette Lilly

Student Jeannette Lilly worked with Sarah Roley, assistant professor of environmental science, and graduate student Erica Bakker to analyze nutrient limitation in the Cascade Range that could lead to better understanding of where nitrogen fixation occurs in freshwater streams in the Pacific Northwest.

Nitrogen fixation converts nitrogen gas into a nutrient that is essential for all life. While there has been extensive research on nitrogen fixation in the open ocean, estuaries and lakes, comparatively little research has been done on nitrogen fixation in freshwater streams. Nitrogen fixation typically occurs in nutrient-poor streams like those in the Cascades. It may be critical to supporting the food web, including insects and fish, in Cascadian streams. Jeanette established the nutrient status of the study streams, which helps to predict where this process is important.

Finding ways to reduce methane production using bioengineering – Tina Tran

Student Tina Tran is working with Birgitte Ahring, professor of biological systems and chemical engineering, and doctoral student Supriya Karekar on the bioengineering of cow rumen microbiota by bio-augmentation with selected microorganisms to reduce methane production from the rumen.

Ruminants such as cows and sheep are major contributors of greenhouse gas coming from the methanogens inhabiting the rumen. Methane is more than 20 times more potent as a greenhouse gas compared to carbon dioxide. In the laboratory, they are working with rumen model systems and are trying to find ways to mitigate the problems of methane release by substituting methanogens with other and potentially more beneficial microorganisms. The specific focus is on homo-acetogenic bacteria, which potentially could replace methanogens in the rumen while producing beneficial products, which can promote livestock production.

Improving efficiencies of home heating and cooling systems – Arturo Gutierrez Larios

Student Arturo Gutierrez Larios worked with Mohamed Osman, professor of electrical engineering, to identify ways to increase the efficiency of home heating and cooling systems through the implementation of better temperature regulations systems.

Gutierrez Larios developed a concept based on what is known as the Internet of Things, where the internet can be extended to an infinite amount of applications through components like sensors and wireless communication between devices. His system implements multiple temperature sensors that are connected through a network, as opposed to utilizing a single temperature sensor as is common in homes today. A temperature controller receives information from the sensors in each room, and the controller sends commands to the network to adjust the airflow of each register based on comparisons made on the calculated temperature differentials. Temperature settings are managed through a smartphone app. The system helps minimize wasted energy in homes.

Studying jaw protusion in fish for insights into evolutionary changes in organisms – Ellie Barber and Danielle Ringo

Students Ellie Barber and Danielle Ringo are working with Jim Cooper, instructor of biology, to study why jaw protrusion does or does not occur during the development in fish that could lead to insights into how organisms evolve and when.

Fish develop different feeding biomechanics in their lifespan that determines their economic feeding niche and where they fall on the food chain. Using high-speed filming techniques, the team is working to pinpoint the precise phase during metamorphosis in which the feeding biomechanics of young fish begin to resemble that of adult fish with protrusile jaws. By using gene expression labelling and transcriptome comparative analysis, they hope to gain a clearer insight as to exactly how and why these morphological changes occur in the wild.

Determining impact of fungi on tomato plants – Javier Chavez Lara

Javier Chavez Lara is working with Tanya Cheeke, assistant professor of biology, to determine the impact of a type of fungi on the growth of tomato plants, specifically comparing highly-bred tomato plants with less-domesticated wild type varieties.

Arbuscular mycorrhizal fungi forms symbiotic relationships with most plant species by colonizing plant roots to provide the plants with nutrients and water in exchange for carbon. Plants grown in conditions of high fertilization and other agricultural practices reduce the ability of the fungi to colonize their roots. Chavez Lara hypothesizes that the less-domesticated wild-type varieties will have a greater growth response with the fungi than the highly-bred tomato plants. The project will allow for the development of a model system to test mechanisms that regulate the level of the fungi colonization in plant roots.