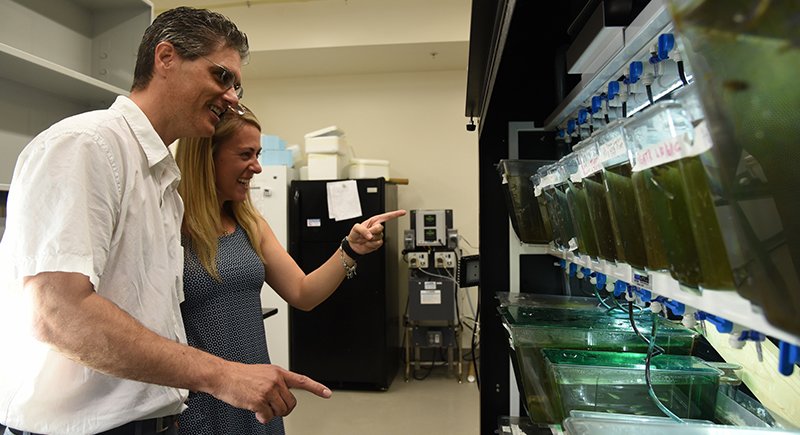 By Maegan Murray
An immersive experience at Washington State University Tri-Cities has Amy Verderber, a biology teacher at Kamiakin High School, performing research that has tie-ins to medicine.
Verderber studied biology in college before certifying to become a teacher, but she never got the opportunity to explore the field's full research potential. Within the last two summers through the Partners in Science program, however, Verderber found herself working directly beside university biology faculty, completing research that has potential to improve what is known about human skull deformities and diseases.
Through the Partners in Science program, which is supported by a $15,000 grant from the MJ Murdock Charitable Trust, high school teachers are paired with a university professor in their field and the pair spends two consecutive summers completing research. During the end of each summer experience, the teachers prepare a presentation on their research and how they plan to implement what they learn into their classroom setting. The university professors also get the value of an additional hand in the lab and in the high school teacher's second summer, an experienced lab researcher to help with their studies.
Verderber is working with Jim Cooper, assistant professor of biological sciences, and Elly Sweet, clinical assistant professor of biology, in researching the impact of thyroid hormone on the development of jaw shape and jaw biomechanics in the zebrafish. The researchers hope their research will shed light on how the abnormal thyroid hormone levels during development can lead to human skull deformities.
Verderber continues to use the experience to provide her students with real-world opportunities and outlooks in science. She has applied what she's learned to her lessons and often brings discussion of her experience into her labs and instruction.
"It's been a great experience," Verderber said. "To my students, it is more than just reading out of a textbook. I'm able to bring what is happening all around them into a practical classroom experience. It provides them with a look into the lab setting. I am not just a teacher who went to school and studied the subject. I now can say I've worked in a real lab and am doing scientific research with real-world applications."
Throughout the two summers, Verderber recorded zebrafish feeding mechanics using a high-speed video camera, determined the effects of both an overabundance and a deficiency of thyroid hormone on jaw mechanics and performed research on the genetic controls of fish skull development.
"We're trying to identify how thyroid hormone activates or deactivate genes in the fish's head to determine whether they develop really moveable or jaws or jaws capable of only limited motion," Cooper said. "There are also a large number of human birth defects associated with abnormal thyroid hormone production that causes malformation of the skull. The research can therefore answer both evolutionary questions and medical questions."
Verderber said her students were very receptive to both what she learned in the lab, as well as what she brought in to the classroom through her teaching. She said she hopes to raise zebrafish in her classroom this year so the students receive that additional hands-on, real-world application.
"My students are learning something outside of a textbook," she said. "It's been really rewarding seeing not only how I've been able to apply what I've learned for their benefit, but in seeing how they've reacted to that material."
Sweet said she is excited about how Verderber's experience in the WSU Tri-Cities lab will open the eyes of students to the possibilities of careers in the biological sciences, as well as project upward what high school students are learning today.
"Not only will it help with the research aspect of things, it will also be helpful to know what students are currently learning about in high school, be able to have some input into the possibilities of projects they could work on, as well as have the opportunity for us to come into the high school classrooms to give presentations," she said. "Even though many students majoring in the biological sciences are interested in pre-health, there are many other career options out there. This provides a great partnership on that end."
Included in the Partners in Science program is the option of applying for a supplemental grant, of which the funds go toward classroom equipment like microscopes, pipettes and other supplies. Verderber said she plans on applying and that it will provide a great resource for her students if she receives the grant.
"I hope other professors see the value of this program and the many benefits that come out of it," she said.
Cooper and Sweet agreed.
"The amount of time that we have invested in collaborating with Amy we have gotten back many times," Cooper said. "It's a gain in resources and a huge win for both the lab at the university."