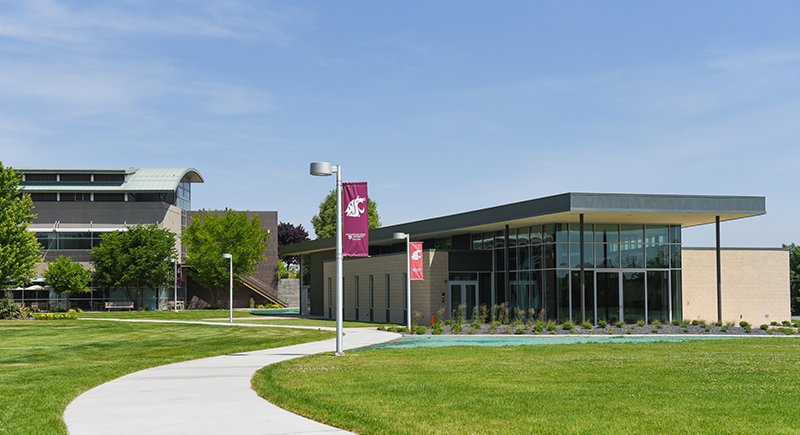 September 5, 2017

Sept. 14: WSU Tri-Cities celebrates grand opening of student union building

By Maegan Murray, WSU Tri-Cities
RICHLAND, Wash. – Washington State University Tri-Cities invites members of the public to join the grand opening celebration of its $5.73 million campus student union building, 3 p.m. Thursday, Sept. 14.
The event will feature a presentation by WSU President Kirk Schulz, WSU Tri-Cities Chancellor Keith Moo-Young, student representatives and other distinguished guest speakers. Attendees also will have the opportunity to tour the building at their leisure.
"Our students now have a full facility of their own to study, hang out and meet with other students," said Chris Meiers, vice chancellor of enrollment management and student services. "The students voted in the spring of 2014 to approve a fee on themselves to fund the building, and the idea grew from there.
"This is the first building on our campus solely designed around the student experience. We're excited to officially open it up to our students and the public."
The 9,951 square-foot building features a 2,437 square-foot multipurpose event space, new furniture, a gathering space, coffee bar, interactive TV monitors throughout the building and offices for the Associated Students of WSU Tri-Cities and the office of student life.
ASWSUTC President Israa Alshaikhli said she is excited to see an entirely student-centered space come to fruition at the benefit of her peers.
"The student union building project took five years of students' work, dedication and commitment," she said. "A lot of students were part of this process, and it is very empowering to see it completed now. It is literally by the students, for the students."
Tyler Schrag, chair of the student union building governance board and former ASWSUTC vice president, said even before he came to WSU Tri-Cities as a freshman, there were a variety of individuals who brought much to the table for the building.
"The dedication shown by my fellow Cougs says a lot about the passion of those on our campus," he said. "I hope for this building to be another huge step toward a bigger and better campus for all students to call home."
To show Cougar spirit and leave a permanent mark on the building, individuals may also sign up to participate in the WSU Tri-Cities "Buy a Brick" program, where individuals and companies can designate their name, organization or insignia on a brick, bench or patio planter on or around the building.
Through the "Buy a Brick" program, participants may purchase:
• A 4×8-inch red brick with black block lettering – $100
• An 8×8-inch gray brick with black block lettering – $250
• A wood and iron rail bench with nameplate – $1,000
• A patio planter with nameplate – $1,000
• An array of bricks can be ordered with a minimum of $1,000
For more information on the WSU Tri-Cities Buy a Brick program and to reserve a brick or other items, visit https://tricities.wsu.edu/wp-content/uploads/buyAbrick.pdf or call 509-372-7264.
Media Contact: