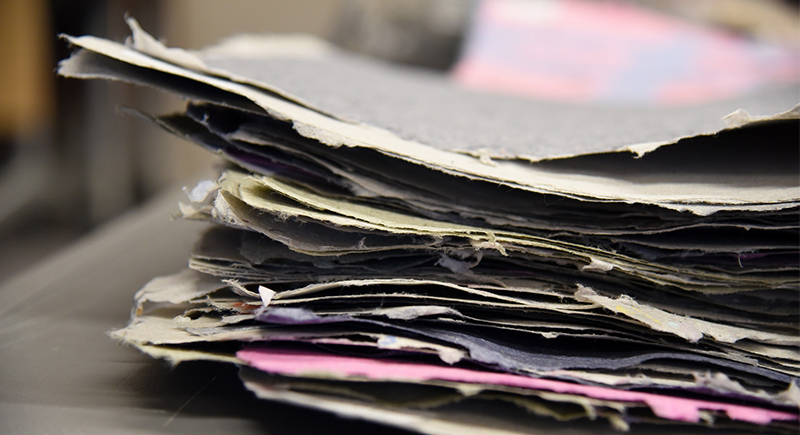 October 18, 2018

Peace Paper Project provides therapeutic outlet, commemoration for students

By Maegan Murray, WSU Tri-Cities

RICHLAND, Wash. – Pink plaid with hinted stripes of green and gray. It's the color and pattern of a button-up shirt that Kimberly Granados wore while working in the fields and it's one that she turned into paper as part of the Peace Paper Project that visited Washington State University Tri-Cities this week.

Drew Matott, director of the Peace Paper Project, brought the program to WSU Tri-Cities where he worked with veterans, students of migrant farm working backgrounds and others who have dealt with trauma and loss, while also providing a positive outlet for those who want to learn a new craft. The project provides individuals a way to express and process their memories and experiences by means of hand papermaking and by preserving it in a physical work of art, he said.

"These workshops have been extremely wonderful and rewarding," Matott said. "At first, people are hesitant and not sure what to do. Once they start cutting up the materials, it starts to transform. The first one is the scariest. The second one is much easier. And then finally, the material just becomes pulp."

Matott has worked with thousands of people around the world, both those who are in the process of coping with trauma and also as a means to teach people how to earn a living from hand papermaking in poverty-stricken regions.

"The goal with the Peace Paper Project is to use papermaking to have a positive influence on people's lives," he said. "Whether it be helping people process things that are traumatic, or working with individuals in an effort to improve their lives, our goal is to make a positive difference."

From the fields to WSU Tri-Cities

Granados, a senior psychology major at Washington State University Tri-Cities, grew up in Mexico, but moved to Quincy, Washington, when she was in the fifth grade.

There, she and her family worked to remove weeds, churn dirt and tied and trimmed branches for sustained growth at a local tree nursery.

It was hard work, she said, but it was a means for her to earn money for college.

Granados said she had dreamed of coming to school at WSU Tri-Cities, but that the road was difficult. In junior high, she was waved off as a troubled adolescent, but she persisted with the help of a school counselor that saw something in her.

"When I was in junior high, they just kind of labeled me as a troubled kid," she said. "They told me, 'You just want attention and to cause trouble.' But there was so much more to it than that."

She did well in high school and then attended a community college in Moses Lake before transferring to WSU Tri-Cities to pursue her dream of becoming a counseling psychologist.

"My school counselor was the one who inspired me to help teens because when everyone else labeled me as a troubled kid, she saw so much more in me," she said. "It's the reason I want to go into psychology – to help youth and give them a chance."

Preserving memories through paper

Through the papermaking process with the Peace Paper Project, Granados cut up a shirt from her time as a farm worker into small pieces, which went into a grinding machine. The machine, mixed with water, ground the shirt into a pulp, which she then sifted and pressed into paper. After writing "Dreamer" on a smaller strip of paper, Granados placed it on the corner of her newly pressed works, designating it hers and defining an era that she can display for family and friends.

As Granados' paper dried, threads from the shirt showed in random, defining delicate patterns similar to the paths she had taken throughout her life. The grit, the detail, the precision that it has taken to get her to this point is illustrative. It's been a long road to attend college and her new art is a symbol of that road.

"It shows that all my hard work is paying off," she said. "It is meaningful because I'll have that piece of paper. It's a sign that, 'You're doing good girl.'"

She hopes to frame the work of art and possibly display it in her home. Additionally, she would like to incorporate a similar art practice into her future work as a psychologist.

Preserving fond memories of the military

For WSU Tri-Cities junior Zachary Hays, the military had an immense impact on his life. After serving for eight years with the U.S. Navy, he wanted a means to preserve

those memories in a positive and beautiful form.

Hays spent three years overseas, deployed to Japan where he worked as an aviation electronics technician in his rank of petty officer, second class. He said he most enjoyed working directly on aircraft, troubleshooting and making quick, last-minute repairs that took intensive focus and quick wit.

"It was an incredible experience getting in and working on the aircraft," he said. "Often times, we'd have to fix an issue within five to 10 minutes to make sure that we were on track for the flight plan. It was a lot of quick thinking and critical thinking. It was definitely my favorite part."

With the Peace Paper Project, he converted one of his old uniforms into something that he can print on and display in his own home, in addition to providing it as a gift to family and friends.

"This is a way for me to take what I did and turn it into something that myself and my family members can keep and enjoy," he said. "It's a way to preserve that time in an artistic form."

Hays spent hours cutting up an old uniform, grinding it up into a pulp and pressing it into several sheets of paper, which now feature fond memories on the flight deck, working on the F/A-18 Super Hornet jets, repairing radar systems, computer displays and weapon systems.

With the paper pressed from his uniform, he plans to work with a friend to print a photograph of him on the flight deck onto the paper as a way to commemorate the experience.

"It's not a stepping stone that it would be for others, but it is a neat thing to do with something that has a lot of memories," he said.

An important process

Hays said he never experienced the level of trauma that some other military service members may have experienced, but that doesn't mean he doesn't recognize the importance of the process for those who benefit from it.

"I do think this is an important thing to be able to do to take the past and move on from it," he said. "Some people choose other means of moving on. But this is a process that you can unpack it a bit and turn it into something beautiful."

From now on

Hays is pursing a degree in electrical engineering in WSU Tri-Cities, which is directly applicable to the work he completed with the U.S. Navy. But having that artistic component to supplement his engineering education and commemorate his experience in the military is special, he said.

Through artistic opportunities like those presented with the Peace Paper Project on campus, he has enjoyed the experience in tandem with his fellow veteran students who are all going through similar processes.

"It is such a cool opportunity with many different avenues," he said. "For me, I'm not doing it for therapeutic reasons, but because it's a neat experience. It can be symbolic for others signifying the end of one chapter and the beginning of the next. It gives them an opportunity to take something traumatic and turn it into something artistic and beautiful."

The project, he said, is something he can display and share for years to come.