April 28, 2023

Five leaders honored as 2023 WSU Tri-Cities Women of Distinction

Washington State University Tri-Cities recognized five female leaders as Women of Distinction for their contributions to the campus and Tri-Cities community as part of an April 20 inductee ceremony.

The women honored exhibit exceptional leadership in their discipline or area of expertise, serve as role models and mentors to other women, advocate for positive social change and demonstrate a commitment to WSU Tri-Cities' mission.

"We are fortunate to live in a community that values education and the contributions that women make," said Sandra Haynes, chancellor at WSU Tri-Cities. "The Women of Distinction award is our way of recognizing some of the incredible women whose contributions have impacted the campus and its students, empowered other women, and strengthened our community."

This is the sixth year of the award program and during that time more than 150 submissions have been received. Nominations are open to the campus and the Tri-Cities community.
Rebekah Woods
Woman of Distinction Legacy Award, 2023
President of Columbia Basin College
Rebekah Woods began her role as the sixth president of Columbia Basin College in November 2017. Prior to joining CBC, she was the Provost at Jackson College in Jackson, Michigan. She has more than 25 years of experience in higher education and earned her Ph.D. in organizational leadership and Juris Doctor from Regent University.
She serves on many local boards and organizations including the Tri-City Development Council, Visit Tri-Cities, Washington State STEM Education Foundation, Boys & Girls Clubs of Benton and Franklin Counties, Pasco Kiwanis, and Watson's Paws for the Cause.
Woods believes in the transformational power of education for individuals, families, and generations to come. She is committed to meeting the educational needs of the Tri-Cities and helping all students succeed at CBC.
Christine Lindgren
Woman of Distinction Community Member Award, 2023
Director, The Responding to Autism Center, Kennewick
Christine Lindgren has been a leader in the autism community providing guidance, education and support to families, individuals, and educators in the community for more than 20 years.
She received her bachelor's in education from Central Washington University in 2000 and master's in education with a focus on autism spectrum disorders from Heritage University in 2005. Christine began her career working in early intervention at the Children's Developmental Center in Richland.
During her time at the Children's Center, she developed the community's first early intervention autism program and worked as an autism specialist on a comprehensive diagnostic evaluation team. In 2005 she was awarded Educator of the Year by the Autism Society of Washington. Then in 2009, with the support of a continuing grant from the Carson Kolzig Foundation, she opened the Responding to Autism Center in Kennewick.
For more than a decade Responding to Autism has been a cornerstone for families in the community providing services, trainings, community events, resources and continued support. Those who work closely with Lindgren appreciate the focus she places on mentoring, guiding and educating others on how to support and create meaningful opportunities in our community for those with disabilities.
Noticing a need in the community, Lindgren expanded services at Responding to Autism to include supported employment services for adults with disabilities. Responding to Autism works with over 40 inclusive businesses in our community providing meaningful employment opportunities to their clients.
Lindgren believes that every human being is born with the drive for continued growth and competence. She knows that when provided with the necessary tools, support, and guidance, individuals of all abilities can lead a life of inclusion, empowerment, and purpose.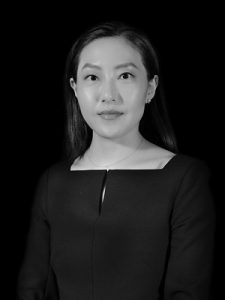 Yimo Liu
Woman of Distinction Faculty Award, 2023
WSU Tri-Cities School of Biological Sciences associate professor
Yimo Liu is known for her exceptional teaching and institutional research work. She joined WSU in 2018, and since then, she has demonstrated a strong commitment to teaching, creating a dynamic and engaging classroom environment that motivates her students to succeed. Liu is also an advocate for women in STEM fields and has mentored many women to achieve their goals and overcome obstacles.
As an institutional research expert, Liu has made significant contributions to student success and campus equity. She has played a vital role in analyzing data related to enrollment, retention, and demographics, identifying areas where the institution can better support students. Her work has helped to close gender, racial, and first-generation gaps in academic performance, promoting a more inclusive and equitable campus environment.
Liu's exceptional teaching effectiveness, mentorship, and institutional research work have garnered the respect and admiration of her colleagues and students. She is a shining example of excellence and dedication in higher education.
Haydee Guzman
Woman of Distinction Student Award, 2023
WSU Tri-Cities psychology student
As a student, Haydee Guzman has established a strong connection with those around her. By being involved in multiple student organizations, she has learned new skills that allowed her to communicate and collaborate with students, staff, and faculty.
Guzman believes that people's ideas and perspectives can strengthen the group's ability to inspire students in their pursuit of higher education and personal goals. She has done this by collaborating with Counseling Services, the Career Center, MOSAIC Center for Student Inclusion, and The Tri-Cities Hispanic Chamber of Commerce to bring events to campus that increase engagement and use of resources.
Guzman has served as the university senator of Associated Students of WSU Tri-Cities, president of the Dreamers Club, vice president of Cougs L.E.A.D (Leadership, Exploration And Development), and vice president of the Yoga & Wellness Club.
Evelyn Martinez-Ostrom
Woman of Distinction Staff Member Award, 2023
Director, WSU Tri-Cities Office of Student Engagement and Leadership
Evelyn Martinez-Ostrom joined the WSU Tri-Cities staff in 2019 but she has a long history with WSU and WSU Tri-Cities. Evelyn started college at WSU Tri-Cities in 2008, which was the second year the campus had a freshman class. She earned her undergraduate degrees in psychology and sociology and then went on to earn her master's degree in educational leadership from WSU Pullman.
After graduating with her master's degree she served as the assistant director for the Office of Student Involvement at WSU Pullman.
During her undergraduate career, Martinez-Ostrom was an active leader in student government and student organizations, which guided her academic and career path into higher education and ultimately, back to WSU Tri-Cities.
Evelyn's leadership skills and approach to student engagement help create a vibrant student experience and campus culture, where student leadership development is at the forefront, resulting in enriched campus activities and community building. She believes that students who are embedded into the social fabric of WSU Tri-Cities are more likely to persist to graduation and become lifelong Cougs in our community, a belief shared in the mission of WSU Tri-Cities.