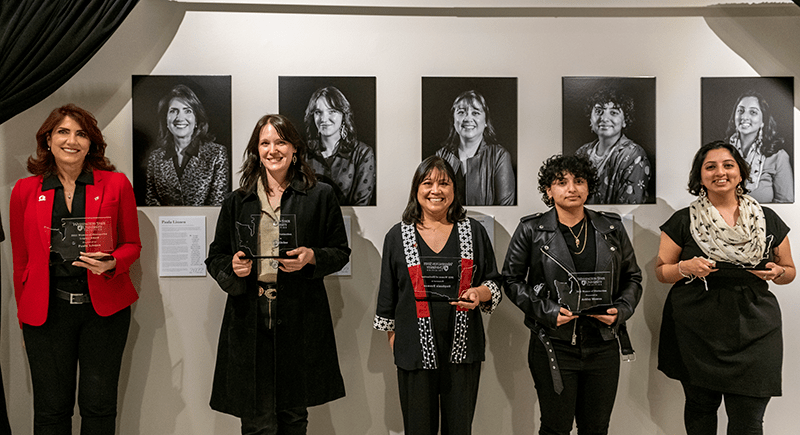 March 24, 2022

Five leaders honored as 2022 WSU Tri-Cities Women of Distinction

Richland, Wash. – Washington State University Tri-Cities recognized five female leaders as Women of Distinction for their contributions to the campus and Tri-Cities community as part of a month– long stories exhibition and March 9 inductee ceremony.  

The women honored exhibit exceptional leadership in their discipline or area of expertise, serve as role models and mentors to other women, advocate for positive social change and demonstrate a commitment to WSU Tri-Cities' mission. 

"Each year, we receive so many incredible nominations for female leaders who have made tremendous impacts on their community, as well as for WSU Tri-Cities students and the campus," said Jaime Heppler, WSU Tri-Cities senior director of development and chair of the WSU Tri-Cities Women of Distinction committee. "This year, we were thrilled to honor five women whose leadership transcends their day-to-day work." 
Paula Linnen
Woman of Distinction Legacy Award, 2022
Battelle executive director of external affairs, Pacific Northwest National Laboratory
Under Paula Linnen's leadership, PNNL connects its transformative research to the outside world by making and maintaining powerful connections to regional and federal leaders, to STEM education partners in the community and throughout the state, and to students, faculty and staff at WSU Tri-Cities.
Linnen is the longest tenured female on PNNL's executive committee. Since joining in 1991, she has served in roles including director for PNNL Human Resources, vice president of human resources for the Global Laboratory Operations sector of Battelle Memorial Institute, and numerous other program and department manager roles. She plans to retire in April.
Linnen believes in the life-altering benefits of having great mentors. As a first-generation college graduate herself, she grew up surrounded by a culture that did not view college as an accessible, affordable or natural path. Fortunately, Linnen landed a job working for an extraordinary business leader who took her under her wing. She introduced Linnen to a new world and ignited her love for business, education and entrepreneurship. Ever since, she has tried to ignite that same spark in others through mentoring.
Under Linnen's leadership, and due to the continued efforts of PNNL's STEM Workforce Development team, PNNL hosted more than 1,500 interns last year; 82 were from WSU and 79 were from WSU Tri-Cities. Over the years, these opportunities have helped prepare hundreds of WSU students for roles in STEM fields and have launched them into careers at PNNL, at other national labs or at other research and tech companies. More than 800 WSU alumni work as PNNL interns, postdoctoral fellows, scientists, engineers and other professionals.
Becca De Kleine
Woman of Distinction Community Member Award, 2022
General manager and director of winemaking for Four Feathers Wine Services and Zirkle Fruit Company
WSU Tri-Cities alumna – bachelor's in horticulture – viticulture & enology
Becca De Kleine is an industry leader in a male-dominated industry. Her hard work and dedication to local volunteerism has broken barriers.
After graduating from WSU Tri-Cities, De Kleine worked her way up from enologist to winemaker and now manager and director of winemaking at Four Feathers Wine Services. She oversees management and business operations working closely with winemaking, production, client relations and sales and marketing teams to execute the company's vision for growth and success. De Kleine stays active in industry organizations and serves as president of the Washington Wine Technical Group and as a director with the Washington Winegrowers, the state's leading viticulture association.
Beyond the leadership she demonstrates within her company, De Kleine's passion for mentorship is exemplified through her support of the WSU viticulture & enology program and countless students. De Kleine serves a guest speaker and industry contributor in the WSU Tri-Cities wine society, viticulture & enology classes and for WSU-led panels. She stays in close touch with faculty and is always available to lend her expertise.
Four Feathers has also contributed to the fund to build the WSU Wine Science Center. De Kleine recently supported an intern who developed a sparkling wine for the WSU Blended Learning Project. This donation included grapes, all winemaking supplies, space in the winery and bottling service. As a result of this in-kind donation, the V&E program will continue to benefit from the sales of this wine.
Stephanie Bauman
Woman of Distinction Faculty Award, 2022
WSU Tri-Cities associate professor of psychology
During Bauman's time at WSU Tri-Cities, she has committed herself to diversity, social justice and inclusion, mentored hundreds of students, proved herself as a leader in her discipline and served the community.
Bauman began her career at WSU Tri-Cities in 1996 in the College of Education as an assistant professor in the Department of Educational Leadership and Counseling Psychology. Her responsibilities included coordinating a Master's in Counseling Program and teaching 11 graduate courses.  During her time in the College of Education, she served as the primary advisor and chair for 116 master's students. Many of these alumni provide important mental health services in the Tri-Cities as school counselors and mental health counselors.
In 2011, Bauman transitioned to her present position as a tenured, associate professor in the Department of Psychology. With the support of a Smith Teaching and Learning Grant, she developed a service-learning component in her undergraduate course on the Psychology of Aging. Her students have volunteered at the Tri-Cities Cancer Center, Kadlec Regional Medical Center, Second Harvest, Tri-Cities Union Gospel Mission, Volunteer Services at Catholic Charities, Habitat for Humanity and a number of assisted living facilities in the area.
Bauman also serves the community by volunteering for the TC Chaplaincy, the Richland School District, the Mid-Columbia Ballet and the Kennewick School District.
Ashley Montes
Woman of Distinction Student Award, 2022
WSU Tri-Cities digital technology and culture student
Ashley Montes leads by example, supporting the campus and her classmates through her involvement in clubs and community events. This includes being a member of the Black Student Union and a student tutor for the digital technology and culture program. She said these opportunities allow her to support her peers by listening, encouraging and helping their goals become a reality. You can often find her in the MOSAIC Center for Student Inclusion where she works on projects and connects with students of different backgrounds.
Montes serves as the marketing chair for the Rainbow Alliance, which helps LGBTQ+ students and allies foster an inclusive community and provides a safe space for students on campus. In this position, she has been a driving force for the club's event planning and goes above and beyond in her support of events such as pride parades and the Transgender Day of Remembrance. She regularly meets with students one-on-one to support them in their personal journeys.
Montes's parents immigrated from Mexico in pursuit of a better life for themselves and their children. She said her mother raised her to be a strong woman, and that has motivated her to become the feminist activist and artist she is today. As an adult learner, she inspires those around her to work hard, keep an open mindset and continue growing. She shares her experiences so others may learn and connect, and those around her are always made to feel comfortable in sharing their own stories.
Kauser Gwaduri
Woman of Distinction Staff Member Award, 2022
WSU Tri-Cities MOSAIC Center for Student Inclusion coordinator
In running the MOSAIC Center and through all of her work, Kauser Gwaduri creates a space for students, faculty and staff to feel like they belong and learn from each other in candid conversation.
Gwaduri is an advisor for several student clubs , including the Dreamer's Club, Rainbow Alliance and the Black Student Union. She is also a member of the WSU Commission for Gender Identity/Expression and Sexual Orientation, WSU MLK Committee and WSU Tri-Cities Diversity Council.
In her short time as the MOSAIC Center coordinator, Gwaduri has  fostered an environment in which students are able to relax and celebrate as well as participate in tough conversations with their peers. This includes several panels she hosted highlighting Latinx professionals, local LGBTQ+ individuals, and black community leaders. This year, Gwaduri  facilitated the opening of a meditation room where students can be with themselves and/or pray.
Gwaduri is an Aga Khan Education board member, Tri-Cities Diversity and Inclusion Council member, Tri-Cities Immigration Coalition member and Tri-Cities Womxn's March co-director. She said that Tri-Cities feels more and more comfortable to her as she builds connections at WSU and throughout the larger community. Outside of the Tri-Cities, Gwaduri is also the Education Board Member of the Seattle Ismaili Muslim Community and a member of the Knowledge Society Board within the Seattle Ismaili Muslim Community. In 2020, she was honored with the Archbishop Raymond G. Hunthausen Award from Seattle University for being "a person for others" and embodying the values of integrity, faith, leadership and passion for learning.
About WSU Tri-Cities
WSU Tri-Cities is located at 2710 Crimson Way, Richland, WA 99354. Find campus maps at tricities.wsu.edu/campusmaps.
WSU Tri-Cities is located on shared traditional homelands of the Confederated Tribes of the Umatilla Indian Reservation and the Confederated Tribes and Bands of the Yakama Nation. As a leading public research university with a focus on energy, environment and agriculture, WSU Tri-Cities delivers career-connected learning and innovative research that addresses economic and social challenges.
MEDIA CONTACT(S)
Brenda Alling, Office of Marketing and Communication, 360-546-9601, brenda_alling@wsu.edu