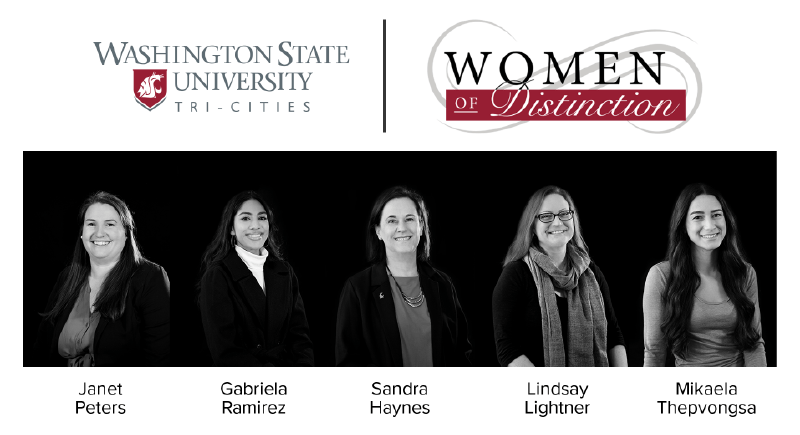 March 15, 2021

Five leaders honored as 2021 WSU Tri-Cities Women of Distinction

Posted at 12:16h

in

Academic Affairs

,

Alumni

,

College of Arts and Sciences

,

College of Education

,

Education

,

Faculty

,

frontpage

,

Nursing

,

profile

,

Research

,

student success

,

Uncategorized

,

WSUTC News

By Maegan Murray, WSU Tri-Cities

RICHLAND, Wash. – Washington State University Tri-Cities recognized five female leaders as Women of Distinction for their contributions to the campus and regional Tri-Cities community as part of a ceremony that was held virtually this month.

These individuals exhibit exceptional leadership in their discipline or area of expertise, serve as role models and mentors to other women, advocate for positive social change and demonstrate a commitment to the missions of WSU Tri-Cities.

"Each year, we receive so many incredible nominations for female leaders that have made tremendous impacts on their regional community, as well as for WSU Tri-Cities students and the campus," said Jaime Heppler, WSU Tri-Cities senior director of development and chair of the WSU Tri-Cities Women of Distinction committee. "This year, we were thrilled to honor five individuals whose leadership transcends their day-to-day work. These are difference-makers in every sense of the word."

For more information about the WSU Tri-Cities Women of Distinction program, visit tricities.wsu.edu/women-of-distinction.

Sandra Haynes | Chancellor of WSU Tri-Cities
Woman of Distinction Legacy Award
Video

Sandra Haynes is the seventh chancellor of WSU Tri-Cities and brings more than 20 years of successful, high-level administrative experience, stemming from leadership at both a doctoral granting university with very high research activities (R1) and a regional comprehensive institution offering bachelor's and master's degrees. She holds a faculty appointment as professor in the department of psychology. As a first-generation student, she recognizes the transformative power of higher education and its ability to be a true equalizer for individuals, regardless of life circumstance. As part of her three years at WSU Tri-Cities, she oversaw the opening of the campus MOSAIC Center for Student Inclusion and is actively overseeing the construction of the new WSU Tri-Cities academic building that opens this June and renovation of the campus library to become a learning commons featuring a wide range of student support services.

Lindsay Lightner | Education Ph.D. student, coordinator for WSU Tri-Cities College of Education
Woman of Distinction
Video

Through her position as a coordinator for the WSU Tri-Cities College of Education, Lindsay Lightner helps school districts alleviate teacher shortages in hard-to-staff subjects, such as special education and bilingual education, by helping paraprofessionals become certified teachers. She advises paraprofessionals in an alternative route program through WSU Tri-Cities and coordinates a National Science Foundation grant regarding socio-environmental science investigations in-partnership with K-12 schools in the region. In her free time, she works with Girl Scouts, volunteers for K-12 robotics, serves as part of the library board and many other opportunities. She is known as an upstanding educator that is dedicated to sharing her love of learning and exploring. Lindsay is also a doctoral student in mathematics and science education at WSU Tri-Cities.

Janet Peters | WSU Tri-Cities scholarly associate professor of psychology and director of instructional excellence and innovation
Woman of Distinction
Video

Janet Peters serves as a scholarly associate professor of psychology and director of instructional excellence and innovation at WSU Tri-Cities. She is continuously recognized for utilizing innovative and engaging teaching strategies in the classroom and often goes above and beyond to ensure her students' success. She actively incorporates service learning into her classroom environment where students craft real-world solutions to regional issues in partnership with nonprofit organizations. In research, she focuses on student, employee and faculty engagement, innovative instruction and high-engagement pedagogy, student leadership development and student attitudes toward statistics. She also provides professional development in innovative teaching and classroom tools for her fellow WSU Tri-Cities faculty. In addition to the WSU Tri-Cities Women of Distinction award, Peters has been published and recognized as a WSU Outstanding Teaching Award Recipient, LIFT Faculty Fellow, AVID instructor and as a Center for Civic Engagement Faculty Fellow, to name a few.

Gabriela Ramirez | WSU Tri-Cities psychology alumna, Spanish teacher at Tri-Cities Prep
Woman of Distinction
Video

Gabriela Ramirez is a graduate of the psychology program at WSU Tri-Cities and currently serves as a Spanish teacher at Tri-Cities Prep Catholic High School. As a WSU Tri-Cities student, she was active in bringing her Latino culture to the forefront, serving through the MEChA and the Dreamers' Club, which advocates for Deferred Action for Childhood Arrivals (DACA) students regionally. Through her role as a teacher, she continues to raise awareness about various cultures and communities. She brings innovative strategies into the virtual environment as part of her courses, using videos and other virtual experiences to connect the Spanish language to the real-world environment. She also learned from a young age that her greatest passion in life is dance. In 2017, Gabriela and a friend started their own dance organization, Ballet Folklórico 'Cielo de México.' Their mission is to keep Mexican traditions alive through dance and bring people from the community closer together. The group has since grown to 40 individuals.

Mikaela Thepvongsa | WSU Tri-Cities nursing student, WSU Pullman psychology alumna
Woman of Distinction
Video

Mikaela Thepvongsa is currently pursuing a bachelor's of science in nursing from WSU Tri-Cities after earning a bachelor's in psychology from WSU Pullman. In addition to taking on a rigorous course of study, she serves as president of Crimson Scrubs, the nursing student service organization, and with the Disabled Students and Allies Club of WSU Tri-Cities, where she is the liaison officer to the WSU system from WSU Tri-Cities. Additionally, Thepvongsa serves as a WWAMI Area Health Education Center scholar. In this role, she works in an interprofessional capacity to assist with health literacy and language and engages in additional classes and volunteer work. As a deaf student, Mikaela uses her own experiences to continually advocate for individuals with disabilities. Additionally, she has served at hospitals, Safe Harbor's My Friend's Place, food banks and churches. In 2019, she participated in a service trip to Mexico with Loma Linda University graduates to help at a dental clinic in poverty-stricken areas.