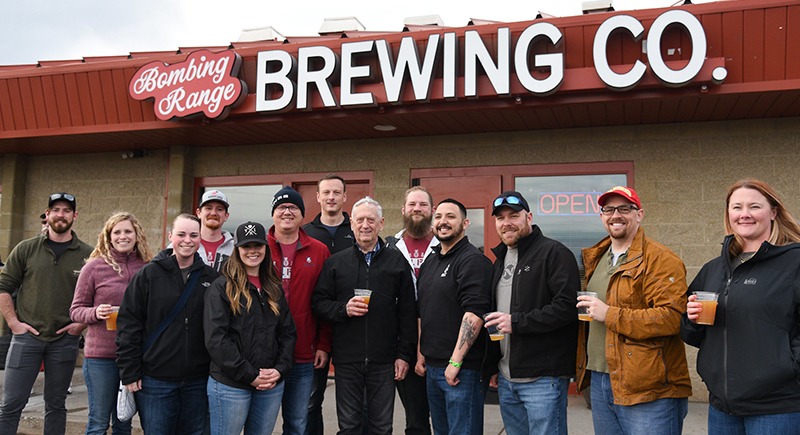 April 13, 2019

Bombing Range, WSU Tri-Cities Patriot's Club release GIPA beer welcoming visit from former Defense Secretary Mattis

By Maegan Murray, WSU Tri-Cities

RICHLAND, Wash. – Bombing Range Brewing Company, in partnership with the Washington State University Tri-Cities Patriots' Club, released a "GIPA" India pale ale honoring veterans and those currently serving this Saturday as part of a parking lot party that also welcomed a surprise visit by former U.S. Secretary of Defense James Mattis.

During the release party, which featured a range of student veterans from the club those who have served, student veterans Bernadette Gagnier and Zachary Hays presented Bombing Range Brewery owners Mike and Dashia Hopp with two mash paddles – one functional for stirring brew mixtures and one to be displayed, that feature the GIPA logo to commemorate the release. The paddles were presented to the Hopps on behalf of the Patriots Club.

During the release, Mike Hopp took the opportunity to thank those in attendance, not only for coming out to support the student veterans, but also to thank those who had given of themselves to serve in the armed forces.

"It has been an honor to work with these students and to welcome you all out for a celebration in honor of our veterans," he said.

More than 100 people were in attendance throughout the release party, which featured the GIPA beer, as well as several others on tap.

Mattis, who had not indicated to the group that he was coming, took photos with the student group and owners, as well as other individuals in attendance.

The GIPA release marked the second of its kind since partnering with the WSU Tri-Cities Patriots' Club for the first release last spring. The first release sold out within two weeks of release.

For those who would like to try the beer, it is encouraged that they are quick to head over to Bombing Range Brewing Company, as, if it hasn't already, will be quick to sell out. Bombing Range is also selling t-shirts that display the GIPA logo until they are sold out at their business in Richland, located at 2000 Logston Blvd.

Mike Hopp said he plans again to make another large donation to the WSU Tri-Cities Patriot's Club to support student veteran initiatives through the Veteran Center on campus. Last year, his business donated more than $1,000 to support WSU Tri-Cities veterans.