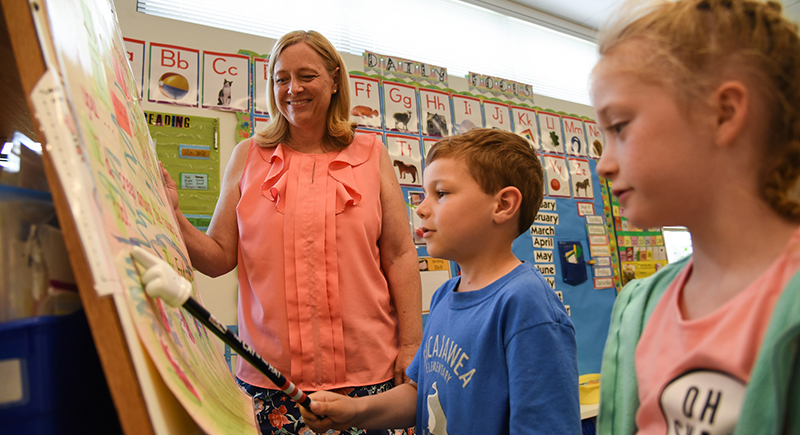 June 6, 2018

Alternative route program allows mother of eight to follow teaching dream

By Maegan Murray, WSU Tri-Cities

RICHLAND, Wash. – Becky Rausch has had a passion for teaching since she was a little girl. But as an adult, her life restrictions in raising a family with eight children left her with little time to complete an education degree while serving as a paraprofessional. That is, until the past two years.

Through Washington State University Tri-Cities' alternative route to an education degree, Rausch received credit for proven experience in the classroom as a paraprofessional while taking the full courses needed to certify as a teacher.

The program took her two years and Rausch was among the first class of 18 graduates in the program this May. She received an endorsement in elementary education and English language learning, also known as ELL.

"With the WSU alternative route program, I couldn't have asked for a better experience," she said. "It was difficult, for sure. But I truly learned from some of the best professors and mentors."

From classroom volunteer to education student

As a young child, Rausch said she used to pretend she was a teacher, inspiring and motivating others to learn and grow. But as she got older and after earning her associate's degree, raising a family became more important.

After her children started school, however, Rausch dedicated hours during the day to volunteering in her children's classroom and serving on the schools' Parent Teacher Organization.

"I volunteered in the schools for 21 years and served as every single position on the PTO board," she said.

It was through her involvement in her children's schools that led her to eventually become a substitute paraeducator, and four years ago, she became a full-time paraeducator in the Richland School District. After a few years, Rausch said she considered quitting her job because she wanted to go back to school full-time to become a teacher. The WSU Tri-Cities alternative route program meant she wouldn't have to quite her job.

Through the alternative program, Rausch kept her job at Sacajawea Elementary School as a paraprofessional while learning about research-driven teaching practices, classroom management and more through the bachelor's program at WSU Tri-Cities. She attended school full-time while working full-time.

"I've spend most of my life supporting my kids, four of whom went to WSU. Now, I felt it was my turn," she said. "This program turned out to be a good fit for me and where I was at."

Learning from the best

Through the program, Rausch took an average of three to five classes at a time while also completing requirements to prove that she had the teaching expertise for credit.

She attended classes, wrote dozens of papers, was video-recorded in her classroom as a paraprofessional and student teacher, wrote lesson plans and more. All the while, Rausch said she learned from WSU professors who gave their all for their students to ensure that they developed into the best teachers they could be.

Rausch also learned extensively from her teacher mentors at her home school. She was mentored by kindergarten teacher Barbi Wolf at Sacajawea Elementary School in Richland, and also worked closely with Rae Fournier, a third-grade teacher at the school. Both said they were impressed by Rausch's dedication to her students and her willingness to learn.

"She handled it with grace and gave 150 percent of herself full-time," Wolf said.

Fournier, also a WSU Tri-Cities education alumna, said the result of Rausch's work ethic is that she is certain she will be an incredible teacher.

"For somebody like Becky, the alternative route program presented the perfect opportunity," she said. "She will be a really quality teacher in the classroom."

A classroom of her own 

Come this fall, Rausch will run her own classroom for the first time. She secured a position as a kindergarten teacher at Sacajawea Elementary School.

"I am beyond thrilled and can't wait to start," she said. "I've been a parent, volunteer and employee at Sacajawea for 26 years. This is definitely my home."

She said she is glad to have had the experience in the classroom as a paraprofessional as she feels it gave her a head start into the profession.

"The combination of what you apply from your experience as a para to what you learn in the education program from your professors is incredible," she said. "WSU was amazing through all of this. All of the instructors were outstanding and my advisors devoted themselves to my success. It was so much fun going back to school at WSU that it's kind of hard to stop now."

For more information on the alternative route to an education degree program, visit https://tricities.wsu.edu/education/undergraduate/alternate-route/.