April 18, 2017

Engineering team earns 17th at international aero design competition

By Maegan Murray

A team from Washington State University Tri-Cities placed 17th recently during the SAE Aero Design Competition in Fort Worth, Texas.

The team, composed of senior mechanical engineering students Erik Zepeda, Austin Shaw, Ryan Hagins, Matt Kosmos, Arich Fuher and Jose Espinoza, spent five months designing and constructing their airplane. The plane spanned seven feet long and had a wing span of eight feet.

The team said they chose a different design from WSU Tri-Cities teams who competed in years prior, and that their design was also different from many teams competing.

"Most of the other designs were pretty square, but we wanted to go with a more aerodynamic shape," Shaw said. "We got numerous compliments on the design of our plane."

During the competition, the team had a very successful first flight, placing fourth in the first round. During their second flight, however, the team had some electrical problems, which they weren't able to remedy mid-air and the aircraft crashed.

"Even with that crash, we ended up placing 10th in the flight category," Shaw said. "If we hadn't crashed, we probably could have placed in the top five teams. That was disappointing, but everything else went really well."

In addition to their 17th overall placing, the team placed 23rd in regular class design, 22nd in regular class presentation and 18th in regular class most payload transported.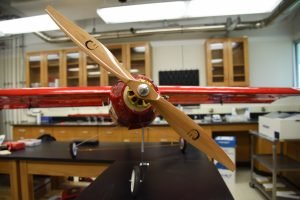 All of the team members said despite their disappointing second flight, they all thoroughly enjoyed the design process, as well as the competition.
"It was a pretty cool experience, especially since it was our senior project," said Zepeda. "I had never thought about aerospace engineering before, but now I'm thinking about it as a possible career direction."
All the team members said the project presented them with excellent preparation for their future careers as engineers, regardless of the field of engineering they each go into.
"It definitely gives you good experience for taking on a large engineering project, as well as working with different people, scheduling, meeting deadlines and making presentations in front of judges," Fuher said.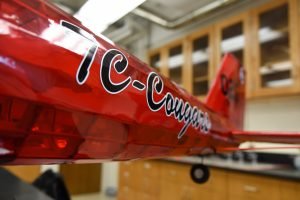 The design project was part of a senior capstone course taught by Messiha Saad, WSU Tri-Cities clinical assistant professor of mechanical engineering and faculty adviser for the campus' SAE Aero Design team. Saad said the competition provides the opportunity for his students to learn the mechanics and importance of teamwork, project organization, scheduling, system and product design, product testing, cost analysis and project reporting.
"Through this design project and competition, my students are able to demonstrate and develop their engineering skills set in a real-world environment with real deadlines and stiff competition," he said. "I am very proud that my students demonstrated the ability to successfully compete with students from some of the top-rated engineering programs in the country."