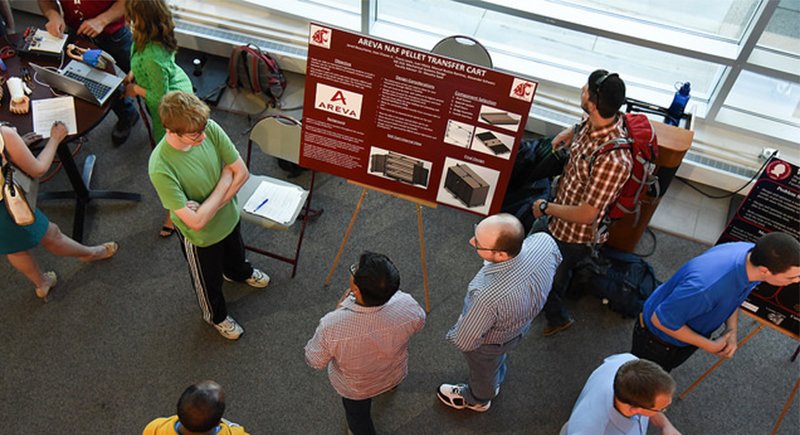 July 7, 2016

WSU Tri-Cities students design uranium pellet transfer cart for AREVA

Six Washington State University Tri-Cities students sat in a conference room, anxiously waiting for their meeting with a group of AREVA's engineering and project management officials to begin.

Many of the students didn't know what to expect, as they had never worked on a project of this magnitude before. This was also their first time at AREVA's Richland nuclear fuel manufacturing facility.
As part of their senior mechanical engineering capstone course, the team, which consisted of seniors Jared Beauchene, Jose Chavez, Juan Mejia, Travis Lewis, Alex Schwarz and Manuel Bustos Ramirez, learned they would re-design the AREVA's current cart used to transport uranium pellets from one building, where they are pressed into shape, to a different building, where they are sintered at a high temperature into their final form.
AREVA Plant Operations Manager Barry Tilden said the problems with the facility's current pellet transfer cart is that it poses several safety concerns. There are several potential finger pinch points and ergonomic challenges posed when loading the small but heavy trays of uranium pellets, also known as "boats," he said.
In addition to overcoming those safety elements, the new cart design would have to ensure a safe transport of the delicate pellets before sintering and contain the pellets if it were to tip over during transport. The cart would also have to provide protection from weather during the short trip from building to building and interface well with the existing equipment in two separate pellet production shops.
The team spent the next seven months on the new design, balancing their time on the project with a full course load at WSU Tri-Cities.
"It's was difficult," Chavez said. "We knew this project would come with expectations and responsibilities. But as we worked through the design challenges, the project has been very rewarding and has given us great experience as we start looking for jobs after graduation."
Tilden said the team truly embraced the challenges of the design while working through many obstacles and business requirements.
"The team did a great job and can be proud of their work developing and producing a new pellet cart design," he said.
The team documented their progress through a series of posts on AREVA's blog site. The entries provide insights into the different stages of the project and the struggles the team overcame along the way.