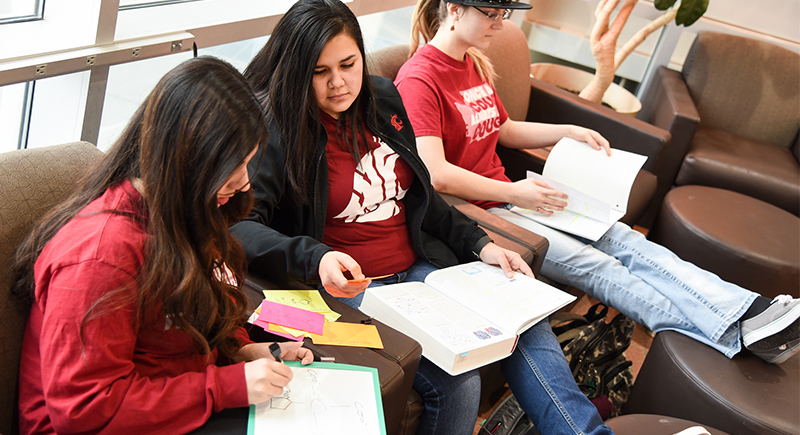 February 6, 2018

WSU Tri-Cities named AVID 'highly certified' institution

By Maegan Murray, WSU Tri-Cities

RICHLAND, Wash. – WSU Tri-Cities recently became the only four-year university in the Pacific Northwest to be named a highly certified institution for AVID programming.

AVID, which stands for Advancement Via Individual Determination, is a nationwide program that prepares students to succeed by providing academic and social supports, which transcend into daily life. Although traditionally held at the elementary, middle and high school levels, WSU Tri-Cities joined a collection of colleges and universities in recent years to introduce the AHE program.

WSU Tri-Cities earned the designation after meeting five essential characteristics in providing students with the supports to be successful, in addition to providing instructors with high-engagement strategies to ensure students persist, complete and are successful beyond college.

Those characteristics include:
Campus leadership support
A campus team to develop, implement and sustain the program
Professional development for faculty
Inclusion of an AVID seminar
Using data to inform changes and improvements to university programming
Benefits of AVID in the classroom
Kate McAteer, WSU Tri-Cities assistant vice chancellor for academic affairs, said the largest benefits of the AHE program is that it encourages students to become engaged on campus, make friends through a common course and that students learn study and other practical skills that they can use in classes across the board.
Through the program, all freshman take an AVID seminar course that encompasses an academic subject, which at WSU Tri-Cities, is Human Development 205. The course also meets the communication requirement for graduation. In that course, students have one of their first experiences working intensively in groups, they participate in service learning, learn how to use the range of campus resources and attend at least one campus event – all in addition to the regular course material.
Many students have expressed that it was one of their favorite courses since beginning at WSU Tri-Cities, mainly because it was the course where they met friends, learned practical skills to help their studies and that it helped boost their confidence for their college courses.
"Human Development 205 is responsible for my increased self esteem that I was able to use to make friends and get a rewarding on-campus job," said Zachary Harper, student body vice president. "Without being a part of this class, my college experience would have probably been much more boring and lonely."
Harper said one of the strategies that was most helpful in the class was learning about peoples' conflict and work styles.
"I've been able to successfully apply this knowledge to all of the group projects I have been working on in class since then," he said.
For student Riley Santo, the main benefit of the course was that it helped provide her with a successful transition from high school to college.
"It felt more like what my high school classes were like, but not in a bad way," she said. "I enjoyed that the class had a more familial structure. You learned everyone's name in class, we had group projects and there were lots of conversation between the professor and students, as well as between students. I also enjoyed the opportunity to express my personal beliefs with peers, and theirs to me."
Preparing instructors with best-practice teaching methods for student success
With AVID, professors at WSU Tri-Cities are trained with best-practice teaching styles that help ensure student success.
All WSU Tri-Cities faculty have the option of attending a training that teaches these best-practice standards and styles, in addition to providing the option for professors to observe their colleagues' teaching styles so that they may learn effective practices from one another.
"It has been a huge benefit for us," McAteer said. "You watch your colleague teach a class and you go, 'Oh, I should do that,' and you bring it into your own class. It also reinforces group work among the faculty. We expect the students to work as a team, so we better know how to work as a team."
Judy Morrison, one of the leaders for the teacher preparation program, said WSU Tri-Cities' regular teacher preparation programs are a part of the AVID Teacher Preparation Initiative, which means they use AVID strategies in some of their courses and help future teachers learn how to implement AVID strategies in their own teaching.
Morrison said they have led workshops ranging from reading, to writing, to general student engagement. This month, they will host workshops on metacognition and Socratic seminars. Morrison said the main benefit shown in students is increased understanding of their own capabilities, improved reading and writing skills, better communication and the development of organization skills.
"Having our campus be part of the AVID Teacher Preparation Initiative is very beneficial for the teacher preparation program and our students," she said.
Katie Banks, instructor in the School of Politics, Philosophy and Public Affairs at WSU Tri-Cities, said after going through her first AVID for Higher Education Summer Institute in 2016, she revamped her teaching philosophy and the strategies she uses to convey content in the classroom.
Some of the AVID methods she has adopted include:
A social contract, which requires students to co-create the classroom expectations and physically sign-on to them
Think-Pair-Share, which requires students to think or write about a topic for a short period and then share with a partner to investigate the question or issue posed
Socratic seminars, which are formal discussions where students bring their open-ended questions to their peers, asking them to think critically and articulate their thoughts and responses
"These high-engagement strategies allow students to refocus – away from their notes, but also away from other distractions, like technology or zoning out – to really explore the course material a bit further," she said. "No longer are students asked to be passive observers of my expertise as an instructor. Instead, we're a community of learners, and we can each build from the knowledge of one another."