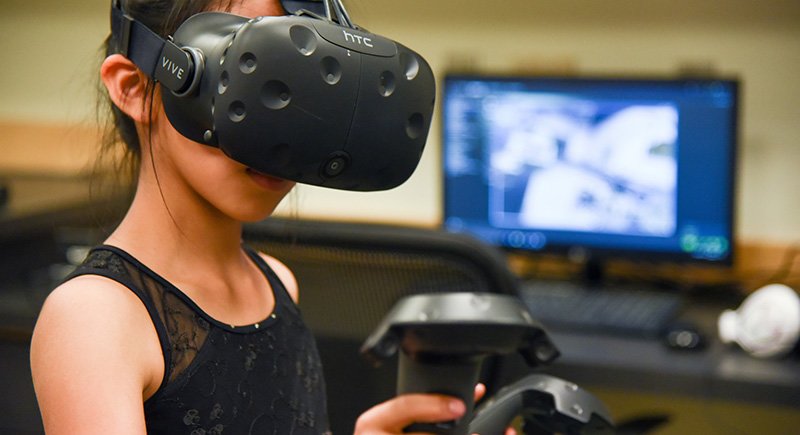 July 20, 2017

Professor researching virtual & augmented reality for special education

By Maegan Murray

RICHLAND, Wash. – Jonah Firestone, an education professor at Washington State University Tri-Cities, knows that technology is the future of education, which is why he is researching the use of virtual and augmented reality as tools for not only the general classroom, but specifically with special education in the kindergarten through 12th-grade setting.

"With regular video games, you're looking at a flat screen," he said. "But with virtual reality, you wear a head set and you can look all around. It's a 360-degree view up and down and you can see this complete world around you. As kids get more used to using this type of technology and as the price goes down, schools are going to start adopting these because you can now send an entire classroom on a field trip to The Louvre without leaving the classroom."

Firestone said for subjects like science and history, teachers rely on textbook and stationary images to give students a picture of what they're talking about as it is expensive to take students to laboratories and settings that are referenced in those lessons. With virtual and augmented reality, however, teachers can bring those settings and projects to the students in the virtual sphere.

"We can use this technology to put children and adults into complete virtual worlds where they can be a cell in the human body, or students can do experiments in physics and chemistry that they couldn't normally safely do in the classroom setting," he said. "You can then repeat those over and over again."
Overcoming learning disabilities
Firestone said virtual and augmented reality have different purposes, but both can be applied as additional tools in the classroom, which could help students who struggle with traditional learning methods.
"We used to talk about this thing called learning theories where certain people were characterized as different types of learners, but that's not really true," he said. "We all learn in a variety of different ways. But with the more modes in which we learn, whether it be oral, visual or tactile, the more we're readily going to learn."
Some students may have problems processing information that is given to them orally, or students may have visual disabilities where they have difficulty processing static information like documents with lots of text, he said. Students also may have issues holding their attention for an extended period of time.
"So what virtual and augmented reality do is reinforce learning in ways that helps from a variety of different vectors," he said. "And realistically, strategies used in special education are good practices for any education setting. We can translate what we learn about these tools into the general classroom setting, as well."
With virtual reality, students wear a head set where it provides them with a complete 360-degree view of a setting or project that the students can interact with. With augmented reality, students use a device like a tablet or a headset where the device projects an image into the real-world setting. Firestone said a good example of augmented reality is Pokemon Go, where the image of a Pokemon is projected through a screen into the real world.
"We've all taken classes where we've aced the class, but we have no idea what we've learned," he said. "What we want to accomplish with virtual and augmented reality is a more organic method of learning. This organic method of learning is accomplished through learning by doing."
Research results so far
Firestone worked with Don McMahon on the WSU Pullman campus to run a study with special education students at the college level who studied bones and skeletons using augmented reality with the help of iPad Minis. They compared what the students learned and absorbed with augmented reality to what they learned and observed from textbooks and the team got great results.
Firestone is now taking that research a step further by applying the same tools to kindergarten through 12th-grade classrooms.
"College kids are great, but I am very much interested in how these technologies can be applied to the k-12 setting," he said. "What we're currently doing is taking this same process and we're modifying it for fifth-graders. Then, we're going to modify it for middle school and high school."
Firestone said he is using augmented reality to supplement different school lessons, including science where students observe and learn about the human body.
"Imagine looking at a picture of a femur, but with augmented reality, not only do you see a picture of a femur, but it has a voice that defines it for you and then shows you where it is on the human body," he said.
Firestone is also looking into using virtual reality to immerse the kindergarten through 12th-grade students in an underwater experience called "The Blue."
"It's an underwater application where you see whales and you're in a reef," he said. "I'm then comparing that to the same information that the students glean from a text."
Firestone said he's had great results with the technology so far and that blending the virtual experiences with what students are presented with in a textbook is a winning combination.
"There is no one magic solution for learning, but the more things we can put together, the more kids are going to end up learning," he said.