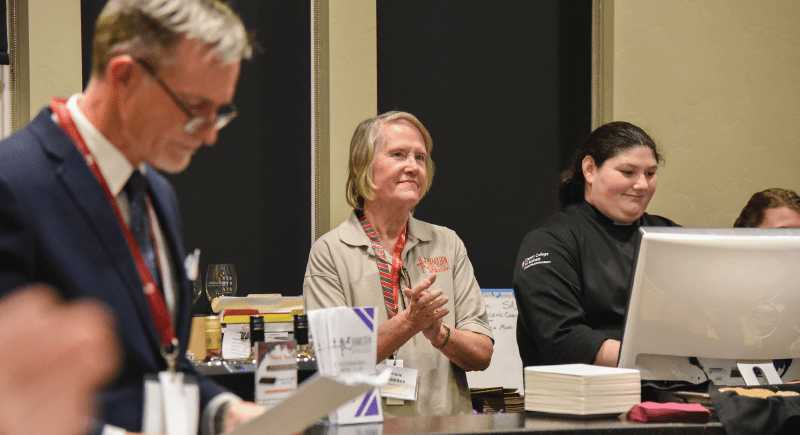 November 2, 2021

WSU Tri-Cities mourns loss, celebrates life of wine and business education champion Stacie Hamilton

By Maegan Murray, WSU Tri-Cities

RICHLAND, Wash. – Passionate. It is a word used by many to describe Stacie Hamilton, a Washington State University alumna, when reflecting upon her work in the wine business sector and higher education through her support of WSU Tri-Cities' wine and business programs.

Hamilton recently passed away at the age of 63, but her memory will live on in the form of her many contributions that have set the stage for wine business education in Washington state.

"Whenever an opportunity arose for her to support WSU Tri-Cities, she always responded in large fashion," said Gary Spanner, fellow WSU Tri-Cities Carson College of Business advisory council member. "She was tireless in supporting the local wine and viticulture sector."

Prior to entering the wine profession, Hamilton served as an accountant. What led her and husband Russ Hamilton into the wine profession was a personal passion for wine. They spent most of their free time visiting wineries. While at a winery one day, standing on the balcony drinking what they described as a "superb Columbia Valley Cabernet Sauvignon," they looked at each other and said, "Let's do this." They realized their dream of starting Hamilton Cellars as a tasting room in 2006, which was followed by the opening of their vineyard and winery on Red Mountain in 2014.

Hamilton had large impacts on the growth of the Red Mountain wine region. Byron Marlowe, WSU Tri-Cities wine and beverage business management and hospitality business management professor, said she would cluster with others participating in Red Mountain events and activities.

"She will be remembered as a business woman on Red Mountain as much as a winemaker in the sense that she operated her winery in a way in which those with perhaps a little less business background could learn from," he said.

In addition to running a wine business, Stacie Hamilton contributed in a variety of ways to WSU Tri-Cities as an instructor teaching accounting courses for the wine and beverage business management program and by serving on the WSU Tri-Cities Carson College of Business advisory council and on the WSU Viticulture and Enology advisory council. The Hamiltons also supported wine education programming financially by means of hosting fundraisers, naming a space in the Ste. Michelle Wine Estates WSU Wine Science Center, as well as participating in a variety of campus events and functions to raise awareness about wine and business academic programs.

"I first met Stacie at the Hamilton winery shortly after I moved to Richland in 2015 to assist in bringing the hospitality business management and the wine and beverage business management majors to WSU Tri-Cities," said Robert Harrington, director of the WSU hospitality business management program. "She quickly offered to host a fundraising event at the winery that has become known as the Crimson Food and Wine Classic at Hamilton Cellars … Stacie went above and beyond the call of duty to make it a success."

It was Stacie Hamilton's idea to explore private partnerships to make the Ste. Michelle Wine Estates WSU Wine Science Center a reality at WSU Tri-Cities in the heart of Washington wine country. The facility opened in 2015.

"She was the first one to volunteer and say that wineries should have a piece in making this facility possible," said Thomas Henick-Kling, director of the WSU viticulture and enology program. "Stacie was incredibly invested in providing exceptional educational opportunities for students so that we have prepared, capable and talented winemakers and wine business leaders that will only continue to contribute back to the regional wine industry. She saw the power of education and what it can do for our region."

Harrington said Hamilton was always the first one to volunteer, offer up ideas and get something started – especially when it came to supporting WSU.

"Stacie was passionate about WSU and a proud Coug," he said. "As I tell people about the Coug nation, Coug alums and current students that I meet embody what I call the art of hospitality. They're just good people that will give you the shirts off their backs if needed, wanting to do what they can to make the world a better place and impact the quality of life for others. Stacie embodied all of these things, making her a passionate supporter and example of these ideals."

In honor of Stacie Hamilton, her family asks that individuals consider making a donation in her honor to the WSU Tri-Cities Carson College of Business Scholarship Fund and/or the Wine Science Center Excellence Fund at WSU Tri-Cities.