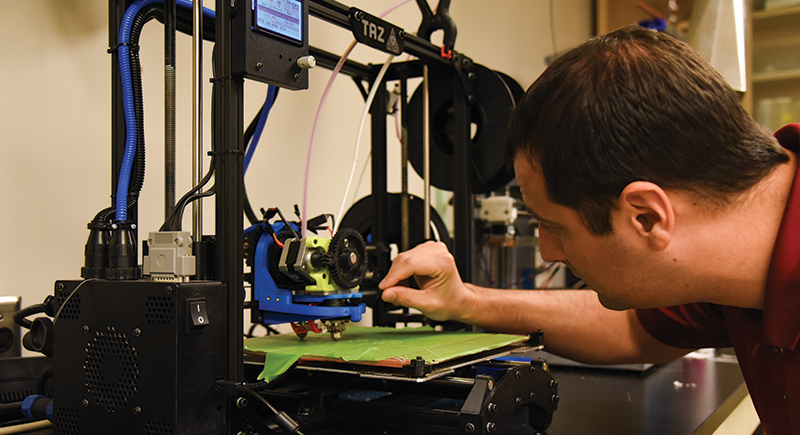 May 4, 2016

WSU Tri-Cities student using NSF fellowship to explore soft robotics
by Maegan Murray
RICHLAND, Wash. – Cameron Hohimer, a Washington State University Tri-Cities mechanical engineering doctoral student, will explore the possibilities of soft robotics through 3-D printing as part of a National Science Foundation Graduate Research Fellowship.
Hohimer was awarded a $34,000 for three-years annual stipend and an additional $12,000 for three years education allowance, which will offset the cost of tuition and fees.
Hohimer had a small part in working on the apple picking robot that WSU researchers Manoj Karkee and Changki Mo are constructing with the help of graduate researchers. He said that robot, for example, has rigid links that allow it to grab the apples at certain pressure points for certain sizes and shapes. But with soft robotics, they could attempt to create more compliant actuators, which are responsible for moving or controlling a system, using more malleable materials, he said.
"Soft robotics is a relatively new area of study in which we are trying to create non-rigid actuators and components for robotics systems," he said. "The nice thing is if you were to use something like this for apple harvesting, as you move into objects, it is compliant. It would bend out of the way. It can more easily form to what it is you are trying to do."
Hohimer said current methods for creating many of these types of soft robotics materials are done through injection molding and silicon casting, but his hope is that he can use fused deposition modeling, a type of 3-D printing, to make the fabrication process faster and easier, as well as utilize it to create parts and products that are more complex in design.
"You see a lot of applications of soft robotics in creating humanoid robots," he said. "Obviously our hands are very dexterous. You can pick up a wide range of objects with varying geometries and sizes. Most rigid grabbers, or end effectors, are not good at picking up cylindrical objects and then trying to pick up something that is a different shape. With soft robotics, you can design manipulators that are more robust that can grasp items with a wide variety of shapes and sizes."
With his research, Hohimer will also investigate the ability to 3-D print piezoelectric polymers, which could be used to sense strain and vibration and be embedded into soft robotic actuators.
Hohimer earned his bachelor's in mechanical engineering from WSU Tri-Cities in 2014. He is two years into his doctoral program in mechanical engineering at WSU Tri-Cities.
Contact
Maegan Murray, WSU Tri-Cities public relations specialist, 509-372-7333, maegan.murray@tricity.wsu.edu