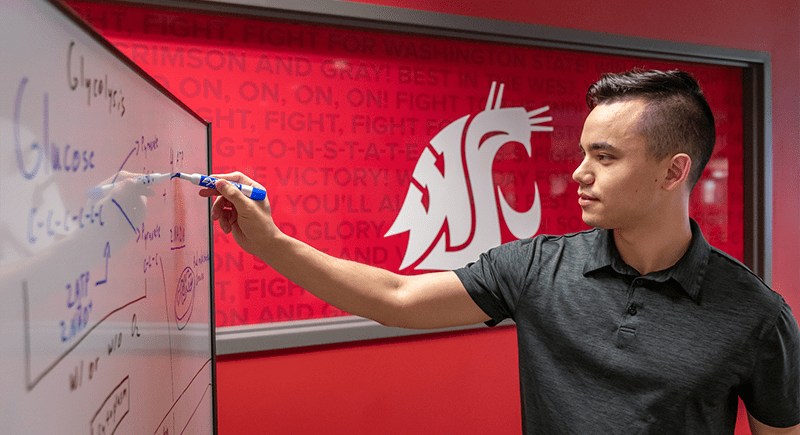 March 7, 2023

WSU Tri-Cities campus is the perfect place to 'plant seeds'

RICHLAND, Wash. – For Zarryn Duong, a Kennewick native and first-generation student, going to college after high school was always the plan. He grew up with an interest in engineering, while his father dreamed of him becoming a doctor. It wasn't until he took a career quiz in high school that pointed him to neurology that he started to think perhaps his father knew best. And it wasn't until he started at Washington State University Tri-Cities that he realized how important making connections and getting involved would be to earning his bachelor's degree and getting accepted into medical school.

Planting seeds

When Duong started at WSU Tri-Cities in fall 2018, he didn't know anything about being a pre-med student. "My first year here was really about exploring," Duong said. He got involved with student clubs and got to know his professors. Elsa Silva-Lopez, former WSU Tri-Cites professor of chemistry; and Nelmi Devarie Baez, assistant professor of chemistry, were two professors he connected with right away.

These relationships led to more connections and opportunities. Duong described his exploration as planting seeds. He said, "Every time I would talk to someone it was like…seed planted. Seed planted." As a first-year student, the community-style campus and availability of various STEM resources was something that surprised and delighted him.  Then COVID hit. "It felt like all those seeds were washed away."  The research opportunities and volunteer positions Duong had worked so hard to set up were gone.

Connecting through COVID-19

Despite the challenges that came with moving from in-person to online learning, Duong found a way to make connections through Zoom. He said his professors were great through Zoom and soon he was planting seeds again. Kersten Bergstrom, lecturer in the School of Biological Sciences, encouraged him to take anatomy, pointed him to other pre-med classes and introduced him to other pre-med students. Those seemingly simple acts meant a lot to Duong. "Kersten was one of those seeds I planted that grew into this huge amount of support," he said.

Duong also took advantage of the variety of student clubs on campus as a way to get involved, meet people and plant more seeds. He helped start the Tennis Club, joined the Pre-Med Club and even gave the Boxing Club a try.

From dream to reality

Duong took a big step toward becoming a doctor when he graduated in May 2022 and was accepted into the University of Washington School of Medicine. The pre-med journey was not easy, but with the support of professors, students and community connections, he persevered.

The advice Duong would give to new pre-med students is this, "You can get support but it's not where you expect it. You have to make sure you are going out of your way to make connections. Networking and planting those seeds are great things to learn because you don't know where they may take you."

WSU Tri-Cities – a great choice 

Duong said WSU Tri-Cities was a great choice for him. Staying local to earn his undergraduate degree made college affordable for him and his family. He lived at home to save expenses and earned several scholarships. "WSU Tri-Cities feels bigger than a school," he said. "There are so many opportunities to do things and to get involved in the community. It was a very valuable experience."

Until he starts medical school in July, Duong has returned to WSU Tri-Cities as a tutor in biology and anatomy through the TRIO program.