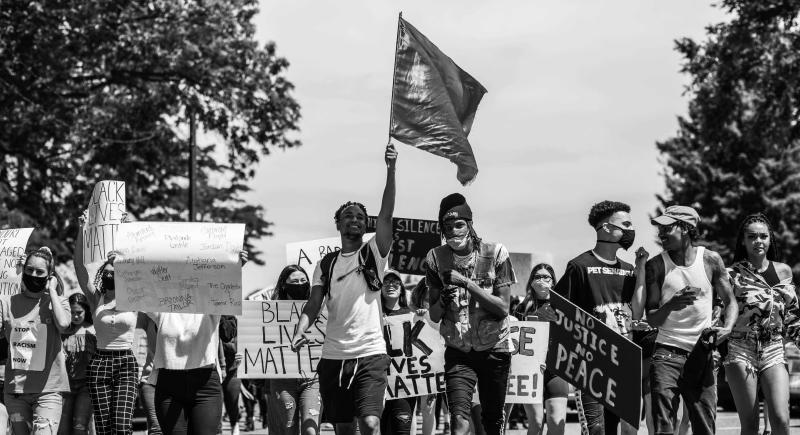 June 16, 2020

WSU Tri-Cities alumna using photography to help combat racial and social injustice

By Maegan Murray, WSU Tri-Cities

RICHLAND, Wash. – Sharing the complete picture of humanity, especially the hard topics, so that one-day she can affect positive change.

That's the reason photographer and Washington State University Tri-Cities alumna Madison Rosenbaum first picked up a camera. Shedding light on difficult social issues and providing a voice for the unheard is also what led her to document local protests following the death of George Floyd in Minnesota.

The images themselves do the talking, and they allow others to share their own stories, Rosenbaum said.

"There are seven billion people on this planet experiencing the world differently every day," she said. "If I can provide a glimpse into those experiences for others intentionally or unintentionally seeking to better connect with humanity, then my artistry is serving the purpose I want it to."

Photography as a catalyst

Rosenbaum said she hopes her photographs of the recent peaceful protests in Richland and Pasco this month help the community mourn the unjust deaths of African Americans, tell the stories of those still experiencing racism and inequality, and serve as a catalyst for positive change.

"As an artist and someone who identifies as white, I want to do better at providing a space for marginalized groups­—for black, indigenous, people of color—to see themselves in art and to have their stories heard," she said. "I will always be a believer that storytelling through photography can help be the bridge to connecting and understanding someone else's lived experience with an open mind and open heart."

Photography, she said, can often shed light on feelings, emotions, actions and even consequences where words may fall short. In her recent photographs of the protests, the portraits display the frustration, grit and pain experienced by many as they held signs stating "Black lives matter," "I can't breathe" and "Together we stand."

"In an age of social media, it is easier than ever to be vocal about social issues," she said. "I hope those viewing my work are choosing to listen to the stories told by those in the photographs and take their stories to heart. Their experiences are valid and real."

Building a foundation with education

While she didn't know it at the time, Rosenbaum said choosing two seemingly unmatched degree programs to double major in at WSU Tri-Cities, digital technology and culture and psychology, helped open her mind to how she could use creativity to shine light on social issues.

Through her digital technology and culture courses, she mastered and refined the skills and techniques that now allow her to capture color, angles, light and emotion in her art, and she learned the power of using art to shine light on important topics. Her psychology courses, she said, provided a foundational understanding of the human mind, and how humans interact and relate.

During her senior year, Rosenbaum was invited by digital technology and culture professor Peter Christenson to participate in the "Women artists from the Columbia Valley" exhibition, which featured 64 contemporary female artists and their work. As part of her submission for the exhibition, Rosenbaum collaborated with two other artists on images of mental health, and specifically her personal journey with depression.

"They were self-portraits that we each helped one another construct and produce," she said. "Being in front of the camera as a model exploring something incredibly vulnerable was difficult, but I realized it was an outlet to discuss something that I was passionate about and often did not have the words for. It was the first step for me in understanding storytelling through photography and an experience I keep in mind always as I help others explore theirs."

Telling stories

After that first exhibition, Rosenbaum began producing and participating in other photography and art projects that helped shed light on social, emotional and political topics.

She organized WSU Tri-Cities' first student-curated photo exhibition, which featured artist-submitted works on the topics of domestic and sexual violence, social injustice, racism, sexuality and inequality. She said while it made some people uncomfortable, it was well received by individuals who stated that it helped them explore hard to discuss topics.

After graduating from WSU Tri-Cities in 2015, she expanded upon a series of photographs she began as a student called "Human After All," which features dozens of individual portraits and stories that explore vulnerabilities of humankind and examine sociopolitical barriers through an artistic lens. She began another series titled "foundations" on what life is like as an immigrant in 21st century America, as well as a series specifically detailing struggles with mental health called "Coming Back to Life."

In March of this year, amid the COVID-19 health crisis, she began a series detailing individuals' experiences from home and those who work on the frontlines in healthcare titled "Tales from Home." The series features individuals from the Tri-Cities area, as well as others who live around the world. Many said they wanted to participate because they wanted to share their personal experiences, and also as a way to connect while everyone feels so isolated.

"When Madison asked me if I would be interested in participating in the project, my family and I [had recently] experienced a tragedy and I wanted to share a realization," said Carina León, a participant in the project. "My life has suddenly become more precious, and I want to be more conscious of the moments I have with myself and with my loved ones."

"I participated in 'Tales from Home' because I wanted to give people the perspective of someone in the heart of the pandemic, one of the largest metropolitan hotspots in the world," said Maximilian VonderMehden, a WSU Tri-Cities alumnus and a nurse in Los Angeles. "I wanted to give some perspective that even if the disease isn't 'right at your doorstep,' what we're all doing still matters, still plays a part, and is still essential."

Using art to open eyes

Rosenbaum said while some of her projects may make people uncomfortable, it is for the purpose of positive change, and it has helped to open her eyes to her own inherent thoughts and emotions.

"I want to challenge viewers and their biases," she said. "I want to challenge my own views and biases. These stories have changed my life. I have become more educated about the histories and cultures and experiences of marginalized groups. I have become an advocate in my community. My work to dismantle white supremacy and examining my white privilege is a constant journey, but I am trying every day and in every story I share."

Photography, Rosenbaum said, is a way to not only express herself, but to express the thoughts, emotions, struggles and triumphs of others.

"We can all be agents of change," she said. "Blog. Write. Sing. Create. Photograph. Draw. Paint. No matter your craft, do it with intention."

To view Rosenbaum's work, visit madisonmariephotography.passgallery.com.