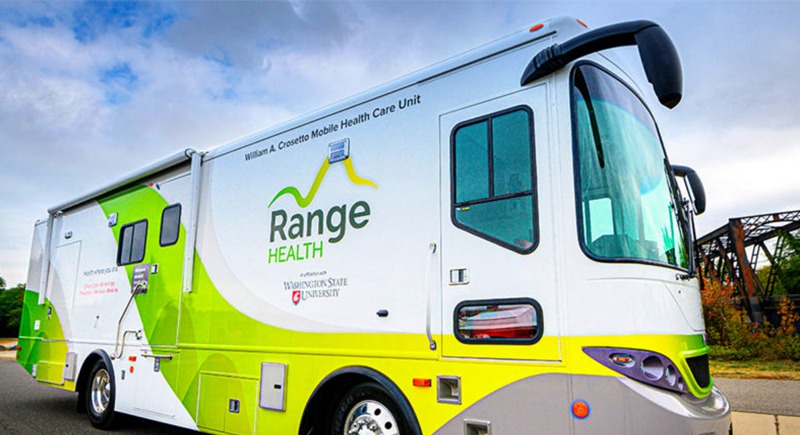 October 21, 2019

WSU College of Medicine launches Range Health

SPOKANE, Wash.– The Washington State University Elson S. Floyd College of Medicine recently announced the launch of Range Health, a non-profit academic health network designed to bring health care to Washington's rural and underserved areas. The College of Medicine also unveiled the William A. Crosetto Mobile Health Care Unit, the network's first traveling health clinic.

Named for its intent to deliver care to all of Washington's 39 counties with a nod to its rural emphasis, Range Health is a separate 501(c)(3) entity in partnership with WSU and the College of Medicine. The organization will provide prevention and wellness strategies, as well as treatment to patients across the state, focusing on communities where health care is limited. Leveraging its network of doctors, nurses and pharmacists, Range Health will increase access to health care while serving as a training ground for future doctors and health care providers.

"From the earliest days of the College of Medicine, we envisioned a time when we would not only educate medical students to become doctors in our rural and underserved communities but create new ways of delivering health care to the people of our state," said John Tomkowiak, founding dean of the Elson S. Floyd College of Medicine and chair of the board and ex officio director of Range Health. "Range Health fulfills this vision and, while there is a lot of work ahead to scale up, extend our reach and expand our offerings, we're excited to take our first steps toward serving the communities that need us most."

Range Health launches with its first mobile medical unit named for William A. Crosetto, a cattle rancher from Othello who passed away in January 2018. Known to friends as Bill, he worked with Innovia Foundation to create the William A. Crosetto Charitable Foundation to support medical education and rural health among other philanthropic interests. His legacy lives on in the William A. Crosetto Mobile Health Care Unit, which will travel to rural and underserved communities to provide comprehensive primary care, urgent care procedures, and preventive screening for conditions such as diabetes, cholesterol, pregnancy, STDs, asthma and more. The unit is slated to begin providing services in January 2020.

As a Washington State College runner who went on to compete in the Olympics, Bill's father had a significant impact on his life, but he was most proud of the legacies established by his uncles, Fred Hutchison, a famous baseball player and Dr. William Hutchinson, who founded the Fred Hutchinson Cancer Research Center as well as the Pacific Northwest Diabetes Research Institute.

"Bill was proud of his family's legacy but often felt he lived in the shadow of his uncles, and yet his generosity in our region will have just as deep of an impact," said Shelly O'Quinn, CEO of Innovia Foundation. "Bill wanted to ensure rural residents would have access to doctors in their hometown. His legacy will allow people to age in place in the communities they love."

Led by executives from the colleges of Medicine, Nursing and Pharmacy and Pharmaceutical Sciences, Range Health and the William A. Crosetto Mobile Health Care Unit will initially focus on care from doctors and medical students with plans to expand across all health sciences disciplines in the future.

"Humankind is demanding solutions that support modern health care needs. Health care must be reimagined. With Range Health, we're signaling steps taken to our larger vision of WSU Health—our initiative to advance health care across the Pacific Northwest," said Daryll DeWald, WSU Health Sciences vice president and chancellor. "As education becomes more and more a critical component of health, WSU Health Sciences is uniquely equipped to embrace modern health care needs."

True to its emphasis on bringing care to communities, Range Health will take its mobile unit on tour across the state in October. Sponsored by Banner Bank, the tour will travel to the college's clinical campus sites in Vancouver, Everett and Tri-Cities where third-year medical students are now based full time for clinical training. All community members are encouraged to attend the tour events to see the mobile unit, meet locally based WSU students, and hear from WSU and Banner Bank leadership. Tour dates and locations include:
Vancouver: Oct. 15 at 1 p.m. at the Banner Bank East Vancouver Branch 3100 SE 164th
Everett: Oct. 17 at 1 p.m. at the Banner Bank Everett Colby Branch 2531 Colby Everett Ave.
Tri-Cities: Oct. 23 at 1 p.m. at the Banner Bank Richland Branch 1221 Jadwin Ave.
"It is our pleasure to partner with WSU to bring this tour to each of their clinical campus communities," said Mark Grescovich, President & CEO of Banner Bank. "Like WSU, Banner Bank serves communities all across Washington, including many rural areas that will directly benefit from the mobile medical care unit. We are excited to help shine a light on the important work of the medical school and Range Health."
For more information visit the Range Health website.
Media Contact