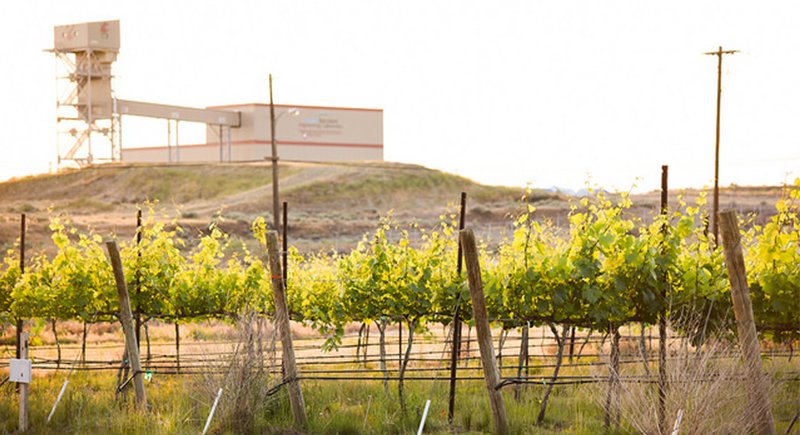 July 21, 2016

Northwest wineries, vinyards seek to promote wine country tourism

By Maegan Murray, WSU Tri-Cities

RICHLAND, Wash. – Pacific Northwest wineries and vineyards are exploring a new, specific way to promote their wines: "terroir tourism."

Marketing terroir – an area's environmental characteristics such as soil, topography, climate and farming practice – has increased in states like Washington and Oregon, said Byron Marlowe, instructor of hospitality and wine business management at Washington State University Tri-Cities. It presents a new and growing opportunity that can further the Northwest's name and brand as a wine destination for the world.
Marlowe recently completed a literature review regarding terroir tourism for Oregon wine publications. He presented his paper at the International Terroir Congress, which for the first time was held in the United States.
Locations ideal for best wine grapes
Locations in Washington and Oregon present ideal conditions for Vitis vinifera grape varieties, which encompass many preferred and prominent grape types in the western United States wine market and in most of the world, Marlowe said.
"The terroir in the Pacific Northwest, and more specifically the mid-Columbia region, is a major reason for the quality of wines you see across the state," he said. "Great wine starts in the vineyard, and you can't have a great vineyard without the ideal soil, climate amount of sunshine and geology."
Much like producers in California's Napa Valley and locations in France and Italy, Washington and Oregon wineries are starting to promote these conditions as elemental to the region's generally high quality wines.
"It would make sense that terroir would be a determining factor in wine tourism in the Northwest," Marlowe said.
Wineries promote AVA differences
Two examples of producers using terroir to market their wines are Badger Mountain Vineyard/Powers Winery and Dubrul Vineyard/Côte Bonneville.
More tourists are seeking out wine that is grown in particular American viticulture areas (AVAs) in the Northwest, said Mickey Dunne, owner and sales director for Badger Mountain Vineyard and Powers Winery in Kennewick, Wash.
"There is growing knowledge of some of the smaller and newer AVAs," he said. "We have crafted our reserve wine program around single vineyard cabernet sauvignon from four different AVAs, giving us an opportunity to show consumers a mini-tour of Washington terroir."
Côte Bonneville, in Sunnyside, Wash., produces and promotes wines based on the vineyard's farming practices, climate and unique soil elements, said Kathy Shiels, owner of Côte Bonneville and DuBrul Vineyard.
"Our vision was a classic Burgundian model, where small areas of the estate were bottled separately to showcase the terroir," she said. "It has become much more common in the industry today to differentiate yourself by a sense of place."
Organic and state line distinctives
Marlowe said in Oregon, particularly, the popularity of organic wine has increased, with wine enthusiasts focusing more on farming practices. Nearly 50 percent of Oregon vineyards are sustainable or organic, according to Oregon Organic Wine.
"Oregon has been able to recognize and attract the wine tourist who has high levels of place attachment to its unique terroir through sustainable and organic growing practices," he said.
Badger Mountain in Washington realized the value of an organic wine operation when it created the state's first organic vineyard and winery in 1990 and 1996, respectively.
"With the climate in Washington so conducive to low input, I think we have a substantial advantage over many, if not most, growing regions," Dunne said.
Marlowe is working with regional organizations to generate additional interest in terroir tourism, as well as examining whether it may lead to wine enthusiasts crossing state lines.
"Vines don't recognize state borders and neither do geographical features, soil types and climate," he said. "What I'm looking into is whether these state borders have an impact on terroir tourism and whether state lines matter when wine enthusiasts visit wineries in a particular region."