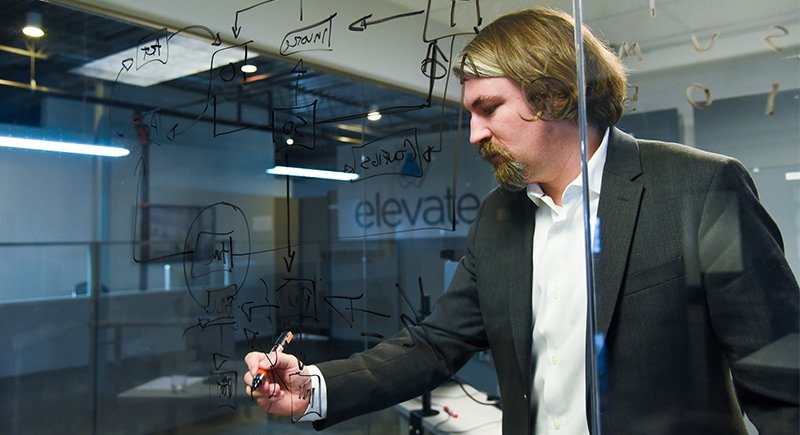 By Maegan Murray
Paul Carlisle had just completed his undergraduate degree in business administration from Washington State University Tri-Cities in 2005 when he decided to open his own technology solutions company.
The idea came after the organization he previously worked for sold to another company and he felt the work he was doing became less challenging.
"It was an opportunity for me to say 'I'm going to jump off and try to tackle something larger,'" he said.
But rather than focusing on large equipment installations, like most technology infrastructure companies were doing at the time, Carlisle planned to serve companies as an end-to-end technology management firm. With that, 'elevate' was born.
Carlisle used the master's in business program at WSU Tri-Cities to refine the business structure, launch the organization, as well as consult with his professors for what worked and what didn't within the company.
"I leveraged a lot of my business school classes through the master's in business administration program at WSU Tri-Cities for elevate," he said. "I feel like WSU Tri-Cities really helped me identify and create a level of maturity when it was being launched."
Seeing success
Since that period, the company has grown to contract with more than 50 companies throughout the mid-Columbia region and across the state. In 2016, elevate welcomed Gov. Jay Inslee to talk about job creation, focusing more specifically on companies that have worked from start-up to thriving operations that aren't based around the Hanford Site. This year, Carlisle was recognized with the Richland Rotary's Sam Vulpentest Entrepreneurial Leadership Award for his devotion to growing community through service and entrepreneurial ventures.
But with all the recognition, Carlisle said it was through community support that truly made him and his business a success.
"I certainly didn't do it on my own," he said. "I did it with the community. I've worked with people in the Tri-City Regional Chamber, at WSU Tri-Cities, through WSU Tri-Cities' Carson College of Business Advisory Board and with co-working and startup programs. In the end, that community engagement is the differentiator, and that is what continues to be special at WSU Tri-Cities."
Carlisle said WSU Tri-Cities is different from many college campuses because the courses are truly rooted in the community and the business connections that are already established locally.
"People come here because it has a cool connection with the community," he said. "Students at WSU Tri-Cities learn from those they will be working with into the future after they graduate. These are the people they're getting internships from and the same people who are recommending those internships. In the MBA, you are consistently meeting with managers who are mostly based here."
Giving forward
Now, Carlisle is using his success in his own career to give back to students and future entrepreneurs.
Carlisle serves on the WSU Tri-Cities Carson College of Business Advisory Board, which aims to create opportunities for community partnerships between local businesses so that students may be connected with many more research experiences, internships, co-ops and more. Additionally, he serves as an adjunct faculty member teaching entrepreneurship.
"We're working on lots of good ideas on how we can really help grow the idea of community engagement within the degree," he said. "At the end of the day, if all you're doing is learning the course material, you're missing out on a lot, and really the main point. We're looking to give students that real-world access, hands-on experience that is so unique here at the Tri-Cities campus."
Carlisle also works with the Tri-City Regional Chamber on its board and on its regional affairs committee, where through community connections, they are working to provide further opportunities for local businesses to excel.
"By looking at the natural flow of businesses in the Tri-Cities, we can start to remove barriers and just let the natural momentum move forward," he said. "There is some risk, but with that little bit of risk, creating even a little bit of traffic, we can make a large impact."
Carlisle said it has always been his goal to use his own success as a catalyst for growing the success of others.
"I've been there," he said. "I know the hurdles that some of these young people have to conquer because I've experienced it all with elevate. In my 20s, I worked to really form elevate. In my 30s, I quickly realized that helping these emerging businesses is what elevate is all about. In my 40s, I want to be invited to play with these fantastic new startups built by these bright young students because they are the future of our community."
Carlisle says he hopes his involvement within the business community inspires positive momentum among the young and up-and-coming professionals.
"What I recommend to current and future students is to seize the moment to engage with these amazing local opportunities," he said. "You don't know what is possible until you take the leap."