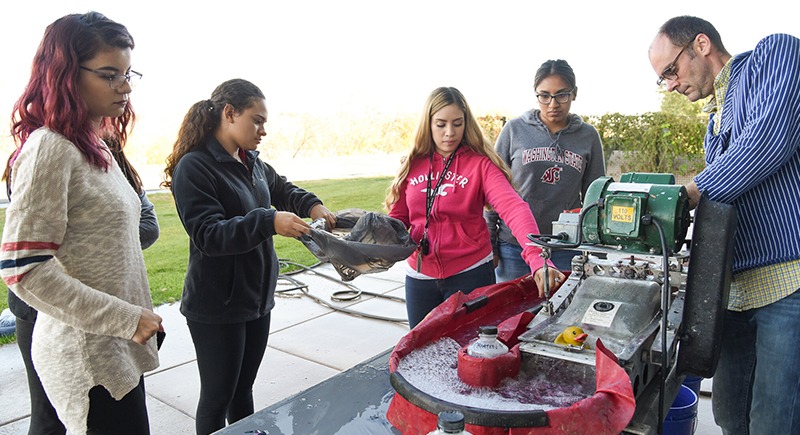 October 4, 2019

Oct. 7-10: Master papermaker returns to WSU Tri-Cities for hands-on workshops

By Maegan Murray, WSU Tri-Cities

RICHLAND, Wash. – Master papermaker Drew Matott will return to Washington State University Tri-Cities next week for a variety of workshops and a public lecture on traditional papermaking and how his organization, the Peace Paper Project, uses the art as a therapeutic practice for survivors of trauma Oct. 7-10.

The Peace Paper Project visited WSU Tri-Cities last year, lending experience in the art of traditional papermaking where participants learned to turn articles of clothing or other articles with immense meaning into paper. The Peace Paper Project, which is made up of hand papermakers, art therapists, social activists and fine artists, uses hand papermaking across the globe to improve the lives of survivors of trauma and loss through the traditional practice of hand papermaking.

During the organization's first visit to WSU Tri-Cities last year, Matott and a colleague worked with veteran students, both with combat trauma and those who want to commemorate their years of service, converting their old uniforms into colorful and beautiful pages of paper. He also worked with students from migrant farm working backgrounds who turned their old field working clothes into paper, in addition to various art classes at WSU Tri-Cities to teach them the artistic process.

"The goal with the Peace Paper Project is to use papermaking to have a positive influence on people's lives," he said. "Whether it be helping people process things that are traumatic, or working with individuals in an effort to improve their lives, our goal is to make a positive difference."

In addition to Matott's expertise, students will also benefit from learning from and connecting with Stephen DeSantis, director of international internships and professional training programs for the Peace Paper Project, who will also travel to WSU Tri-Cities for the week of workshops.

Open Workshops

Matott and DeSantis will hold open workshops from 8 a.m. – 5 p.m. in the Student Union Building Monday, Oct. 7, through Thursday, Oct. 10. The workshops are free and open to the public.

Public lecture

Matott will give a public lecture on his organization and their work with refugee communities from 3:10 p.m. – 4 p.m. on Wednesday, Oct. 9 in the East Auditorium. His presentation is part of the WSU Common Reading Program and this year's book "Refuge: Rethinking Refugee Policy in a Changing World." His lecture will be broadcast to other WSU campuses via Zoom and is also open to the public.

Workshops for specific student groups

Matott will also work with specific groups:
Veteran students: 1 p.m. – 5 p.m. on Monday, Oct. 7
Student leaders: 3 p.m. – 5 p.m. on Tuesday, Oct. 8
Members of the DREAMers club: 1 p.m. – 2 p.m. on Wednesday, Oct. 9
For more information on the Peace Paper Project, visit http://www.peacepaperproject.org/.
Video of last year's WSU Tri-Cities experience: https://youtu.be/yYfTAuKatGw