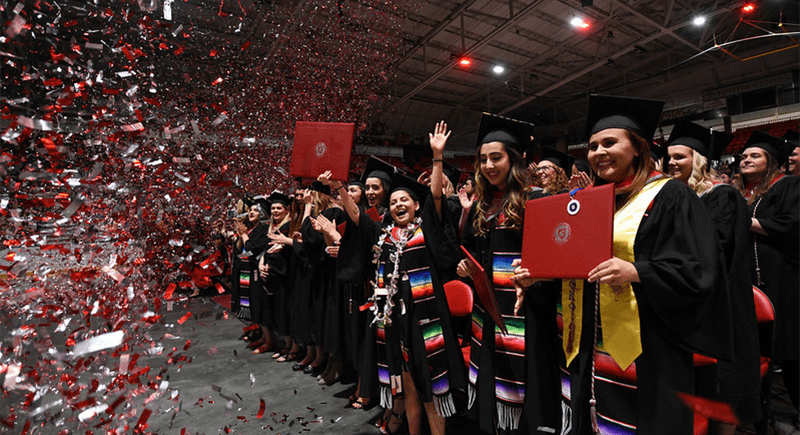 April 26, 2022

WSU Tri-Cities to honor more than 375 graduating students May 7

RICHLAND, Wash. – Washington State University Tri-Cities will honor more than 375 graduating students this year. The honorees include graduates from the fall 2021 and spring and summer 2022 terms. WSU Tri-Cities 2022 Commencement Ceremony is the first in-person commencement since 2019.

The two-hour WSU Tri-Cities Commencement Ceremony will begin at 1 p.m. May 7 at the Toyota Center, 7016 W Grandridge Blvd., Kennewick, WA 99336. No tickets are required. Parking is free. Doors to the venue open at noon.

BACKGROUND ON THE GRADUATES     

The 2022 graduates include 14 doctoral candidates in the areas of biological and agricultural engineering, civil engineering, computer science, education, environmental and natural resource sciences, math and science education, mechanical engineering and nursing practice.

The 26 master's candidates will receive degrees in chemistry, civil engineering, computer science, education, environmental engineering, horticulture, mechanical engineering, nursing and teaching.

The bachelor's candidates will receive degrees in biology, business administration, civil engineering, computer science, digital technology and culture, earth and environmental science, education, electrical engineering, English, history, hospitality business management, humanities, integrated plant sciences, mechanical engineering, psychology, nursing, science, social sciences and viticulture and enology.
When Noel Vest walked out of Lovelock Correctional Center in 2009, he had no money, no job and 14 felonies on his record, including identity theft and methamphetamine use. Vest headed home to Washington state, where his first move was to ask his dad to drive him to the local community college to register for classes. While he was incarcerated, Vest found a passion for school. While earning his bachelor's in psychology at WSU Tri-Cities, he discovered his knack for research. For his Ph.D. in experimental psychology at WSU Pullman, he studied how prescription opioid misuse affects people with borderline personality disorder. Today, Vest is a postdoctoral scholar in the Systems Neuroscience and Pain Lab at Stanford Medicine, where he examines how people recover from addiction.
About WSU Tri-Cities
WSU Tri-Cities is located on shared traditional homelands of the Confederated Tribes of the Umatilla Indian Reservation and the Confederated Tribes and Bands of the Yakama Nation. As a leading public research university with a focus on energy, environment and agriculture, WSU Tri-Cities delivers career-connected learning and innovative research that addresses economic and social challenges.
MEDIA CONTACT(S)
Brenda Alling, Office of Marketing and Communication, 360-546-9601, brenda_alling@wsu.edu