May 1, 2017

WSU Tri-Cities students awarded for leadership, involvement during annual awards dinner

RICHLAND, Wash. – Several students and student organizations were awarded for their leadership, involvement and overall activism during the annual Washington State University Tri-Cities Evening of Excellence.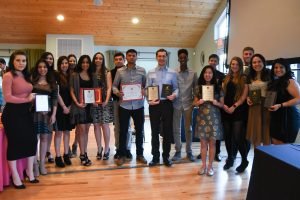 The purpose of the event is to celebrate student accomplishments from throughout the past academic year, as well as recognize students and their mentors who went above and beyond in their educational service.
This year's awards went to:
Unsung Hero: Catalina Le
Rising Star: Zachary Harper
Student Leader of the Year: Nikita Fisenko
Advisor of the Year: Mariella Lora
Chancellor's Award: Alexander Matlock
Organization of the year: Dreamers Club
Most Improved Organization: Women's Club Soccer
Program of the Year: Multicultural Night
Student Employee of the Year: Monique Van Sant
ASWSUTC Legacy Award: Maria Rodriguez
ASWSUTC Innovation Award: Adriana McKinney
AWSUTC Bridge Award: Ana Isabel Sandoval Zazueta
ASWSUTC Rock Award: Nikita Fisenko
ASWSUTC Perseverance Award: Susana Butterworth
View and download photos from the event at https://www.flickr.com/photos/wsutricities/albums/72157683299952485.
Contacts:
Danielle Kleist, WSU Tri-Cities director of student life, 509-372-7104, danielle.kleist@tricity.wsu.edu
Maegan Murray, WSU Tri-Cities public relations specialist, 509-372-7333, Maegan.murray@tricity.wsu.edu