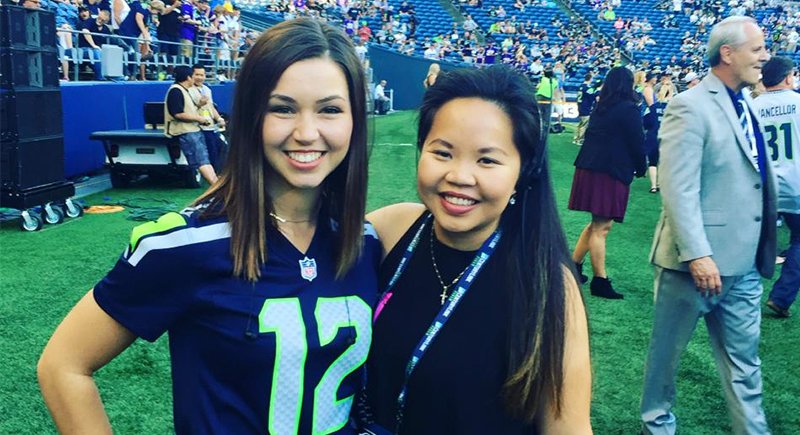 August 30, 2016

WSU Tri-Cities student performs national anthem during Seahawks game

RICHLAND, Wash. – Kayla Stark, a student at Washington State University Tri-Cities, has performed for venues ranging from hundreds to thousands around Tri-Cities, Wash. But last week, on Aug. 18, she performed at her largest venue yet: at a Seattle Seahawks game at CenturyLink Field.

Stark has sung the national anthem a number of times throughout the last three years at various events around the Tri-Cities. She said singing has always been a passion of hers, allowing her to venture outside of her comfort zone and develop her talent as an artist.
"I performed for the Tri-City Dust Devils, at Tri-City Americans games, at the Benton Franklin Fair and then at my husband's graduation for WSU Tri-Cities this May," she said. "But I never thought I'd be singing at a Seahawks game."
Stark's father, Tom Oleson, has encouraged her to perform for larger venues because he knew it was something she was passionate about. This year, he sent a video to the Seattle Mariners as an audition for singing the national anthem during one of their season games, but they sent a nice letter back stating essentially, "thanks, but no thanks," she said. That letter, however, didn't discourage her dad for trying for other large venues.
"He told me he wanted to send something in to the Seahawks, and expecting the same response, I was like 'OK Dad, knock yourself out," she said. "But then, while I was at work, I got the email. I was like 'Oh my gosh, they are serious. This is real. This is really happening.'"
Three weeks later, Stark found herself driving with her father, husband and brother-in-law to CenturyLink Field in Seattle: the home of the Super Bowl XLVIII champions. She had three practice tries at "The Star-Spangled Banner" during her sound check prior to performing it live shortly before the Seahawks took on the Minnesota Vikings.
Stark said the friendly and welcoming staff at the stadium, as well sound check practices, were what helped calm her nerves.
"I just closed my eyes and went for it," she said. "It wasn't my best, vocally, but it was still an amazing experience. Everyone I came in contact with at the stadium were also so amazing. They were all so nice and so helpful."
Stark said it is still sinking in that she got to perform the nation's song at one of the Northwest's largest athletic venues.
"I was just so happy to honor our country and the people that have served it," she said. "I am so grateful to my dad for helping me pursue my dreams. Performing is something I really enjoy and I feel like it challenges me in a good way. It is kind of an adrenaline rush. I like anything that tests my boundaries. I feel like singing is that kind of thing for me."
Stark is studying elementary education at WSU Tri-Cities and is set to begin her student teaching this year. She said while she enjoys singing, she isn't sure if she wants to pursue it professionally as she doesn't want the job aspect to ruin her love for the art.
Stark said in her career as a teacher, however, she will use the experience to encourage her students to follow their dreams.
"I plan to use this experience to encourage my students to pursue anything they are interested in or passionate about," she said. "I want my students to understand that the things that challenge them the most are the things that help them grow the most. Anything that takes practice and hard work will be worth it in the end – this goes for faith, talents, hopes, ideas and so much more."