November 14, 2016

WSU Tri-Cities named a Military Friendly School

RICHLAND, Wash. – Washington State University Tri-Cities announced today that it has earned the 2017 Military Friendly School designation from Victory Media, publisher of G.I. Jobs, STEM Jobs and Military Spouse.

First published in 2009, Military Friendly Schools is the most comprehensive resource for veterans selecting a college, university or trade school to receive education and training to pursue a civilian career. WSU Tri-Cities will be showcased along with other schools in the annual Guide to Military Friendly Schools, special education issues of G.I. Jobs and Military Spouse magazines and at https://militaryfriendly.com/.

N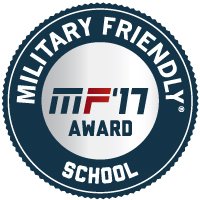 ine percent veteran students
Of WSU Tri-Cities' student population of approximately 1,800, nine percent are veterans.
"We feel a great sense of pride both educating and providing a welcoming university atmosphere for our veteran students returning to civilian life," said Nancy Roe, WSU Tri-Cities coordinator of veterans affairs.
"I don't think there is a school that is more accepting and more supportive of its veterans," said Manny Bonilla, WSU Tri-Cities computer science student and member of the U.S. Air Force reserves. "I love this school and it has been one of the best decisions I've ever made."
Criteria, ratings methods
Institutions earning the Military Friendly School designation were evaluated using both public data sources and responses from Victory Media's proprietary survey. More than 1,600 schools participated in the 2017 survey and 1,160 were awarded the designation.
Ratings methodology, criteria and weightings were determined by Victory Media with input from the Military Friendly Advisory Council of independent leaders in the higher education and military recruitment community. Final ratings were determined by combining the institution's survey scores with the assessment of the institution's ability to meet thresholds for student retention, graduation, job placement, loan repayment, persistence and loan default rates for all students and, specifically, for student veterans.
For more information about WSU Tri-Cities' commitment to attracting and supporting military students, visit https://tricities.wsu.edu/veterans/.