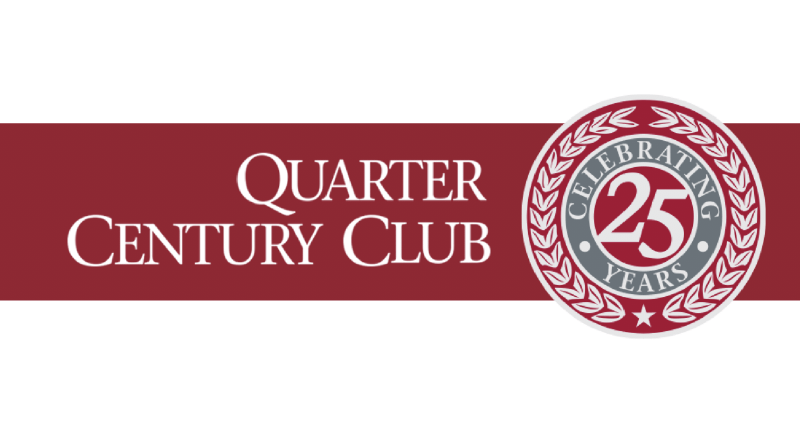 October 26, 2020

WSU Tri-Cities inducts new members into Quarter Century Club

By Maegan Murray, WSU Tri-Cities

Congratulations to the two new WSU Tri-Cities inductees of the WSU Quarter Century Club: Brigit Farley, associate professor of history, and David Fassler, information technology and IAT supervisor.

The Quarter Century Club is WSU's longest-running employee recognition program, having been active since 1934. Each year, the Quarter Century Club recognizes faculty and staff who have reached the impressive milestone of 25 years of service to Washington State University.

Historically, the University hosts an annual breakfast to honor staff and faculty who are being inducted into the Quarter Century Club. This fall, sadly, there will be no event due to the COVID-19 pandemic, however, WSU Tri-Cities is honoring both individuals virtually.

Brigit Farley

Brigit Farley, associate professor of history, said her parents inspired her to go into education. Both her parents were teachers in Pendleton, where she saw early and often what a difference they made in people's lives. She said she also liked school from her first days, so she decided "to stay there permanently."

From day one of her interview for the faculty position at WSU Tri-Cities, Farley said she knew it was going to be the right place. She was interviewed by the first campus dean, Jim Cochren, who took her to a Mexican restaurant in Richland the night before. In response to her many questions, his most memorable came from a question about what he liked best about working at Tri-Cities.

"Without missing a beat, Jim said, 'I wake up every morning and say to myself, hot dam, I get to go to work today.' He made it clear that WSUTC was a great place for which it was a privilege to serve as a dean. I thought to myself, 'Wow, I want some of what he's been drinking. Do not blow this chance.'"

Farley said she was delighted to be able to work at WSU Tri-Cities because it represented what she described as the impossible dream. It allowed her to come home to the Pacific Northwest and work in a young institution, with a diverse student body, and that which was close to home.

"Very few people have the honor and privilege," she said. "I have loved every minute of my job at WSU Tri-Cities – the staff, faculty colleagues, students and families are all terrific – and I always will. I was a Georgetown Hoya and an Indiana Hoosier before, but I am a WSU Coug for life."

Farley said she is most proud of the number and diversity of students she has worked with over the years at WSU Tri-Cities.

"It always amazes me when, at commencement, the chancellor asks everyone to raise their hand who is a first-generation college student, everyone who has worked his or her entire undergraduate career, who has enjoyed the help of and support of family members, etc.," she said. "This institution has helped so many people achieve their dreams and better their lives, often in really difficult circumstances."

David Fassler

David Fassler, information technology and integrated academic technology supervisor, never imagined a career in higher education. It was a job he actually stumbled into. He had just graduated from WSU Pullman with a degree in broadcast production and had been working for the Washington Higher Education Telecommunication System (WHETS). A part-time position for WHETS became available in Tri-Cities, and due to his experience, he got the position. That part-time position later became full-time and he has worked at WSU Tri-Cities ever since.

"When people have asked 'Why do you like your job,' I have just said 'How many jobs are out there where you can come to work every day and say to yourself 'Ok, self, what do we want to do today to make things better, and how can we make this happen without spending any money?'"

Fassler said the digital signage system he created is one of his most proud accomplishments, which provides announcements to individuals all over campus via synched digital screens. Other campuses now use the system he built. Additionally, he created the Ceremonial Mace that is proudly shown in WSU Tri-Cities' commencement ceremony. He had three weeks to research, design and build the mace and utilized his wood-working skills to turn a log of walnut into the mace.

Fassler said his success throughout his 25 years at WSU wouldn't have been possible without his local departmental leadership.

"Every departmental leader we've had has been amazing in their leadership styles," he said. "All of our department leaders, Jeff Smart, Joe Judy, Richard Eisenman, Aaron Brumbaugh, have been the kind of leaders who inspire you to do your best and know that you know how to do your job without micromanaging."

For more information about the WSU Quarter Century Club, visit  hrs.wsu.edu/recognition/quarter-century-club.